MSU researcher appointed to World Health Organization group studying global impact of foodborne disease
Felicia Wu has been named a member of a selective cohort of food safety and public health researchers.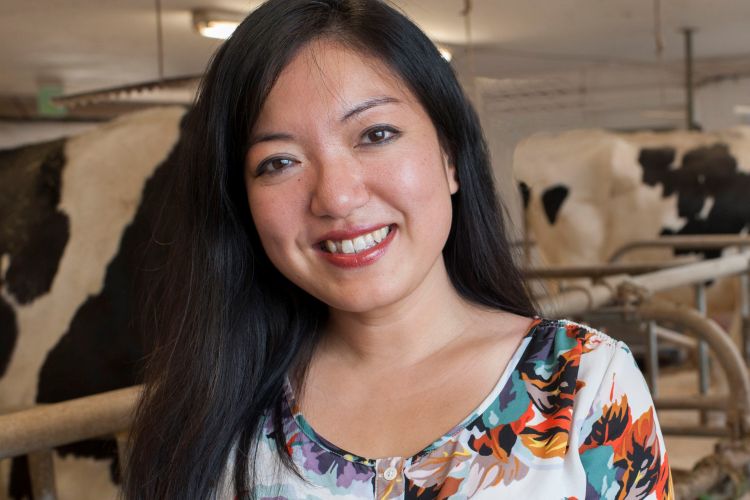 Felicia Wu, John A. Hannah Distinguished Professor in the Michigan State University (MSU) departments of Food Science and Human Nutrition, and Agricultural, Food, and Resource Economics, has been appointed to the World Health Organization (WHO) Foodborne Disease Epidemiology Reference Group (FERG).
The FERG will determine the human burden of disease caused by common food contaminants worldwide, as well as update already-existing data on the global impact of foodborne disease. This highly selective group includes just 26 researchers from around the world.
"I feel really honored to have been chosen to be part of this group of amazing researchers working to address foodborne disease on a global scale," Wu said.
She was a resource advisor for the first iteration of WHO FERG (2007-15), commissioned to estimate global foodborne disease caused by arsenic, a toxin that has been linked to cancer, skin lesions, and cardiovascular disease; and aflatoxin, a cancer-causing fungal toxin found in crops such as maize, peanuts, and tree nuts, such as almonds and pistachios.
The previous FERG also focused on Salmonella, E.coli, norovirus, pork tapeworm (Taenia solium), dioxin (an environmental pollutant), peanut allergens, and cassava cyanide, a toxic compound derived from the cassava tuber if the tuber isn't soaked, sun-dried, or pounded properly before consumption.
"This new FERG will have the chance to make updates now that we know so much more about the harmful effects that are caused by different contaminants," Wu said.
For example, after the first FERG finished its report, several studies, including research from Wu and fellow MSU scientist Michael Boivin, emerged that showed cassava cyanide, an extremely toxic and potentially deadly compound in poorly processed bitter cassava, can cause neurocognitive impairment if a child consumes it. The original FERG's report focused only on the partial paralysis cassava cyanide can cause.
Aflatoxin, Wu's main area of expertise, is another contaminant that may be revisited.
"Previously, when I had done the work, there was only sufficient information on liver cancer caused by aflatoxin, but now we know that it has been linked to growth impairment in children and that it's immunotoxic, so there are other important effects that didn't get taken into account in the first FERG's report," she said.
Wu also envisions the group updating data on Salmonella, E. Coli, food allergens, and several other contaminants.
"These updates are needed because of our toxicological and microbiological knowledge has really increased over the last decade," Wu said.
Foodborne disease is especially prevalent in developing countries, where there is frequently less enforcement of food safety regulations to reduce food poisoning risks.
Wu cites aflatoxin as an example. Aflatoxin-related liver cancer is much higher in many Asian, Central American, and African countries."
"Aflatoxin is primarily a warm climate problem, and it's especially in corn and peanuts," she said. "We have some problems in the U.S., but by and large, our FDA regulates aflatoxin really well in our peanut butter, corn products, and other goods. In other parts of the world, the nation may set an aflatoxin standard, but it's not being enforced if the corn and peanuts are being produced at the household level, and families eat what they grow. "
According to a 2015 report from the previous FERG, about one in 10 worldwide become ill from foodborne disease every year. The greatest mortality rate is in children under five because their immune systems aren't fully developed.
Wu said quantifying and understanding the burden of foodborne disease can inform policymaking aimed at reducing these statistics.
"What gets measured, gets managed. If there's not enough urgency to make sure that the food supply is safe, then markets and individual sellers might not be as careful in how they're storing their food, how they're transporting their food, etc.," she said. "But, if we can say 'a foodborne illness causes this many cases of disease and, and this many infant and child mortalities every year,' then, suddenly that lends a lot more urgency, and then policies are put into place and enforced to improve food safety globally."
Wu said she enjoys collaborating with scientists from other countries on this research.
"I love working with scientists all over the world. Working with WHO provides a chance to get to know these wonderful researchers while solving important problems," she said. "It's extremely rewarding."