Nigerian Agricultural Policy Project Leaves a Lasting Impact
NAPP has enhanced Nigeria's ability to conduct evidence based agricultural policy research, influenced agricultural policy, and disseminated agricultural research findings to key stakeholders throughout the country.
The 5-year United States Agency for International Development (USAID) funded Feed the Future Nigeria Agricultural Policy Project (NAPP) core award has successfully run its course. Through an innovative combination of efforts, NAPP has enhanced Nigeria's ability to conduct evidence based agricultural policy research, influenced agricultural policy, and disseminated agricultural research findings to key stakeholders throughout the country. NAPP was led by Michigan State University (MSU) Associate Professor Saweda Liverpool-Tasie of the Department of Agricultural Food and Resource Economics (AFRE) and a member of the Food Security Group (FSG). The project featured additional contributions from AFRE Assistant Professor Oyinkan Tasie, FSG international development specialist Steve Longabaugh, as well as the International Food Policy Research Institute (IFPRI), notably Dr. Kwaw Andam and his team at the Abuja office.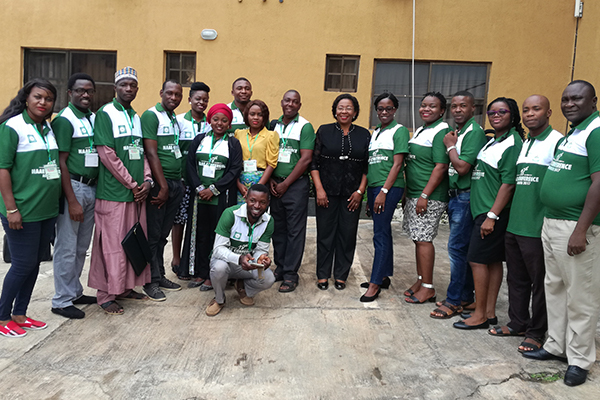 Drawing on her extensive capacity development experience, Liverpool-Tasie says, "We knew from the outset, that we wanted NAPP to utilize a comprehensive approach to capacity building that included (but was not restricted to) trainings. We wanted to ensure that trainings were supplemented with mentoring along with collaborative research and analysis. We wanted a set of activities carefully designed and strategically implemented to strengthen the link between research and policy; to enhance impact on the policy process and ultimately on economic agents engaged in food production, processing, distribution and consumption."
NAPP Scholars Program
One of the cornerstones of NAPP's capacity development approach was the NAPP Scholars Program, which brought 13 young Nigerian NAPP Scholars (Masters and PhD students) and their advisors to Michigan State University (MSU) for courses, research training and support, as well as research network development, combined with long-term mentoring.
NAPP Scholar Agada Iveren Blessing says that through the NAPP program she has, "innovatively worked with students at her home institution in Nigeria to gather data on soil properties and trained extension agents and famers on the latest technology to boost productivity." Iveren Blessing credits her NAPP experience for helping her bridge, "the gap between researchers, farmers, and extension agents." NAPP Scholar Aisha Lawal Ibrahim (now working at the Nigerian research institute mandated to develop, collate, evaluate and disseminate agricultural innovations and to conduct research on extension methodologies and policy) says, "Using my experience and gains as a NAPP Scholar, I now share knowledge, skills and resources with my colleagues. My long-term goal is to move Nigerian women from subsistence agriculture to farming as a business." NAPP scholar Wale Ogunleye was hired as a Senior Research Associate for Innovations Poverty Action lab in Nigeria while MA students Monday Ufuedo and Toyin Ademola continue their research in doctoral programs. Upon return home scholars remain engaged with NAPP, often leading trainings as well as data collection and analysis efforts.
As an undergraduate alumnus of The University of Jos in Nigeria, Liverpool-Tasie understood firsthand how important training supplemented by mentoring and research collaboration opportunities would be for the NAPP scholars. Liverpool-Tasie says, "NAPP has given me the opportunity to guide, mentor and collaborate with young, brilliant and energetic Nigerian scholars; innovators, influencers and ground breakers in their institutions and communities. Working in collaborative research teams, we are taking technical findings to multiple stakeholders (including but not restricted to policy makers) to improve impact. The success of the NAPP Scholars Program is my proudest output of the project." The NAPP Scholars have published over 40 research publications, trained over 1,200 people on issues that include data collection and analysis, and one scholar's outreach efforts on food safety awareness reached over 6,000 Nigerian households. Many of them have been able to go back and create change in their home institutions. Others have been hired into other research, training and donor funded development organizations in the country.
Capacity Building and Outreach
In addition to the intensive training of the NAPP scholars, an additional 5,100 others from state ministries, research institutes, media, farmers and the private sector were trained in agricultural policy research and analysis; mainly by the scholars themselves.
Other successes of the program include a webinar series on the impacts of COVID-19 and support for Nigerian research networks. The project-supported the online publication of the Nigerian Journal of Agricultural Economics (Vol 2 (2011) – Volume 8 (2018)). Just between October 2018 and November 2019 articles from this journal were downloaded over thirty-eight thousand (38,481) times.
Lasting Impact
Reflecting on the impact of NAPP's research Liverpool-Tasie notes…"NAPP was really a team effort. I worked with an excellent team here at MSU (Oyinkan Tasie, Steve Longabaugh, Laura Schmitt-Olabisi, Thomas Reardon, Michael Olabisi, Eric Crawford, Sieg Snapp, Awa Sanou and several others.) whose commitment to the NAPP vision of capacity strengthening and research excellence for policy influence made it a great experience. Our NAPP scholars are my heroes! They do so much with so little! They are dynamic, innovative and resilient. They were incredible to work with and they inspired me to give all that I could…. I am hopeful about the future because of these young Africans"
In USAID's final evaluation of NAPP it was noted that, "NAPP activities have resulted in improved knowledge in data analysis, increased engagement of local researchers in research projects, and better opportunities for research grants among local researchers, […] beneficiaries reported that they have a better understanding of policy research and are confident in their ability to conduct it independently."
Reflecting on the success of NAPP, AFRE Professor and Co-Director of the Food Security Group, David Tschirley says, "The success of NAPP underscores just how effective the capacity development model that Dr. Liverpool-Tasie and her team have developed is. NAPP has already had an impact on Nigeria's agricultural policy climate and I expect the legacy of their efforts will continue long after the projects' completion. NAPP will serve as a framework for ongoing projects throughout Africa and Southeast Asia and for other future projects as well."
The work of NAPP will continue into 2022 through additional support from the USAID mission in Nigeria.
To learn more about the impact of NAPP, view the NAPP Success Infographic and to learn more about NAPP's role in fostering discussion on the impact of COVID-19 on Nigeria's agricultural sector check out their webinar series on the FSG website.