Oakland Avenue: Community Building through Good Food
On Oakland Avenue in Detroit's North End, organizers are working toward the Michigan Good Food Charter's priority of expanding and increasing innovative methods to bring healthy foods to underserved areas.
August 5, 2014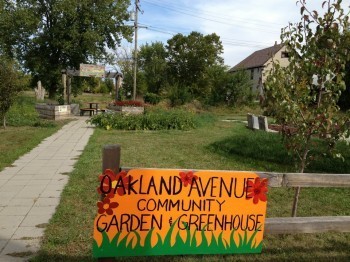 By Katy Joe DeSantis, Michigan Good Food Charter Intern
On Oakland Avenue in Detroit's North End, organizers are working toward the Michigan Good Food Charter's priority of expanding and increasing innovative methods to bring healthy foods to underserved areas as well as strategies to encourage their consumption in a very community-oriented way.
Through a community garden and greenhouse, youth programs, a farmer's market, and other designated community spaces, residents of this neighborhood are bonding together to create positive health and economic changes in their area. While the Oakland Avenue Farmer's Market may be one of the ways most visible to outsiders that this community is working toward expanding access to healthy foods, there are several other behind-the-scenes ways in which this community is working to bond together and increase their collective health.
"We have successfully demonstrated how an urban garden on a commercial street can engage people in the community and provide a space for them to come together," said Jerry Ann Hebron, the executive director of Northend Christian Community Development, Inc., the group responsible for most of the good food work being done in the neighborhood.
In 2008, Northend Christian CDC started a community garden to sustainably raise produce, fruit and herbs for the residents of their neighborhood, free of charge. Organizers of the garden used community input to decide what types of crops to grow, and youth and other community volunteers put the labor into the garden 4-5 days a week. During the garden's first growing season, community members produced tomatoes, green beans, lettuce, collards, peppers, kale, potatoes, strawberries, raspberries, onions, and cabbage for residents to freely harvest.
In 2011, the Oakland Avenue Farmer's Market opened, expanding the reach of the garden's produce, as well as bringing jobs, value-added products and a venue promoting green economic growth to the community. Located at 9354 Oakland Street, the market runs from 11:00am-3:30pm every Saturday from June – October, and accepts EBT, Double Up Food Bucks, Project FRESH, Senior Market FRESH, credit, debit and cash, making purchases more accessible to members of the surrounding communities.
Hebron estimates that about 10-20 families take advantage of the free produce from the garden each week, and 50-100 people visit the market on Saturdays. Community members are very vocal about foods they are interested in harvesting, and organizers hold regular cooking demonstrations for residents to introduce new foods as well as methods to prepare and preserve their harvests.
"[Our market is] unique in that our produce is harvested as requested, and consumers can see and learn how we grow, maintain and prep our produce," she said.
In addition to providing free fresh produce to residents, the Oakland Avenue Community Garden and Greenhouse also offers youth gardeners the space and opportunity to learn more about sustainable urban agriculture, as well as the entrepreneurial skills needed to make a profit off of it. Currently, there are over 20 youth involved in learning how to grow and sell fresh produce, fruits and herbs at several Detroit markets, including Eastern Market, Wayne State University Market, Bushnell Market and Windmill Market. Youth participants learn not only how to grow nutritious food, but are also trained in marketing and customer service as well as other skills necessary to make a profit off the sale of locally-grown fresh goods. Profits from sales of their products go toward funding additional training, as well as paying stipends to the youth who work in the gardens.
In 2013, with funding from the Kellogg Center, Northend CDC set up a Community Project House, used for produce preparation, community meetings, cooking demonstrations and small food-related business startup work. They hold weekly Youth Making A Difference meetings in which kids in the community meet as a group to learn about urban agriculture, as well as workshops in produce preparation for farmers markets, and more.
"Young people love coming to our space, and feel safe and welcome," said Hebron.
Through these and other efforts centered on good food, organizers, volunteers, youth and other community members have created a space for gathering, as well as opportunities for economic growth in their neighborhood. Recently, the Oakland Avenue Artist Coalition, a group that aims to "reclaim the North End through the Arts" was awarded a $150,000 placemaking grant to repurpose vacant buildings and lots along Oakland Avenue. And according to Hebron, city officials have noted the community's efforts in creating a welcoming green space. However, at the heart of all of these projects is the idea of old-fashioned community building: of bringing people together through a shared space.
"People visit our space to meet new people and reacquaint with old friends, share stories, etc." said Hebron. "I am told people come to meditate, pray, and just walk around the garden with their kids and grandkids."
For more information on these projects, visit Northend Christian Community Development, Inc.'s website or the Oakland Avenue Farmer's Market Facebook page.