Studying the effectiveness of conservation drainage practices
MSU Extension drainage specialist works with Michigan farmers to balance crop yield with environmental and water protections.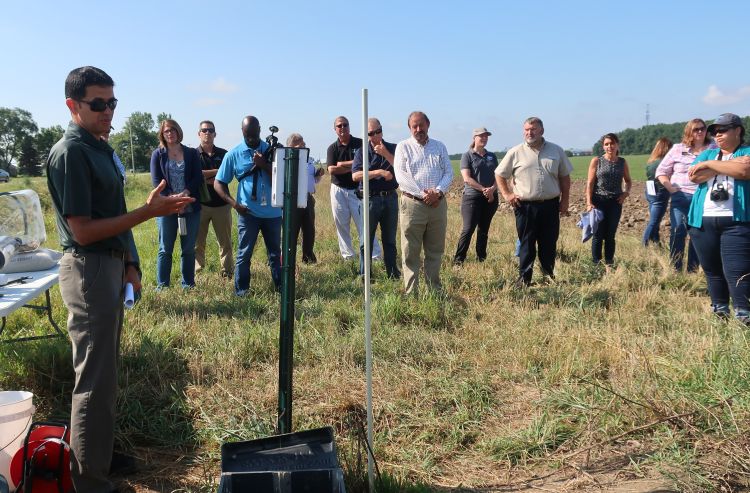 Effective water drainage is extremely important to agricultural crop yields. Ehsan Ghane uses his expertise in agricultural drainage to help farmers improve crop productivity while protecting the environment and water quality in Michigan.
"The current state of agricultural production could not have existed without drainage," Ghane said. "Proper drainage is vital for crop production in Michigan and other states in the Midwest because of heavier rainfalls and various soil properties."
Through his work, the MSU Extension drainage specialist and assistant professor in the Department of Biosystems and Agricultural Engineering (BAE) talks with farmers about the issues and benefits of drainage systems and shares conservation practices, which are growing even more important in protecting Michigan's waterways and lakes.
Benefits of conservation drainage practices
Conservation drainage practices help balance water flow and nutrients, like nitrogen and phosphorus, for optimal crop production while minimizing runoff to help keep the environment safe. Excess phosphorous runoff in freshwater bodies can lead to algal blooms like those in Lake Erie in recent years. These blooms produce toxins that affect overall water quality, fish health, drinking water, recreation and tourism.
"Conservation drainage practices are some of the important ways that we can manage how much water leaves the field," he said. "When less water leaves the field, we can keep more nutrients in the field."
In Lenawee County, Ghane measures the effectiveness of conservation drainage practices of controlled drainage and saturated buffer to reduce phosphorus runoff. Controlled drainage holds excess water back from a field allowing it to travel through longer pathways and filter naturally into the soil. In a saturated buffer, drainage water is diverted into the vegetated buffer soil using shallow perforated drains that run parallel to a ditch.
Drainage modeling tools
Climate change and unpredictable weather patterns, like the wet spring in 2019, have made drainage practices and research more challenging and more important.
Some of the drainage modeling tools, like the Drain-Spacing Tool, use weather data from the previous 30 years to maximize profit and yield of a drainage system that may not be as predictive of future weather. Ghane said the next version of the Drain-Spacing Tool will include future climate scenarios to help account for more variable weather patterns.
"Even if you have conservation drainage practices in place, the variability of weather patterns can minimize the benefits," Ghane said. "With more rainfall, farmers and land owners want to increase the rate that water can leave their fields to save crops."
Drainage outreach across Michigan
Based on these changes in weather and soil conditions, farmers are even more interested in ways they can help control water flow and drainage in their fields.
The first annual drainage workshop was held in February 2020 in partnership with MSU Extension and the Michigan State Land Improvement Contractors Association. These types of trainings help farmers learn how to design drainage systems that meet their crop production and environmental needs.
"Without drainage, the current state of crop production and the food on people's tables would not have existed," Ghane said. "Water quality impacts our livelihood and health. It's also important for the sustainability of agriculture."
Ghane's research has been funded by the Michigan Department of Agriculture and Rural Development, Michigan Department of Environment, Great Lakes and Energy, Michigan Alliance for Animal Agriculture, Michigan Soybean Producers and Corn Marketing Program of Michigan.
Learn more about drainage resources and best practices on the Biosystems and Agricultural Engineering Drainage website.
This article was published in Futures, a magazine produced twice per year by Michigan State University AgBioResearch. To view past issues of Futures, visit www.futuresmagazine.msu.edu. For more information, email Holly Whetstone, editor, at whetst11@msu.edu or call 517-355-0123.