The Teal Pumpkin Project: Trick-or-treating and food allergies
FARE's The Teal Pumpkin Project and MSU Extension challenge you to have non-food treats available for trick-or-treaters with food allergies. Paint a pumpkin teal to spread food allergy awareness and that you have non-food treats available.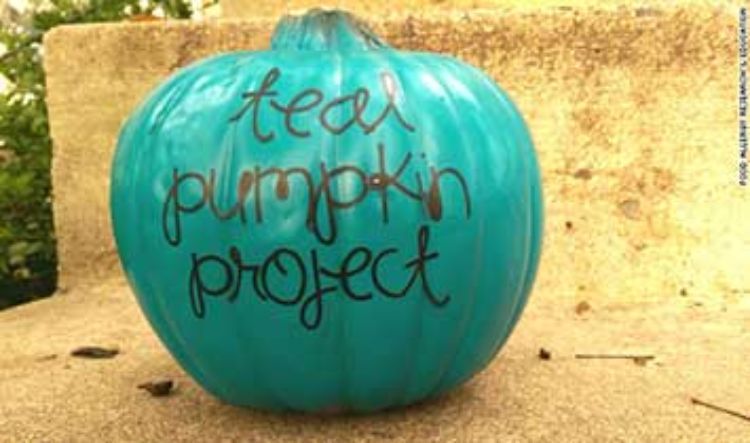 Social media is a great way to keep tabs on friends and family, but also to share ideas. With the 2014 Halloween season upon us and the countdown for trick-or-treating getting shorter, I usually talk to kids and adults about over indulging in sweets. However, today, as I was perusing social media, I came across a link to the Food Allergy Research and Education (FARE)'s The Teal Pumpkin Project.
FARE "works on behalf of the 15 million Americans who have food allergy, including all those at risk for life threatening anaphylaxis. This potentially deadly disease affects one in every 13 children in the United States – or roughly two in every classroom. FARE's mission is to ensure the safety and inclusion of all those with food allergies while relentlessly seeking a cure."
This year for Halloween and trick-or-treating, consider joining FARE in The Teal Pumpkin Project. Michigan State University Extension challenges you to help make this time of year less scary for children with food allergies. FARE indicates that the hope of this project is to "raise awareness of food allergies by providing non-food treats for trick-or-treaters and painting a pumpkin teal – the color of food allergy awareness." Place your teal pumpkin and/or a free printable sign from FARE to indicate that you have non-food treats available. You can also print a flyer to help increase awareness of this project and encourage others to join.
As the mother of a son with a peanut allergy, I have to be careful about the treats and food he consumes. He is 7-years-old and he does participate in trick-or-treat, so we monitor the treats he's given and make sure to remove anything with peanuts. I'm fortunate we have only one food allergy in our home; many children have more than one allergy and don't get to enjoy the treats at all. The Teal Pumpkin Project is a wonderful idea to make sure that all children are able to enjoy trick-or-treating.
I will be happy to be a part of The Teal Pumpkin Project and hope that you will consider joining as well. Food allergies are a real threat and raising awareness in this way is fun and can help make a trick-or-treat event enjoyable for others.