Women's Health: MSU researcher exploring effects of chemical exposure during pregnancy, beyond
MSU scientist Rita Strakovsky leads the I-MOMS project, which evaluates mothers four to seven years after giving birth.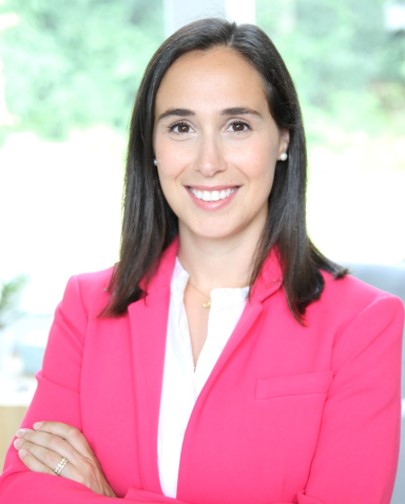 EAST LANSING, Mich. — Take a look at most food or personal care product labels, and there's likely a statement or two touting the product's safety. Discerning customers attempt to choose the best and safest items for their needs, but it's no easy task to avoid unwanted contact with potentially harmful chemicals. And what about exposure from sources you may not be aware of?
For pregnant women, the concerns can be doubly stressful. Choosing healthy foods and using the safest products are important for their own health, but these decisions can also have lifelong implications for their developing children.
Rita Strakovsky, an assistant professor in the Michigan State University Department of Food Science and Human Nutrition, has devoted her career to studying how chemical exposure affects mothers and their developing babies.
She is especially interested in a class of chemicals known as phthalates, which are often used to make plastics more durable. Phthalates — and some new replacements for them — are also known as plasticizers and are present in plastic food packaging, vinyl flooring and hundreds of other items. Some phthalates are fragrance stabilizers in many daily-use personal care products.
According to the Centers for Disease Control and Prevention (CDC), phthalate exposure is widespread throughout the U.S. population. The CDC notes that adult women tend to have high levels of phthalates found in personal care products such as body washes, cosmetics, shampoos and soaps.
Previous research suggests that phthalates cause disruption to the endocrine system — which controls growth, development, metabolism and reproduction, among other functions — but the extent to which is not well-understood.
Strakovsky is a sought-after speaker on the topic of endocrine-disrupting chemicals and the effects on pregnant women. She gives numerous presentations around the country and virtually each year, and presented July 18 at a virtual conference held by the Office on Women's Health. The program is a part of the U.S. Department of Health and Human Services that works to advance policy to address critical women's health issues.
"I've always been interested in helping sensitive populations, and pregnancy is a very sensitive time for both the mother and her developing child," said Strakovsky, who is supported in part by MSU AgBioResearch and was hired in 2017 through the MSU Global Impact Initiative. "On top of all of the stresses mothers deal with internally — physically and emotionally — there are external factors that can negatively affect these processes, including endocrine-disrupting chemicals. My research is focused on understanding more about the relationships between those chemicals and pregnancy outcomes, in addition to women's health outcomes long after pregnancy."
Strakovsky is currently involved in a project called I-KIDS (Illinois Kids Development Study), which is led by the University of Illinois, Urbana-Champaign (UIUC). She has been a part of the initiative since she was a postdoctoral researcher at the school. I-KIDS is a large pregnancy cohort study that began in 2014 and evaluates the effects of environmental chemical exposure on children's development throughout childhood. Susan Schantz, a professor and environmental neurotoxicologist at UIUC, leads I-KIDS.
While UIUC scientists lead the child development portion of the project, Strakovsky is examining maternal health post-pregnancy. With a $2.1 million grant received from the National Institutes of Health in 2020, she began exploring the topic further in a study called I-MOMS (Illinois Metabolic Outcomes in Moms).
The initial goal of the research was to reenroll roughly 350 mothers from the I-KIDS project, evaluating them four to seven years after giving birth.
Like many other research projects, the COVID-19 pandemic altered the timeline. Women were not allowed to be contacted for in-person meetings for several months, but enrollment is now occurring with hopes to begin generating results soon.
The delays, however, haven't stopped Strakovsky from collecting data. While waiting for permission to reenroll participants, her team has done significant research using data collected during pregnancy and published several papers that amplify the overall importance of the project.
"While we were disappointed with the COVID-related delays, we certainly understand that safety is the most important thing," Strakovsky said. "As we waited for women to be enrolled into the study, we took time to publish several papers that provide additional insight and context for the impact of phthalate exposure on women's health during pregnancy, which will really enrich our long-term efforts. My Ph.D. student, Diana Pacyga, was an instrumental part of this process."
Alongside Pacyga and colleagues from UIUC and Brown University, Strakovsky identified characteristics of women at higher risk for phthalate exposure. Researchers used 15 demographic and lifestyle criteria and evaluated urine samples from 482 pregnant women from the I-KIDS study.
Some of the factors that influenced higher rates of phthalate exposure included diet, caffeine intake, smoking status, alcohol intake, education level, employment, pre-pregnancy body mass index, and conception season, among others.
For another study, Strakovsky and her colleagues sought to determine if phthalates and plasticizer replacements are disrupting hormones during pregnancy. Urine samples from 439 women were analyzed to assess both chemicals and hormones.
The team found that phthalates and plasticizer replacements are associated with hormonal disruption, as some were associated with higher levels of estrogens and others with elevated levels of testosterones, both of which can cause complications.
High concentrations of estrone and estradiol in the third trimester have been linked to greater incidences of breast cancer years after pregnancy, while higher levels of testosterone in the second and third trimesters may lead to greater risk of preeclampsia and gestational diabetes.
"We know that pregnancy has important implications for women's long-term metabolic and cardiovascular health." Rita Strakovsky
For a third published paper, Strakovsky and a group of I-MOMS researchers examined phthalate exposure and its relationship to weight gain during pregnancy. Inadequate weight gain may lead to pre-term births and small-for-gestational-age babies. Too much weight can cause hypertension and increase the likelihood of excess weight retention after pregnancy, which is a precursor to a variety of health challenges.
Nearly 300 women self-reported their weight pre-pregnancy and at the final obstetric appointment before delivery. The team used a calculation of pre-pregnancy body mass index and gestational age-specific measurements to monitor weight gain during pregnancy.
Again using urine samples, researchers evaluated predicted chemical exposure and observed that phthalate and plasticizer replacement biomarkers were associated with changes in gestational weight gain. In women carrying females, weight gain was decreased with higher phthalate exposure, while women carrying males saw higher or lower weight gain, depending on the phthalate.
Joseph Braun, an associate professor at Brown University and collaborator with the I-MOMS study, said the findings in each of these projects reinforce the need to investigate phthalate exposure during pregnancy further.
"This work will help us understand if endocrine-disrupting chemicals that pregnant women everywhere are exposed to increase the risk of things like obesity and diabetes later in life," he said. "Pregnancy acts like a stress test on metabolic systems, and additional factors such as endocrine-disrupting chemicals could irreversibly stress these systems. This work is particularly exciting because it's a collaboration among multiple institutions and investigators with complementary expertise."
The team currently has more than 50 women reenrolled from the initial I-KIDS study to begin the phase that was halted by the pandemic. In this portion of the work, several health indicators will be measured, such as body composition, resting energy expenditure, blood pressure, levels of reproductive hormones, and levels of various blood markers of metabolic and cardiovascular health.
The mothers will also be surveyed on topics such as sleep habits, diet, physical activity, emotional state, socioeconomic status and stress level.
"We know that pregnancy has important implications for women's long-term metabolic and cardiovascular health," Strakovsky said. "What we're beginning to see now is that exposures to endocrine-disrupting chemicals during pregnancy add another layer of complexity for women postpartum, such as the inability to lose weight or additional postpartum weight gain, high blood pressure, high cholesterol or any number of other health-related issues. Defining the risks can hopefully help us inform mothers, as well as the industries making these products."