Rita Strakovsky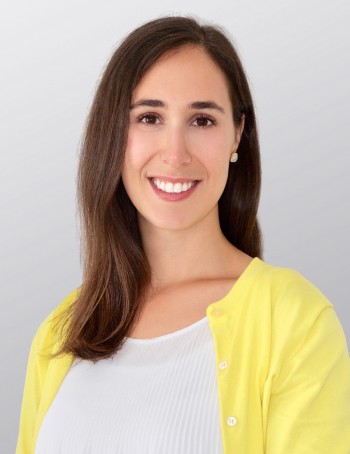 Department of Food Science and Human Nutrition
Assistant Professor, Maternal Nutrition and Toxicology
Telephone: 517-353-3352
Fax: 517.353.8963
G.M. Trout FSHN Building
469 Wilson Road, Room 236
East Lansing, MI 48824
Education
PhD: University of Illinois, Urbana – Champaign (Nutritional Sciences)
RD: University of Illinois, Urbana – Champaign (Registered Dietitian)
BS: University of Illinois, Urbana – Champaign (Molecular and Cellular Biology)
Professional positions
Postdoctoral Research: University of Illinois, Urbana – Champaign (NIEHS/EPA Children's Environmental Health Research Center):
T32 postdoctoral fellow in Endocrine, Developmental & Reproductive Toxicology
K99/R00 postdoctoral research associate, Illinois Kids Development Study (I-KIDS)
Research Interests
My research focuses on the maternal determinants of fetal development and offspring health. I am interested in studying how the maternal metabolic milieu communicates the maternal experience with the developing fetus, specifically focusing on the interactions between maternal obesity and environmental exposures. I have worked extensively in rodent pregnancy models to study the effects of maternal diet or exposure to environmental endocrine disrupting chemicals (EDCs) on the epigenetic regulation of energy metabolism in offspring. Driven by findings from these studies, my current research in a human pregnancy cohort has two primary aims: 1) To assess the relationship between gestational exposure to several phthalates/phenols and pregnancy estrogen and testosterone status. An additional goal of this aim is to determine whether maternal adiposity and/or body fat distribution modify the above relationships; and 2) To determine whether exposure to these same chemicals alters the fetal supply of long-chain polyunsaturated fatty acids (LC-PUFAs) or the supply of other lipid classes critical for fetal development (using a lipidomics approach). An additional question within this aim is whether the aforementioned relationship between EDC exposures and estrogen status mediates the proposed relationships between EDCs and LC-PUFAs/lipids. My long-term goal is to leverage data from the human cohort to inspire questions in animal models, and to utilize animal models to unravel the mechanisms behind the findings in pregnant women and their babies.
Research Topics
Maternal obesity and lipid metabolism
Maternal macronutrient intake and metabolic diseases
Endocrine disrupting chemicals
Epigenetics and Developmental Origins of Health and Disease (DOHaD)
Placenta
Recent Publications
Pacyga DC, Henning M, Chiang C, Smith RL, Flaws JA, Strakovsky RS. Associations of Pregnancy History with BMI and weight Gain in 45-54-Year-Old Women. Curr Dev Nutr. 2020;4(1):nzz139. Epub 2020/01/02. doi:10.1093/cdn/nzz139. PubMed PMID:31893261; PMCID: PMC6933615.
Pacyga DC, Sathyanarayana S, Strakovsky RS. Dietary Predictors of Phthalate and Bisphenol Exposures in Pregnant Women. ADV Nutr. May 2019. doi: 10.1093/advances/nmz029. PubMed PMID: 31144713.
Strakovsky RS, Schantz SL. Impacts of Bisphenol A (BPA) and Phthalate Exposures on Epigenetic Outcomes in the Human Placenta. Environ Epigenet. 2018;4(3):dvy022. Epub 2018/09/14. doi: 10.1093/eep/dvy022. PMID: 30210810; PMCID: PMC6128378.
Strakovsky RS, Schantz SL. Using Experimental Models to Assess Effects of Bisphenol A (BPA) and Phthalates on the Placenta: Challenges and Perspectives. Toxicol Sci. 2018. Epub 2018/09/12. doi: 10.1093/toxsci/kfy224. PMID: 30203063.
Hernández-Saavedra D, Strakovsky RS, Ostrosky-Wegman P, and Pan Y-X. Epigenetic Regulation of Centromere Chromatin Stability by Dietary and Environmental Factors. Accepted. Adv Nutr. Aug 2017.
Strakovsky RS, Lezmi S, Shkoda I, Flaws JA, Helferich WG, Pan Y-X. In Utero Growth Restriction and Catch-up Adipogenesis after Developmental Di (2-ethylhexyl) Phthalate (DEHP) Exposure Cause Glucose Intolerance in Adult Males Following a High-fat Dietary Challenge. J Nutr Biochem. Jun 2015. pii: S0955-2863(15)00145-X. doi:10.1016/j.jnutbio.2015.05.012. PMID: 26188368.
Strakovsky RS, Wang H, Engeseth NJ, Flaws JA, Helferich WG, Pan Y-X and Lezmi S. Developmental Bisphenol A (BPA) Exposure Leads to Sex-specific Modification of Hepatic Gene Expression and Epigenome at Birth that May Exacerbate High-fat Diet induced Hepatic Steatosis. Toxicol Appl Pharmacol. Apr 2015. 284(2):101-12. doi: 10.1016/j.taap.2015.02.021. PMID: 25748669.
Strakovsky RS, Zhang X, Zhou D, Pan Y-X. The Regulation of Hepatic Pon1 by a Maternal High-Fat Diet is Gender-specific and May Occur Through Promoter Histone Modifications in Neonatal Rats. J Nutr Biochem. Feb 2014:25(2):170-6. doi: 10.1016/j.jnutbio.2013.09.016. PMID: 24445041.
Strakovsky RS, Lezmi S, Flaws JA, Schantz SL, Pan Y-X, Helferich WG. Genistein exposure during the early postnatal period favors the development of obesity in female, but not male rats. Toxicol Sci. Mar 2014; 138(1):161-74. doi:10.1093/toxsci/kft331. PMID: 24361872.
Strakovsky RS, Pan Y-X. In Utero Oxidative Stress Epigenetically Programs Antioxidant (AOX) Defense Capacity and Adulthood Diseases. Antioxid Redox Signal. Jul 2012; 17(2):237- 53. PMID: 22035055.
Strakovsky RS, Pan Y-X. A Decrease in DKK1, a WNT Inhibitor, Contributes to Placental Lipid Accumulation in an Obesity-Prone Rat Model. Biol Reprod. Mar 2012. 22;86(3):81. PMID: 22133691.
Zhang X, Zhou D, Strakovsky RS, Pan Y-X. Hepatic cellular senescence pathway genes are induced through histone modifications in a diet-induced obese rat model. Am. J. Physiol. 2012 Mar 1;302(5):G558-64. PMID: 22194422.
Zhou D, Strakovsky RS, Zhang X, Pan Y-X. The Skeletal Muscle Wnt Pathway May Modulate Insulin Resistance and Muscle Development In A Diet-Induced Obese Rat Model. Obesity. Feb 2012 Feb. PMID: 22349736.