Email Signatures
The email signature block (see Figure 1) is designed to convey a professional image that is consistent with the MSU Extension brand. Preferred font is Arial with a font size of 9 or 10. Employees may add the MSU Extension wordmark and (when applicable) the 4-H clover, but it's not recommended for two reasons. Email messages with graphics:
Are more likely to be routed into recipients' junk mail folders by commercial internet service providers.
Increase the recipients' data usage. This can be a particular problem for recipients whose only internet access is through a mobile device, because the increased usage may in turn increase their monthly bills.
Important note: On all email signatures, pronouns are encourage but optional, must contain the MSU Extension anti-discrimination statement and land acknowledgement and must not include superfluous content such as quotes, photos, or background graphics.
To set up or edit an email signature in Outlook:
1. Click on the "New Email" button.
2. Click on the "Signature" button, then click on "Signatures . . ." at the bottom of the dropdown menu that appears.
3. Check the popup window to make sure the "E-mail Signature" tab is active. Then follow the prompts.
If you need help, contact the ANR Tech Services Help Desk by phone at 517-355-3776 or by email at anr.support@msu.edu.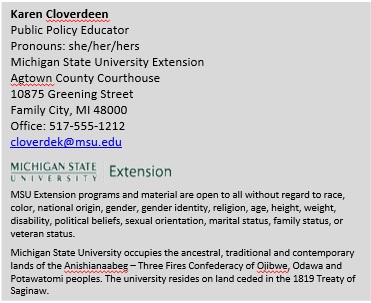 Figure 1: Sample email signature block of an MSU Extension employee.
The signature block on second and subsequent email replies can be condensed to help shorten the overall length of an email conversation. (see Figure 2).

Figure 2: Sample shortened email signature block to use on second and subsequent replies in an email conversation.