You Can't Rush The Process: Collective Impact Models of Food Systems Change
DOWNLOAD
September 21, 2015 - Author: Lilly Fink Shapiro, Lesli Hoey, Kathryn Colasanti, Sue Ann Savas
This report highlights a range of state and multi-state food system initiatives across the country and explores six cross-cutting themes. Key strategies, indicators and lessons learned are shared for each initiative. Practitioners of collaborative food system work will find this a useful overview with accessible insights into how to engage communities, coordinate multi-sector work and measure change.
Introduction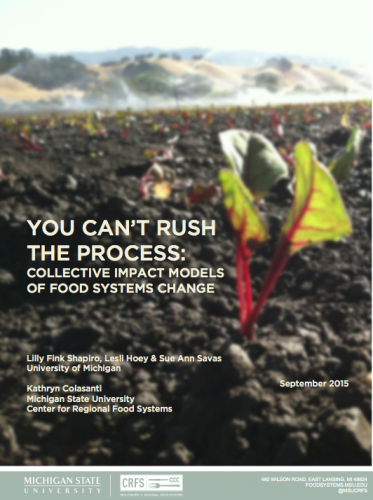 Local food advocates are increasingly joining together to form state and multi-state initiatives to strengthen food systems on a broader scale than has been possible in the past. Many of these efforts are built around the concept of collective impact, the idea that organizations representing diverse sectors must actively commit to a common agenda to solve complex social problems.
Michigan joined this trend in 2009 when three organizations – the MSU Center for Regional Food Systems (CRFS), the Food Bank Council of Michigan, and the Michigan Food Policy Council – came together to develop a vision and set of goals for the state's food system. These efforts resulted in the release of the Michigan Good Food Charter in 2010. Since then, a steering committee has emerged to guide the work, and a suite of state networks formed to push for food system change in specific sectors and communities. Now in 2015, there is a desire to understand the impact of the work on a deeper level and measure change in a way that furthers the capacity of and coordination between partner organizations.
A team of researchers from the University of Michigan and Michigan State University carried out this national scan of similar initiatives from across the country to position the Michigan work on a national level. This report shares our survey findings. More specifically, the purpose of this report is to:
Inform the evaluation strategies of the current Michigan Good Food Charter Initiative coordination, led by CRFS and funded by the W. K. Kellogg Foundation, by identifying key metrics other state and regional food systems initiatives are tracking to assess outcomes.
Build the capacity of CRFS by learning about the strengths, limitations and lessons learned from similar types of food systems initiatives using a collective impact approach.
Share lessons with other initiatives around the country engaging in collective impact models of food systems change.