Michigan Fresh: Using, Storing, and Preserving Kohlrabi (HNI45)
DOWNLOAD
August 9, 2023 - Author: Joyce McGarry and Laurie Messing, Michigan State University Extension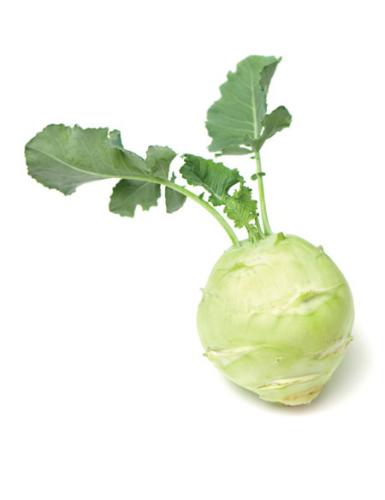 Food Safety and Storage
Wash hands before and after handling fresh produce.
Wash kohlrabi under cool running water thoroughly and store with leaf stems removed.
Kohlrabi can be stored in the refrigerator for several weeks. Storage life can be extended if kohlrabi is placed in sealed perforated plastic bags.
To prevent cross-contamination, keep kohlrabi away from raw meat and meat juices.
For best quality and nutritional value, preserve no more than your family can consume in 12 months.
Yield
| | |
| --- | --- |
| 4 medium bulbs, 2 pounds = | 3 1/2 cups cubed, cooked |
How to Preserve
Canning
Michigan State University Extension does not recommend canning kohlrabi.
Freezing
Select stems when fully grown but Cut off tops and roots. Wash and peel off the tough outer layer. Leave whole or dice in ½-inch cubes.
Water blanch* whole 3 minutes and cubes 1 minute. Cool promptly in ice water for the same blanching time, drain and package, leaving ½-inch headspace. Seal, label, date and freeze.
*Water blanching: Use 1 gallon of water per pound of prepared kohlrabi. Put kohlrabi in blanching basket or colander and lower into boiling Place lid on blancher. Return water to boil and start counting blanching time as soon as water returns to a boil. It should take only a minute to come back to a boil. If it takes longer, too much kohlrabi has been added to the boiling water.
References
Andress, E., & Harrison, J. A. (2014). So easy to preserve (Bulletin 989). (6th ed.). University of Georgia Cooperative Extension.
U.S. Department of Agriculture. (2015). Complete guide to home canning (Rev. ed.). (Agriculture Information Bulletin No. 539). http://nchfp.uga.edu/publications/publications_ usda.html
More information