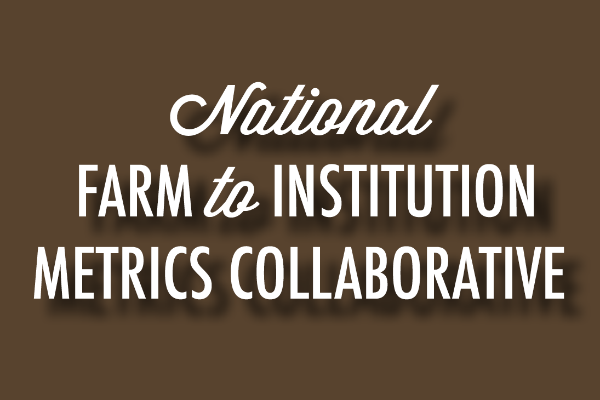 National Farm to Institution Metrics Collaborative Webinar Series
May 7, 2019 - Author: Neal Bram, Yousef Buzayan, Genna Lipari, Lilian Brislen, Jeff O'Hara, Hannah Leighton, Jeff Farbman, and Colleen Matts
Because of their large purchasing power and capacity to feed large segments of the population in relatively few locations, institutions have the opportunity to critically impact local economies and communities through local food purchasing. By accurately and reliably measuring these activities, local communities of all sizes can understand the large positive impacts that farm to institution purchasing can have.
The National Farm to Institution (FTI) Metrics Collaborative develops and shares best practices for measuring these impacts. These 30-minute webinars are designed to provide a national audience of farm to institution practitioners, supporters, and advocates the tools they need to measure FTI efforts in a meaningful way.
---
Data Network Project
Neal Bram, Yousef Buzayan, Genna Lipari
In the first webinar in this series, Yousef Buzayan of Community Alliance with Family Farmers (CAFF) is joined by Neal Bram of Project Waste Not and Genna Lipari of Daylight Foods. They discuss advancing data collection and analysis through a Data Network project that pulls together supply chain data from farmers, distributors, and buyers to enhance and automate purchasing and tracking.
---
Local Procurement: Metrics are Pivotal
Dr. Lilian Brislen
Dr. Lilian Brislen of the Food Connection at the University of Kentucky demonstrates the importance of identifying the 'what' and 'why' when establishing local food definitions and metrics. Drawing on six years of the University's first private dining contract, Brislen shares strategies, metrics, and hard-won lessons in developing effective local procurement initiatives at public institutions.
---
Local Food in Government Statistics
Jeff O'Hara
Jeff O'Hara from USDA Agricultural Marketing Service provides a snapshot of how data collection around local food has advanced in recent years at the national level. He dives into the recently released Census of Agriculture and share how the results are improving our understanding of local food markets within the past 5 years. O'Hara also identifies trends in local food market activity that are not currently being captured by existing federal government statistics.
---
Cultivate Michigan: Reflections and Lessons
Colleen Matts
Colleen Matts reflects on Cultivate Michigan, a member-based campaign launched with the network in 2014. Designed to help member institutions find, buy, promote, and track more local foods as they work toward the Michigan Good Food Charter goal of 20% Michigan foods by 2020, Cultivate Michigan has also proven to be an important platform for communication, gathering information, and network organizing.