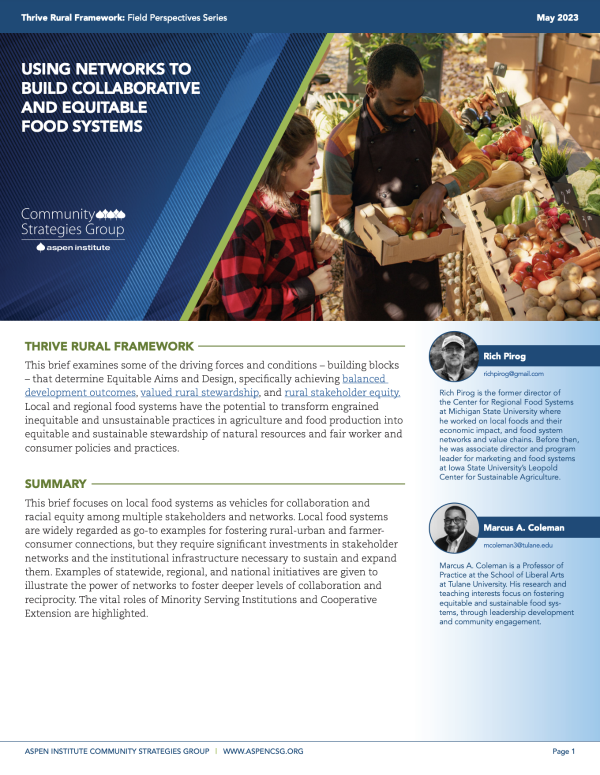 Using Networks to Build Collaborative and Equitable Food Systems
DOWNLOAD
May 17, 2023 - Author: Rich Pirog, Marcus Coleman
In 2020, former CRFS Director Rich Pirog worked with Marcus Coleman - currently a Professor of Practice at Tulane University - through the Wallace Center's Community Food System Mentorship program. Since then, Rich and Marcus have worked together through several initiatives, including the CRFS-led Racial Equity in the Food System workgroup.
This past winter they teamed up to craft an issue brief on resilient and equitable food system networks for the Community Strategies Group of the Aspen Institute. Using Networks to Build Collaborative and Equitable Food Systems focuses on local food systems as vehicles for collaboration and racial equity among multiple stakeholders and networks. Their 8-page issue brief, which was written for a general audience of rural leaders, was recently featured in the Community Strategies national newsletter.
About Thrive Rural Framework
Thrive Rural is an initiative of the Aspen Institute Community Strategies Group (CSG) in partnership with the University of Wisconsin Population Health Institute (PHI), with support from the Robert Wood Johnson Foundation (RWJF).
Thrive Rural aims to create a shared vision and understanding about what it will take for communities and Native nations across the rural United States to be healthy places where everyone belongs, lives with dignity, and thrives. It intentionally brings into focus the convergence of racial, economic and geographic inequity in rural America through the pursuit of equitable rural development. Thrive Rural elevates what works and what is needed to bridge health with community and economic development, and connects the shared aims, reality and prospects of rural America with all of America.
Food System Networks were chosen as a topic for the 2022-23 issue brief series because of the visibility and success these networks have achieved across the U.S.