Michigan's Emerging Farmers - Strategies and Tools to Enhance Success
The goal of "Michigan's Emerging Farmers – Strategies and Tools to Enhance Success" is to keep farmers farming, farmland in production, and food local and regional. It is a Beginning Farmer and Rancher Development Project, funded for three years by the United States Department of Agriculture.
The project focuses on increasing new farm success by working to make farming a more prosperous, secure, and sustainable career choice for Michigan's many beginning and emerging farmers. It supports collaboration among the Michigan State University Center for Regional Food Systems (CRFS), Michigan Food and Farming Systems (MIFFS), and Michigan State University's Student Organic Farm (MSU SOF) to provide training and develop tools for beginning farmers.
Each partner organization contributes specialized expertise to the project.
MSU SOF builds on its established farmer training program to offer intensive workshops co-led by experienced farmers and experts and targeted in areas with high potential to increase farm profitability.
MIFFS provides workshops designed to support women, Spanish-speaking and beginning farmers through the development of farmer-to-farmer networks and Michigan-specific resources on land access for beginning farmers.
CFRS is developing training and tools to increase beginning farmer access to capital.
Read more detail about each organization and their roles in this project below.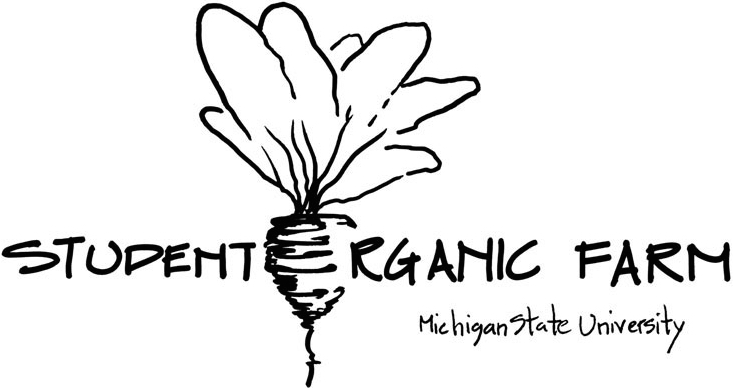 MSU Student Organic Farm
The MSU Student Organic Farm (SOF) is a 15-acre, certified organic year-round teaching and production farm. Markets include 48-week CSA, 7-month on campus farm stand, and sales to MSU campus dining. The farm collaborates in creating learning opportunities for other students at MSU through interdisciplinary experiential educational activities and research opportunities.
At the farm, hoophouses - or passive solar greenhouses - are used to produce and distribute fresh produce all year long. The farm operates an 8-month Organic Farmer Training Program in year-round organic farming, focusing on diversified production of vegetables, flowers, fruits and herbs for local markets. The program is designed to give participants a strong background and working knowledge of farm production, management, marketing, and business planning necessary to run a small-scale farming operation.
Michigan Food and Farming Systems
Michigan Food and Farming Systems (MIFFS) is a statewide, membership-based nonprofit organization. MIFFS mission is to connect beginning and historically underserved farmers to each other and resource opportunities; ensuring social justice, environmental stewardship, and profitability. Evolving from a foundation-funded project into a non-profit organization in 1998 allowed MIFFS to expand the work of promoting diverse community efforts.
MIFFS's current goals include:
Creating & enabling networks of small-scale urban & rural farms with local food networks;
Developing incubator farms to encourage opportunities for agriculture entrepreneurial enterprises;
Facilitating service providers, subject matter experts, and limited- resource farmers in the co-creation of viable beginning farmer solutions.
Specifically regarding this project
MIFFS is dedicated to supporting the many faces of farming, particularly beginning and historically underserved farmers. We work closely with vibrant farmer-to-farmer networks to increase their chances of success by offering services, opportunities, and resources. Through this collaborative project MIFFS aims to expand the MIFFS Women-in-Ag Network and our Spanish-speaking Farmer Network and connect those two underserved constituent groups to educational resources as well as capital and land resources. Contact Jen Silveri for more information.
MIFFS is also focusing on new strategies for developing long-term farmland access to publicly and privately held land, as well as strategies for farmland succession, from retiring farmers to new-entry farmers. To aid the development of these land access strategies, the BFRDP team is partnering with Land for Good, utilizing their field based approach and materials.
Examples of past events include:
Women in Agriculture Scaling Up Workshop, Thread Creek Farm
Participants focused on both the planning and equipment required to increase your operation from a small vegetable plot to over several acres under cultivation. Lifelong farmers Virginia Knag & Emma Blinkenberg led this workshop on their family farm.
Women in Agriculture Network Discussion
"How the network can best serve its members in 2017 and how we can continue to come together in support of one another? Plus, Amy Freeman demonstrated an easy pie crust creation.
Women in Agriculture Direct Marketing and Promotion Workshop
Hosted at the Local Grocer, Leah and Jessie Smith of Nodding Thistle Farm shared tested methods for ramping up direct-to-customer marketing.

MSU Center for Regional Food Systems
MSU Center for Regional Food Systems (CRFS) works toward a thriving economy, equity, and sustainability for Michigan, the nation, and the planet. CRFS cultivates regionally-rooted local food systems that yield Good Food: food that is healthy, green, fair, and affordable. Through applied research, education, and outreach, CRFS unites the expertise of community partners with that of MSU faculty and staff to advance understanding of, and engagement with, regional food systems.
This material is based on work that is supported by the National Institute of Food and Agriculture, U.S. Department of Agriculture, under award number 2015-70017-22856.