Pre-College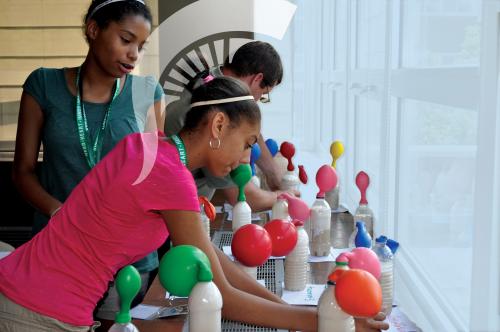 Stay tuned for fun and educational activities for K-12 students in 2017!
Visit other places on the MSU campus with the kids:
MSU Dairy Store and Plant makes and packages delicious ice creams and cheeses sold in the Dairy Store. The plant is equipped to process a variety of natural cheeses and ice cream in a state-of-the-art processing system.
4-H Children's Garden is full of fun things to do such as find Lamb's Ear and feel the leaves, sit on the sheep and have someone take your picture, check out the Pizza Garden, find some chocolate mint and smell it, go over the Monet Bridge, wander through the Alice in Wonderland Maze ‒ but don't get lost, dance on the dance chimes, and have a great time!
MSU Bug House features insects and learning. In addition to viewing the amazing pinned displays, visitors have the opportunity to interact with a whole room of insects, including walking sticks and tarantulas.
Looking for more Spartan Youth Programs? Visit: Spartan Youth!
Our Staff
Mr. Phillip Seaborn
Assistant Director of Undergraduate Diversity
E-mail: .(JavaScript must be enabled to view this email address)
Phone: 517-355-0234
Phillip coordinates the MAP, AIMS and AIMS-B programs. To request a copy of the Pre-College Poster email .(JavaScript must be enabled to view this email address).
Ms. Stephanie Chau
Assistant Director of Undergraduate Diversity
E-mail: .(JavaScript must be enabled to view this email address)
Phone: 517-355-0234
Stephanie coordinates the MILP program for CANR.