Pre-College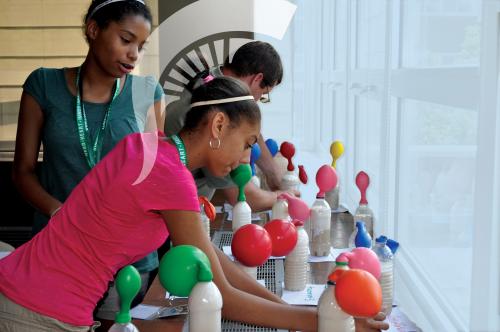 Stay tuned for fun and educational activities for K-12 students in 2017!
Visit other places on the MSU campus with the kids:
MSU Dairy Store and Plant makes and packages delicious ice creams and cheeses sold in the Dairy Store. The plant is equipped to process a variety of natural cheeses and ice cream in a state-of-the-art processing system.
4-H Children's Garden is full of fun things to do such as find Lamb's Ear and feel the leaves, sit on the sheep and have someone take your picture, check out the Pizza Garden, find some chocolate mint and smell it, go over the Monet Bridge, wander through the Alice in Wonderland Maze ‒ but don't get lost, dance on the dance chimes, and have a great time!
MSU Bug House features insects and learning. In addition to viewing the amazing pinned displays, visitors have the opportunity to interact with a whole room of insects, including walking sticks and tarantulas.
Looking for more Spartan Youth Programs? Visit: Spartan Youth!
Our Staff
Mr. Phillip Seaborn
Assistant Director of Undergraduate Diversity
E-mail: .(JavaScript must be enabled to view this email address)
Phone: 517-355-0234
Phillip Seaborn is the Assistant Director for Undergraduate Diversity. He earned his Master of Education degree in College Student Affairs & Leadership from Grand Valley State University as well as his Bachelor of Science in Advertising and Public Relations. He has worked in higher education for several years assisting students from various backgrounds, all with differing major and career interests. Prior to his arrival at the College of Agriculture and Natural Resources, Phillip served as the lead advisor for the Traditional Bachelor of Science in Nursing program in the Michigan State University College of Nursing. Additionally, he served as a team member and academic advisor for the Nursing Workforce Diversity program.
Phillip manages the MAP, AIMS and AIMS-B programs. To request a copy of the Pre-College Poster email .(JavaScript must be enabled to view this email address).
Ms. Stephanie Chau
Assistant Director of Undergraduate Diversity
E-mail: .(JavaScript must be enabled to view this email address)
Phone: 517-355-0234
Stephanie Chau is the Assistant Director of Undergraduate Diversity for the College of Agriculture and Natural Resources and the Michigan Indian Leadership Program (MILP) Coordinator for Michigan State University. She earned an AA degree from Muskegon Community College and a BA degree from Grand Valley State University in History/Spanish as well as a Michigan Secondary Teaching Certificate to teach grades 7-12. She was a teacher at Muskegon Public Schools for eight years before coming to Michigan State University in 2008. Stephanie is a member of the Little River Band of Ottawa Indians and has been active in the Native American community for more than 30 years.
Stephanie manages the MILP program for CANR.