Forest-Climate Working Group Learning Exchange Series
The Forest Carbon and Climate Program (FCCP) is partnering with the Forest-Climate Working Group (FCWG) to offer a curated Learning Exchange Series on forest carbon and climate issues to group members and the public.
The FCWG represents a diverse group of forest interests including landowners, industry, conservationists, academia and carbon market interests and has worked together for more than eight years to leverage the full potential of U.S. forests and forest products to provide climate change solutions. This group seeks to engage their members in learning experiences to grow internal knowledge and capacity in the group, bring into new ideas and expertise, and inform current and upcoming discussions on policy and strategy around the topic of forest carbon management.
2020-21 Learning Exchange Series Speaker Lineup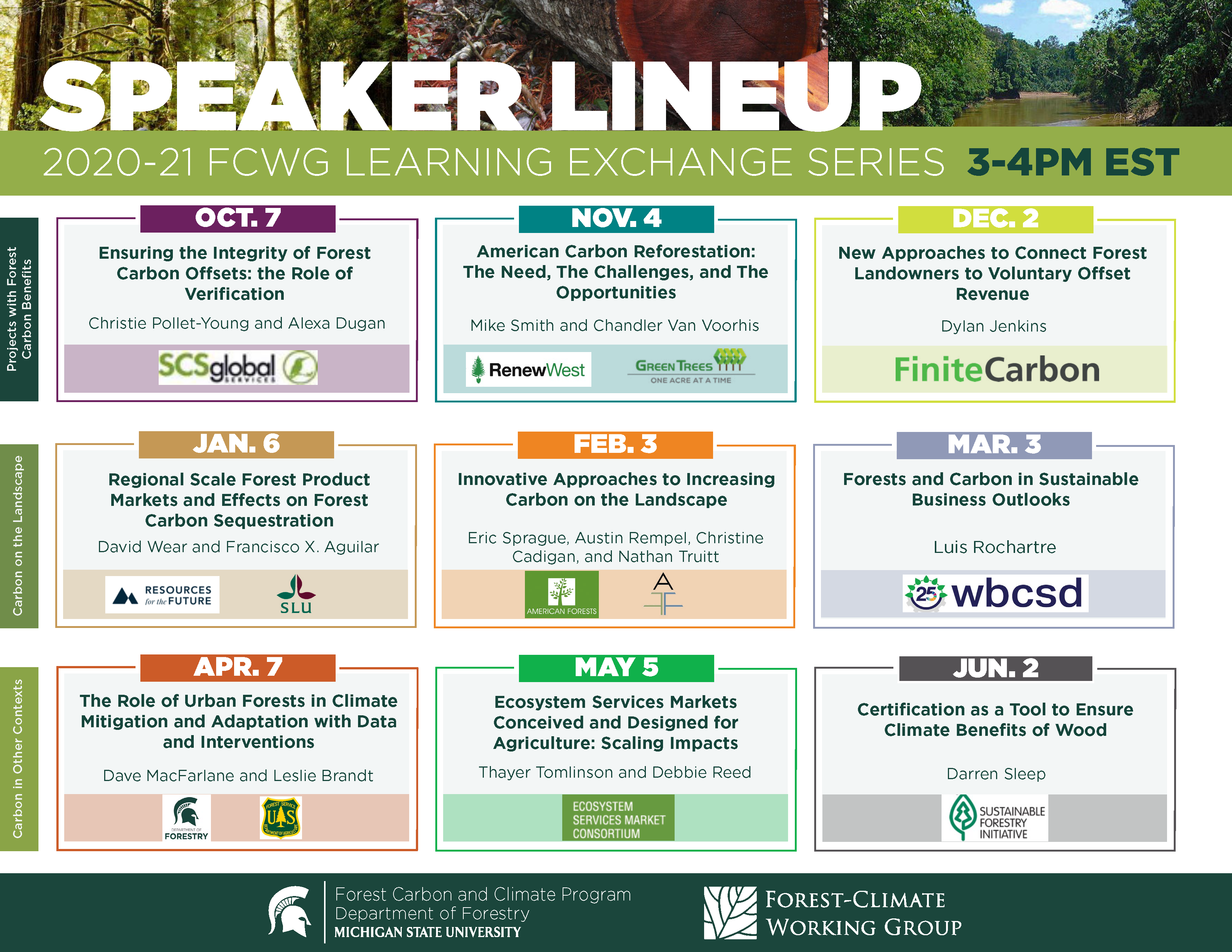 Upcoming Sessions:
November 4th: American Carbon Reforestation: The Need, The Challenges, and The Opportunities
Speaker: Mike Smith and Chandler Van Voorhis
December 2nd: New Approaches to Connect Forest Landowners to Voluntary Offset Revenue
Speaker: Dylan Jenkins
January 6th: Regional Scale Forest Product Markets and Effects on Forest Carbon Sequestration
Speaker: David Wear
February 3rd: Innovative Approaches to Increasing Carbon on the Landscape: Large-Scale Reforestation and the Family Forest Carbon Program
Speakers: Christine Cadigan, Nathan Truitt, Eric Sprague, and Austin Rempel
March 3rd: Forests and Carbon in Sustainable Business Outlooks
Speaker: Luis Rochartre
April 7th: The Role of Urban Forests in Climate Mitigation and Adaptation with Data and Interventions
Speakers: Dave MacFarlane and Leslie Brandt
May 5th: Ecosystem Services Markets Conceived and Designed for Agriculture: Scaling Impacts
Speakers: Thayer Tomlinson and Debbie Reed
June 2nd: Certification as a Tool to Ensure Climate Benefits of Wood
Speakers: Darren Sleep
Previous Sessions:
To review materials and recordings of past learning sessions, please visit the links below:
2020-21 Forest-Climate Working Group Learning Exchange Series
Published on October 7, 2020
In this webinar, speaker Alexa Dugan and Christie Pollet-Young of SCS Global Services present " Ensuring the Integrity of Forest Carbon Offsets: the Role of Verification".
2019-20 Forest-Climate Working Group Learning Exchange Series
2018-19 Forest-Climate Working Group Learning Exchange Series
2017-18 Forest-Climate Working Group Learning Exchange Series