A Bite-sized Look at Progress on Good Food Access
Snapshots of Michigan's progress on all 25 priorities filled the 2016 Good Food Charter report card. We think it's so important to recognize these accomplishments that we've created this bite-sized look highlighting a few of the successes!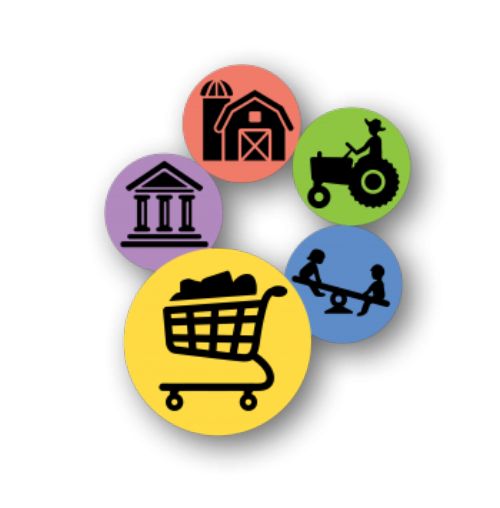 By: Rachel Kelly, Michigan Good Food Team Member


Three overarching visions guide the goals and priorities of the Michigan Good Food Charter:
a thriving economy,
equity, and
sustainability.
This week, we'll take a "bite-sized" look at good food access, which is key to the Charter vision of equity.
Access to Good Food is foundational to how the Charter describes equity, which is that "all communities have the conditions needed to thrive, including consistent access to affordable, healthy, nutrient-rich, fresh foods." Good food access for all Michigan residents is necessary to the vitality of our people, our communities and our state.
This is why "good food access" is highlighted as one of five themes that categorize the 25 strategies and actions listed in the Charter's agenda priorities.
Snapshots of Michigan's progress on all 25 priorities filled the 2016 Good Food Charter report card. We think it's so important to recognize these accomplishments that we've created this bite-sized look which, this week, highlights a few of the successes from the good food access theme!
Priority 1
Expand and increase innovative methods to bring healthy foods to underserved areas as well as strategies to encourage their consumption.
Flint Fresh Mobile Market van launched in August 2016 - delivers fresh, local produce to communities with limited food access.
Hoophouses for Health program – has 43 farmer participants as of 2015, continues to increase access to fresh, local fruits and vegetables to vulnerable families while expanding growing season.
Since 1990, the Food Bank Council of Michigan (FBCM) has been working with farmers to procure unmarketable produce surplus and then making those nutritious foods available to local pantries, soup kitchens and shelters.
Priority 3
Maximize use of current public benefit programs for vulnerable populations, especially children and seniors, and link them with strategies for healthy food access.
Michigan ranked third nationally in the number of farmers markets accepting Supplemental Nutrition Assistance Programs (SNAP) benefits in 2014, with more than 32,000 SNAP Bridge Card transactions worth more that $1.6 million, thanks to support from the Michigan Farmers Market Association (MIFMA).
In 2015, the Senior Project Fresh statewide redemption rate was 81%. In 2016, all 83 Michigan counties participated, up from 82 the previous year. This program provides qualifying older adults with Michigan-grown produce from farmers markets and roadside stands.
Priority 4
Provide outreach, training and technical assistance to launch new grocery stores and improve existing stores to better serve underserved people in urban and rural areas.
The Michigan Good Food Fund, a $30 million public-private loan fund, is a healthy food financing initiative launched in June 2015. The fund will increase loans, training, resources, and technical assistance to support new and existing grocery stores and other value chain businesses in underserved areas.
Priority 6
Use policy and planning strategies to increase access to healthy food in underserved areas.

The Michigan Local Food Council Network was launched in 2015 to bring together food councils to build their individual and collective capacities to work on food and food policy issues, operate effectively and engage their communities through peer-to-peer learning.
The City of Flint laid out changes to its zoning in the "Imagine Flint Master Plan" which was adopted in October 2013.
Survey results from 2015 food systems survey show 87 Michigan local government managers reported the presence of at least one type of food-related policy, many of which are specifically targeted toward healthy food access issues.
Priority 10
Establish Michigan as "the place to be" for culturally based good food that is locally grown, processed, prepared and consumed.
Michigan has the second most diverse agriculture industry in the U.S. and leads the country in the production of blueberries, cucumbers, squash, tart cherries, and four varieties of dry beans.
The Michigan Good Food Charter is one of the first such documents in the U.S. and has served as an inspiration for other food charters throughout the country, including Minnesota Food Charter and West Virginia's 'Road Map for the Food Economy.'
This list is impressive – and it's not even complete! See the Good Food Charter 2016 Report Card and 2016 Report Card Summary for more successes.
A note on measuring Charter progress: MSU CRFS continues to partner with the Gretchen Swanson Center for Nutrition to implement a shared measurement system to enable partners across the state to collect similar data to better understand progress on key indicators for the Charter goals, both locally and statewide.