CSUS alumna makes parks and recreation more accessible for all
Kate Gille works to tell the story of local parks and why parks should be accessible for everyone.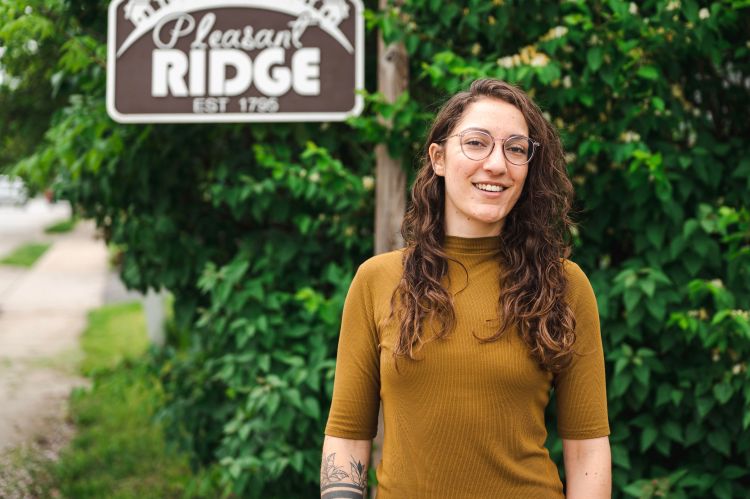 The benefits of spending time in nature are widely known. Most notably, spending time outdoors can improve people's mood, mental health, and emotional well-being. What better way to be immersed in nature than going out to your local park?
Kate Gille, a graduate of the MSU Department of Community Sustainability (CSUS), is one of the people who keeps her local parks running.
Students in the Sustainable Parks, Recreation and Tourism (SPRT) major combine their understanding of recreation and tourism with their knowledge of natural resources and sustainability. Gille takes the expertise she gained from SPRT the extra mile with her creative storytelling skills to help share the stories of Ohio parks and who visits them.
One of Gille's favorite things about working in parks and recreation is getting people excited about spending time outdoors. Designing programs that bring more people to the parks and spreading the word makes these valuable nature sites more accessible.
Gille joined the Cincinnati Parks Foundation staff in 2018 and manages the organization's communications and marketing. Her work on the Foundation's be.well Fall Adaptive Hiking program has been honored by the Foundation's receipt of the 12th Annual Governor's Award for Parks and Recreation presented by the Ohio Parks and Recreation Association. The be.well Program was created to offer "children with disabilities the opportunity to be active outdoors, make new friends, and improve their health."
"It was really meaningful because I got to play a significant role in developing that program," Gille says. "There were multiple children in the program who said that it was the first time that they'd been in the forest in their lives."
Beyond making her community a better place to live through her work in parks, Gille is also a passionate volunteer. She served as a board member for the Ohio Climbers Coalition, is on the marketing committee for the Cincinnati CROWN Trail, and is president of her neighborhood community council.
"Something that I learned from MSU is the importance of volunteerism and being involved in the community," says Gille.
Read below to learn about Kate's work, the be.well Program, and how she is applying what she learned from her major! This interview has been lightly edited for clarity and length.
---
Name:
Kate Gille
Degree:
B.S. Sustainable Parks, Recreation and Tourism
Minors in Environmental and Sustainability Studies & Sustainable Natural Resource Recreation Management
Graduated:
2018
Why did you choose your major and why MSU?
I was born and raised in Lansing. I grew up with MSU all around me, so I was an MSU fan from the moment I was born!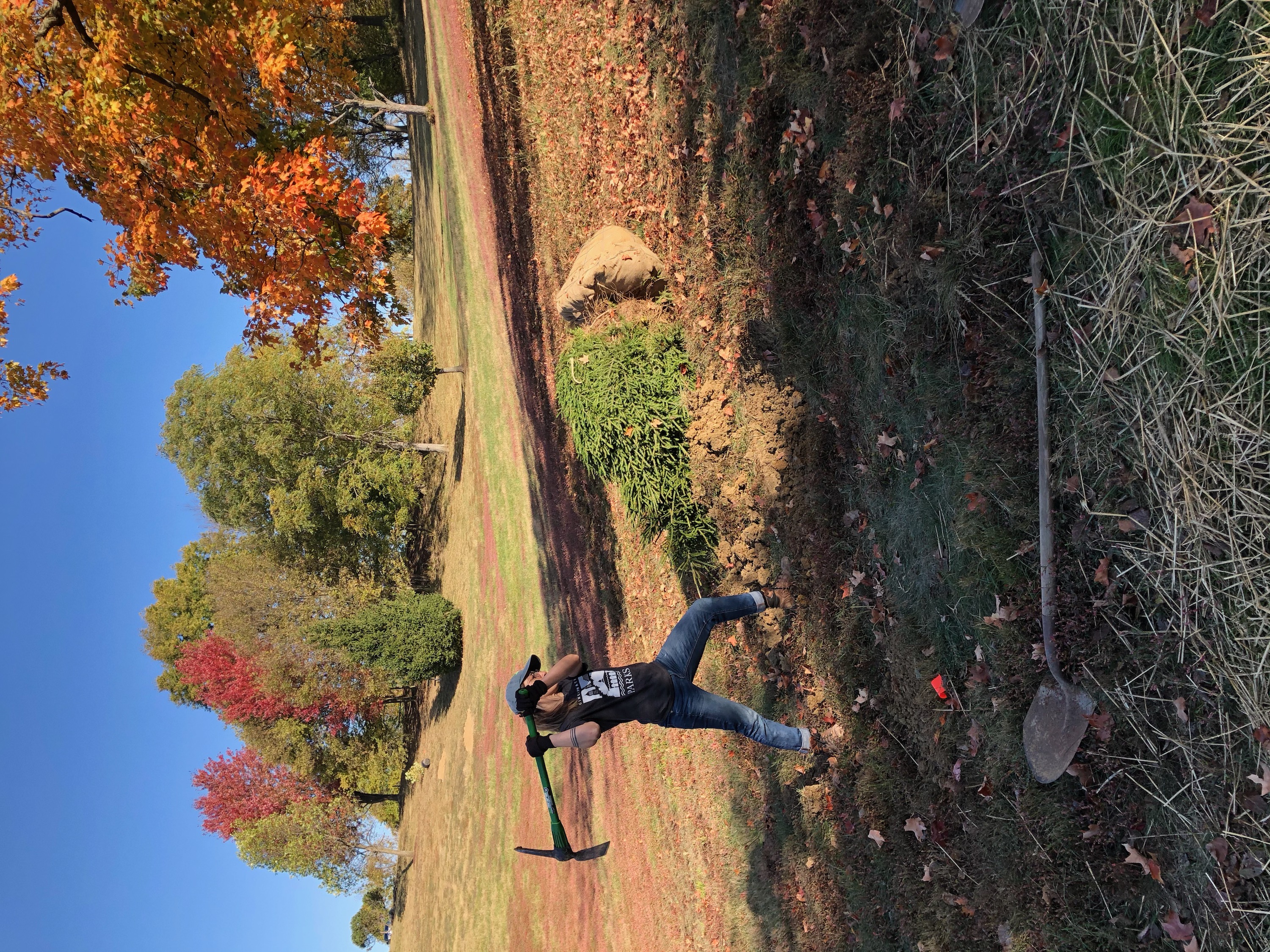 I worked in food service as a line cook, kitchen manager, barista, and bartender. I loved it for a while and thought that I was going to open my own food truck or restaurant. One day I thought, "I need to do something different." I decided I just needed a life change and wanted to pursue a passion. I was looking at different career choices and things that I love. I have always valued being outdoors, recreation, kayaking, things like that.
I saw that you can go to school for parks and recreation, so I took the leap as a non-traditional student. I was in my late 20s when I first started going back to school, so I was a little bit older than everyone else.
Whenever I tell people that Sustainable Parks, Recreation and Tourism was my major, they sometimes can't believe that it's a real thing. I think a lot of people think that parks just happen, but it definitely takes a lot of dedicated professionals.
What was your journey after graduation and how did that lead to your current work?
I had a few great connections that were made for me while I was in the CSUS program. Someone recommended the MSU Community Engagement Scholars Program to me. I entered that program and was in that while I was also in classes, and I learned so much.
Through my connections I was able to work for the MSU Department of Forestry, which is the neighbor of CSUS. That opportunity to work on their communications team really launched my whole career. With the Department of Forestry, I also did communication projects for the whole College of Agriculture and Natural Resources.
From building this communications work while learning the expertise about parks and recreation, I fell into a niche of being a parks and recreation communications professional. That one job I took in the Department of Forestry changed my whole life.
I did a short stint as a park ranger for my internship with the National Park Service. It was awesome, but wasn't quite for me, having this creative communication side of me.
From there, I applied to work for Cincinnati Parks as a part of their communications team. I got that job and moved to Cincinnati. I loved working for Cincinnati Parks. I ran all their social media and helped make board reports, a mix of the technical side and all the creative stuff. I got to make really fun videos about getting outdoors and how to recreate.
After that, I went to work for the Cincinnati Parks Foundation, which is the nonprofit that fundraises for the city department. Eventually, they promoted me to their creative and communications director. I've kind of become the right-hand woman of the executive director because I have this really nice skill set of understanding the issues of parks and community engagement, plus the communications background. I'm a great resource to my coworkers who might not have that formal education in parks and recreation.
Tell me about some of the greatest accomplishments in your career so far.
When I worked for Cincinnati Parks, we did a multimedia campaign that tied into the National Recreation and Park Association "Game On" Campaign, which was all about getting people to play games and recreate outside. My team and I brainstormed a series of videos that would encourage people to get outside. One video was with the parks director which was in the style of a videotape from the 1990s. That was really creative and quirky. In 2019, that series won the 2nd place award for Marketing Innovation from the Ohio Parks and Recreation Association, I think because we stepped outside the box and made something totally unique.
In my time at the Cincinnati Parks Foundation, I have been lucky enough to help create one of our programs in partnership with Cincinnati Children's Hospital. It's called the be.well Program. In 2020, they partnered with us, and it was the first time that they were specifically bringing people to parks as part of a nature prescription or "parks RX." A doctor can literally write you a prescription to take a walk in a park once a week, for example.
For our spring running session in the be.well Program, we got kids with disabilities out running in the park safely. The program won 1st place for Adaptive Programming from the Ohio Parks and Recreation Association.
Last year, we submitted another part of the be.well series where we partnered with the hospital and a nonprofit called Luke5Adventures. They used these all-terrain wheelchairs that are the coolest thing I've ever seen in my life. You can take anyone out on any trail. I've seen them go down huge staircases, over tree stumps, and cross creek beds with no problem. I helped create a park passport for that program, where the kids got to go out and with every park they visited, they got a stamp and were able to turn that in for prizes.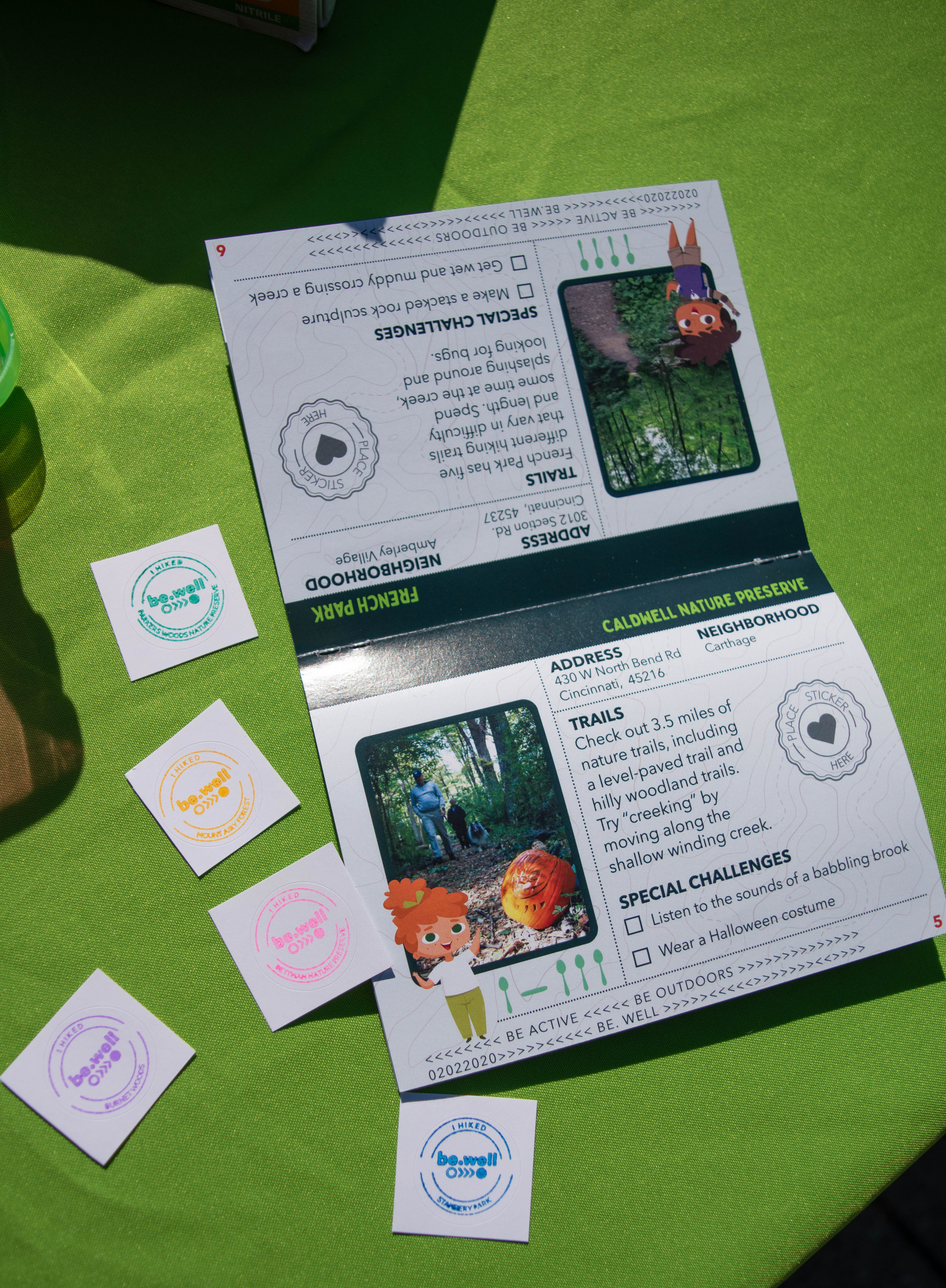 We submitted that program for an award and again won 1st place in Adaptive Programming from the Ohio Parks and Recreation Association. But even more than that, it went on to be a finalist, one of three top programs or projects in the state of Ohio, as having the most significant impact on the lives of Ohioans. We won that 12th Annual Governor's Award, which is the highest recognition I've ever gotten in my career so far.
It was really meaningful because the program is so close to our hearts, and I got to play a significant role in developing that program. There were multiple children in the program who said that it was the first time that they'd been in the forest in their lives. People who don't have a disability take many of these experiences for granted. Another special thing about that program is that the hospital did a pre- and post-assessment and they showed that children left the program with a higher sense of self-worth and self-esteem than when they entered. Knowing that our parks programming helped children improve the way they view themselves is so impactful.
What keeps you engaged in your current work?
The be.well Program has probably been the highlight. That program really keeps me going. Working with our partners and the community to make cool things happen is kind of a magical part of my job.
Anything that we can do for neighborhood parks also keeps me motivated. Every time we write a small grant for a neighborhood park project—a new bridge, trail restoration, or new playground—it's always really fulfilling.
I would also say knowing that in some small part, my work is helping to address climate change gives me a sliver of hope. I think anyone who's working in the environmental field right now is feeling pretty hopeless, so knowing that we can help plant thousands of trees each year or remove invasive species makes me feel a little more hopeful.
What do you like most about MSU and the MSU campus?
I didn't appreciate how bike friendly East Lansing and campus is until after I graduated. I rode my bike to school every day, I rode my bike to work every day, and I really valued that. When I moved out of East Lansing I quickly learned how non-bike friendly other cities are. Campus is absolutely beautiful. Walking or biking from class to class was always a treat because of the lovely architecture and how all of campus is a living arboretum.
The classes were great and so were the staff. I had a few professors or adjunct faculty that really made a great impression on me.
Mike Everett taught many of the sustainability classes I took. He was just such a great advocate and so helpful. He was a great reference and resource for me. I have continued to stay in contact with him and I hold him in high regard.
Christine Carmichael taught a class about public policy, and she was someone who had worked with urban forestry in Detroit. I learned so much from her about community engagement – how to actually go into a community, listen to their thoughts and concerns, and not just go in as an expert and tell a community what they want. I've used what I gained in that class more than anything. I've worked for a nonprofit, I've worked for the city, and everything is about community engagement.
Plus, the giant polar bear in the Natural Resources Building is another favorite! Got to give a shout out for the polar bear. I spent many lunch breaks sitting across from that cuddly beast.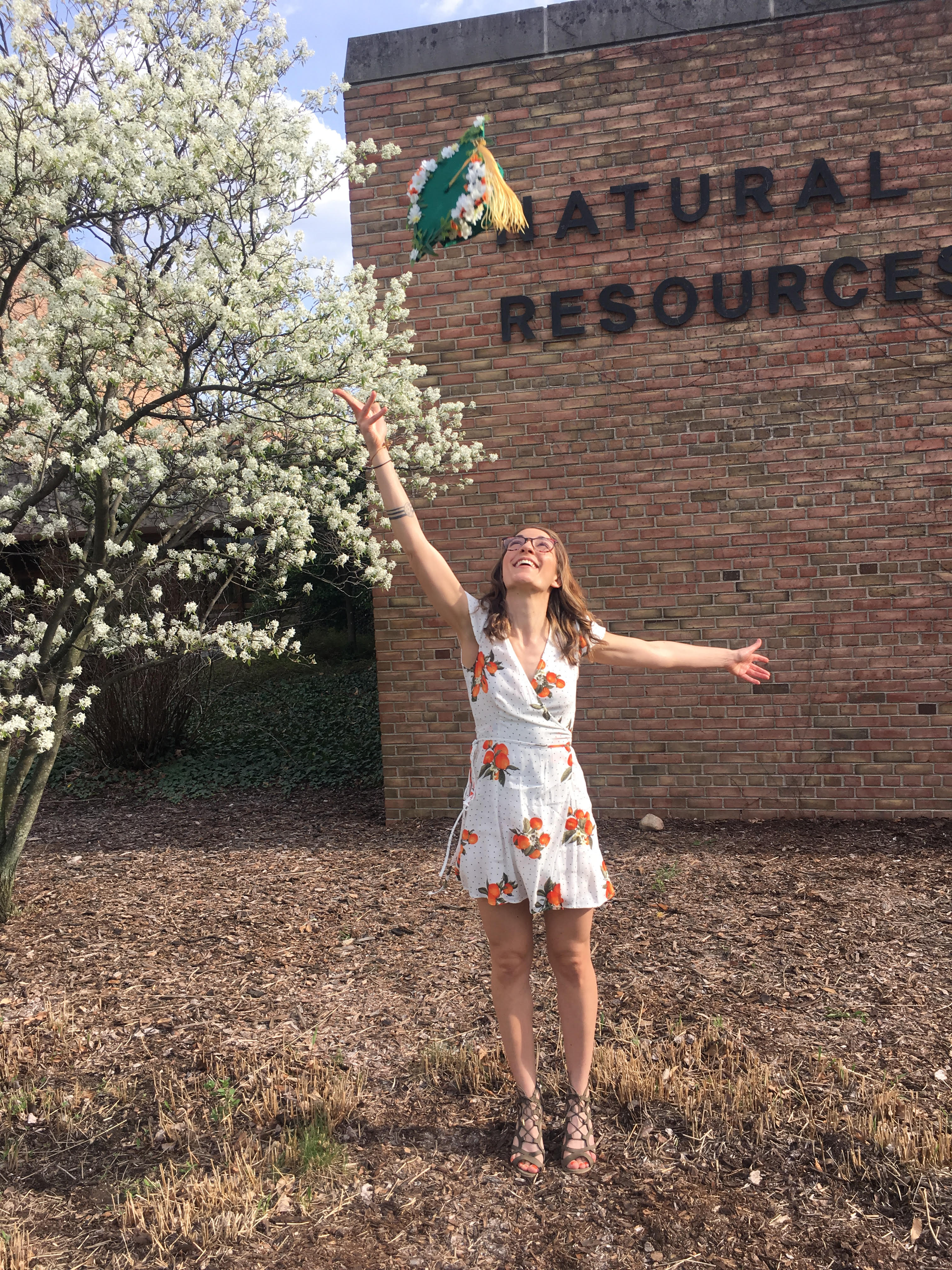 What advice would you share with current or prospective students?
Pursue every opportunity. I think someone else told this to me, and maybe lots of people say it, but it's so true. Definitely pursue every opportunity. If there's a chance to volunteer, or to meet someone on a board, or make a connection, just do it because anywhere that I've gotten in my career is because I purposefully showed up. People notice and remember you as someone who cares and is passionate. Things aren't just going to fall into your lap, you've really got to go after them.
Bring a new perspective. People can be kind of stuck in their ways, and say, "This is how we do it and we do it this way because it's how we've always done it." If you can think of a better way or a way that you know is more equitable, definitely keep pushing and fighting for it. We've all got good ideas and MSU raises brilliant minds. If you know something is right, advocate for it!
Is there anything else you would like to add about your connection to the MSU community?
While I was in college, I worked for a company in Lansing called River Town Adventures. They're a kayak livery where you rent kayaks on the Grand River or the Red Cedar River. I think about it often. I miss the ownership, I miss the people who work there, and if anyone is looking for an awesome parks and recreation summer job, that is the most fun job you'll ever have!