Michigan Economic Development Corporation and MSU Extension forge partnership to better Michigan communities through fresh sets of eyes
First Impressions Tourism (FIT) assessment program assists communities in understanding themselves and unique assets more through visitor experiences.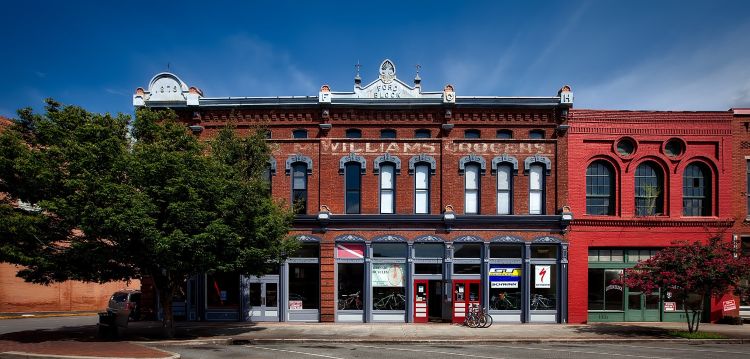 Michigan State University (MSU) Extension bridged a two-year partnership with the Michigan Economic Development Corporation (MEDC) in early 2021 for the purpose of offering the award-winning First Impressions Tourism (FIT) assessment program to select Redevelopment Ready Certified (RRC) communities. The partnership made available FIT assessments for four RRC communities between 2021 and 2022. The four participating communities were Grayling (2021), Cassopolis (2021), Allegan (2022), and Hart (2022).
As part of the FIT program process, each community is responsible for hosting a community forum. These forums are, at most, three-hour events open to anyone interested in learning what first-time visitors experienced in their respective community. Community forums are organized and hosted by Community Leadership Teams (CLT), which are typically of public, private, and/or non-profit sector leaders from the host community. Each RRC community hosted a forum approximately three-to-five months after receiving a team of first-time visitors from MSU Extension.
A total of 318 people participated in the community forums hosted by all four communities at various times throughout 2021 and 2022. Of 318 participants, 73 voluntarily took MSU Extension's short-term survey designed to evaluate learning and awareness as well as their potential next steps within 1-6 months.
Survey questions posed to participants included:
My awareness of community assets increased as a result of participating in this program.

82% Strongly Agreed/Agreed

My knowledge of how to maximize assets increased as a result of participating in this program.

88% Strongly Agreed/Agreed

The program information shared will help strengthen collaboration within the community.

87% Strongly Agreed/Agreed

I envision myself or community using the information shared to advance tourism in my community.

93% Strongly Agreed/Agreed
Participants were asked a series of qualitative questions after participating in their community forum. Qualitative responses garnered from all four forums demonstrated the significance FIT carries for participating communities, after a pause due to the onset of the COVID-19 pandemic in 2020.
Participants were asked if FIT helped increase their awareness of assets in their community. (Responses are direct quotes from the survey.)
Certain things are taken for granted. This (FIT) helped to remind everyone what assets we truly have in our community.
I feel when you live in a place for many years you get somewhat blinded to the natural resources/activities that are available to enjoy.
The things I didn't see in our community as highlights were on the top of the list of assets!
FIT offered quality insight that highlighted realistic areas of improvement.
FIT pointed out how many things are community offers as you wouldn't know by driving through the town.
As a new member of the community, it helped me to understand where improvements could be made and how I might be able to "plug in
Listing all the asset and seeing the length of that list gave me a better sense of what we have beyond the Village itself.
I think the program (FIT) helped to demonstrate the importance of all assets and how they work together.
This assessment helps us discover our "blind spots" that we have as a community.
Participants were then asked to specify short-term (1-6 months) actions they intend to take as a result of participating in the FIT program?
I think we will add businesses, places to eat, shop, etc. to our website and work on way finding signage.
Becoming involved with community and attend meetings
Be more involved with organizing community events
Continue to push for more diversity with arts/murals around the community
We intend to upgrade our website.
Help with printed materials and a map which then can be added to the website.
I will volunteer to help on a committee
Get involved!
Get more info on hiking and biking trails nearby so I am more knowledgeable to pass on info to customers who are interested.
Conduct survey of Chamber members and include questions on how they feel tourism impacts their business(es).
As a City Council member, I will press my fellow Council members to form an action plan to address issues highlighted in the presentation.
Michigan State University Extension's First Impressions Tourism (FIT) assessment program provides participating communities with helpful suggestions from first-time visitors to improve their community's tourism. Our "FIT Successes Report – April 2021 Edition," highlights a wide range of community action and successes across multiple Michigan communities between 2017-2019.
Overall, FIT helps communities learn about their strengths and weaknesses through the eyes of first-time visitors evaluating their community in an asset-based manner on multiple tourism-related community metrics. Are you interested in learning more about FIT? If so, consider visiting MSU Extension's Tourism Programs website to learn more.
Moving forward, MSU Extension and the MEDC are continuing this partnership for another two years. An additional four communities will be selected to participate in FIT over the course of 2023 and 2024.