Farm Business Record Keeping Series Launches Second Year
Learning series will support Black, Indigenous, Latinx, New Immigrant and Persons of Color who farm in Michigan on keeping good financial records and understanding historical inequities in agriculture and financial systems.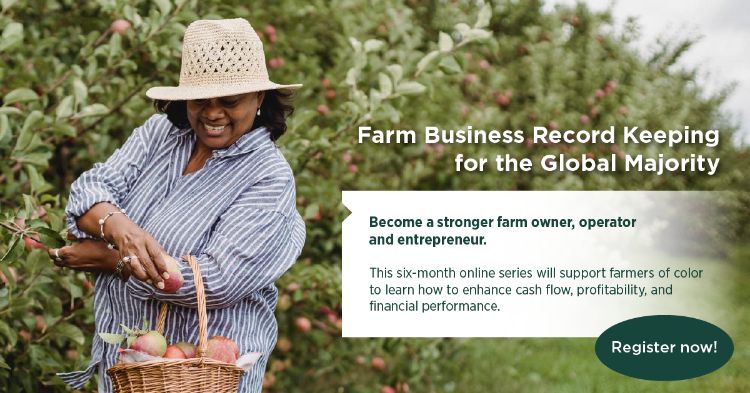 Contact: Maria Graziani, Outreach, and Innovation Specialist, grazia37@msu.edu
East Lansing, MI | The Michigan State University (MSU) Center for Regional Food Systems announces the second offering of a free virtual learning series for all farm producers of color representing the global majority diaspora.
"The majority of people across the globe are people of color, representing many countries and ethnicities. However, many systemic barriers keep people of color from farming or participating in farmer support programs in numbers proportionate to their majority," says Maria Graziani, Project Lead and Farm and Food Business Specialist at MSU Center for Regional Food Systems.
"This series is called Farm Business Record Keeping for the Global Majority to recognize that farmers of color represent the global majority and emphasize that the content has been designed specifically for them," says Graziani.
This course is for any size farm business in operation; urban to rural; with various ownership structures – owned, leased, nonprofit, or co-operatively operated. This six-month series will provide comprehensive, group-style farm business and finance management skill development.
The second year of this partnership with the United States Department of Agriculture Risk Management Agency is an important opportunity for farmers to develop skillsets to manage and grow their operations, as well as look at historical inequities and challenges specific to BlPOC (Black, Indigenous, Persons of Color) producers.
Registration for this series is open now through November 28, 2022 and the series education goes through May 2023.
This program is made possible by a co-operative partnership with the USDA, Risk Management Agency, under award number RMA22CPT0012390, and in partnerships with MSU Extension, Keep Growing Detroit, MIFFS, Genesee County Conservation District, South East Market GR, and Detroit Partnership for Food Learning and Innovation.