Gabriela Quinlan shares excitement of entomology, conservation and science
Graduate student Gabriela Quinlan overcame her childhood fear of insects and now gets to share the excitement of bees and flowers with students and the public.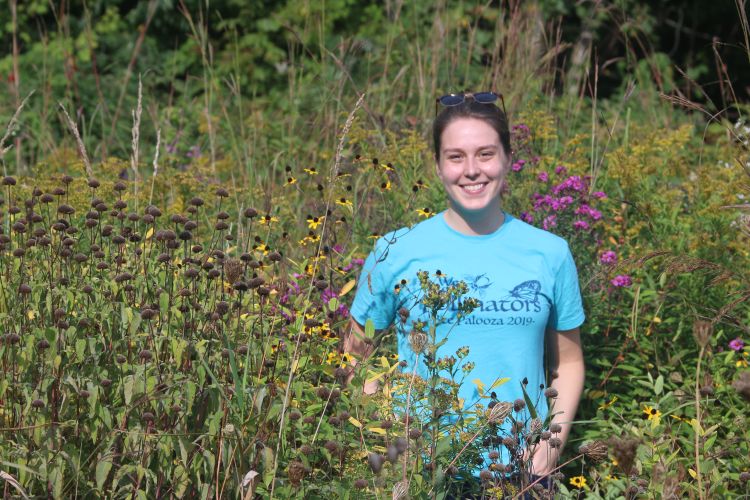 Name: Gabriela Quinlan
Hometown: North Carolina
Previous education: BS at North Carolina State University
Major professor: Rufus Isaacs
What are you researching? I research landscape level effects of nutrition on honey bee health and productivity.
Why study entomology? Insects are the cornerstone of ecosystem functioning. If you care about anything—nature, conservation, sustainability, food security, and all the implications these issues have for humans and society, you need to care about insects.
What or who inspired your interest in entomology? I was scared of insects growing up. I took an entomology course to get over my fear. As I started to learn about their crazy life histories, ecological niches and how much we still don't know, I was hooked.
What is your favorite activity or responsibility as part of your graduate studies? I like working with students and the public. My work on bees and flowers lends itself really well as an avenue for getting people excited about entomology, conservation and science.
What is your favorite thing about MSU? I am proud of MSU's legacy of Extension and its commitment to supporting local and global communities through meaningful science and involvement.
What is your favorite insect? I like longhorn bees because they are super charismatic with their long, elegant antennae, fuzzy, Go-Go-boot legs and kaleidoscope eyes. Also, a lot of them are specialists on fall asters, which are my favorite flowers.
What is your favorite activity/way to spend your time outside of your studies? I like traveling, spending time with friends and seeing live music.
Read about our past Featured Students.