Getting Healthy Food into School Lunches: HEALTHY Muskegon hosts Betti Wiggins
Getting Healthy Food into School Lunches: HEALTHY Muskegon hosts Betti Wiggins, Executive Director of School Nutrition Services at Detroit Public Schools
August 5, 2014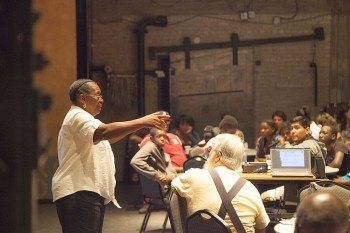 Press Release – Community Foundation for Muskegon County
July 31, 2014
On Thursday, July 31, over 90 people packed the Muskegon Frauenthal Center stage to hear from Betti Wiggins, Executive Director of School Nutrition Services, at Detroit Public Schools. Betti described how she has sourced, prepared, and served locally produced, healthy food in thousands of school lunches everyday at Detroit Public Schools. Detroit Schools have been successful over the past several years in building collaborations to source more locally produced food and to engage the students in the food discussion, so that they know where their food comes from and begin to make healthier meal choices. Ms. Wiggins has been invited to speak about her work at state and national conferences, around the country. "Betti has been a primary contributor to the success at Detroit schools, we are thrilled that she was able to free up her schedule to come to Muskegon and share her knowledge with our community", said Janelle Mair, Director of Grantmaking, Community Foundation for Muskegon County (CFMC).
Last week, Betti was asked to testify in Washington, DC, at a Senate Agriculture Committee Hearing on the Children Nutrition Act, and her work at Detroit Public Schools. Part of Betti's presentation to the Muskegon community included sharing her recent experience in Washington D.C. "It was great to have Betti testify at my Senate Agriculture, Nutrition and Forestry Committee hearing last week and highlight all of the terrific work her team is doing," said Senator Debbie Stabenow, "I have had the opportunity to visit many schools in Michigan, and I know schools like Muskegon are focused on promoting healthy foods and encouraging students to learn about where their food comes from through farm-to-school initiatives."
A project of CFMC and the W.K. Kellogg Foundation, "HEALTHY Muskegon – Healthy Eating and Access, Local Teams Helping Youth" emphasizes bringing people and resources to the Muskegon community to demonstrate pathways to increasing the amount of healthy food access in the area, especially to our children. This project's focus is on children living in the communities of Muskegon and Muskegon Heights; in addition, Muskegon Public Schools has been a tremendous partner at thinking out of the box and offering new ways to source healthy food for school lunches.
The HEALTHY Muskegon project also includes sub-grants to the community to increase healthy food access to children. One of the grantees, the Growing Goods Program, brought over 50 middle school and high schools students to the event to learn more about the how more local food can be sourced for their school lunches. "The Growing Goods program empowers young people to be accountable for their own health and well-being. The staff provides the opportunities and support but the youth have to do the work. It's about relationships: between youth and adults, food and farming and finally community and school." said Poppy Hernandez, Growing Goods Coordinator at Muskegon Public Schools.


For more information on the Healthy Muskegon program, visit www.cffmc.org/learn or like us on Facebook.