Grand Rapids area tree fruit update – June 15, 2021
After a scorching week, expectations of cooler temperatures and precipitation.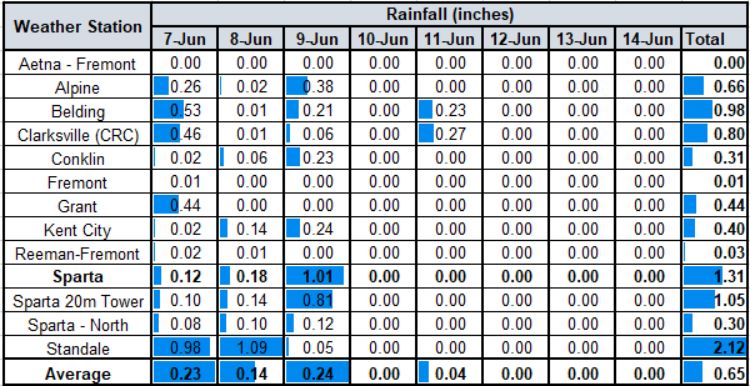 Weather update
In the Grand Rapids, Michigan, area, very hot conditions persisted last week. Temperatures for the week were more than 10 degrees Fahrenheit greater than normal, with high temperatures in the mid- to upper-80s for the majority of the week and lows in the mid- to upper 60s. The Michigan State University Sparta Enviroweather station has accumulated 2,126 degree days base 42 since Jan. 1, which is approximately eight days earlier than the average for June 14. Over 225 degree days were accumulated in the past week, which was even more than the previous week.
Rainfall was extremely variable across the region last week. Scattered storms throughout the week brought considerable precipitation isolated locations, while other regions remained very dry. Accumulation recorded by MSU Enviroweather weather stations ranged from 0 to 2.12 inches in total and an average of 0.65 inches over the course of the week. Rainfall tended to be greatest in southern areas. While most locations recorded at least 0.5 to 1 inch of rainfall, soil moisture is still considerably low across the region and irrigation is necessary especially on young plantings. An estimated 3% of available soil moisture was lost over last week across the state as indicated by simulated soil moisture.
A considerable shift in weather is expected over the next two weeks. In the next few days, conditions will be slightly more seasonable, with highs in the 70s to low 80s but will remain very dry. Next week, cooler than normal temperatures are predicted, perhaps for the first time this season! Several opportunities for rainfall are also on the horizon. After dry conditions early in the week, a storm system is expected to move through the region Thursday evening into Friday morning.
Wetter than normal conditions are expected next week, with storm system predicted to move through the area on Tuesday. In addition, tropical storm Claudette may contribute some rainfall to the region as it moves up the Atlantic coast. Overall, the 7-10 day outlook indicates promising, cooler and wetter than normal conditions.
Crop update
Apples are continuing fruitlet growth. Most varieties, including Gala, Honeycrisp and Fuji, are between 25-30 millimeters in diameter. Earlier varieties such as Zestar and Ginger Gold are reaching 1-1.5 inches. Results of thinning and early June drop have been very evident over the past week, as a result of the warm, dry temperatures.
Peaches are beginning pit development and hardening, and hand thinning is underway, continuing from last week. Cherries are beginning color development, especially in sweet cherries and early varieties.
Pest update
Warm evening temperatures have been ideal for adult codling moth activity. A biofix for the Grand Rapids region was set for May 16. The degree day totals for base 50 since that biofix total 511 base 50. The degree day models indicate the general Grand Rapids area is at nearing peak egg hatch for codling moth and cover sprays are critical for the next two to three weeks in blocks over threshold (five moths accumulated per trap or one moth per 1X trap in disrupted apple blocks).
European red mites are doing well in the very warm temperatures and lack of rainfall to help wash some away is not helping either. Continue to monitor—the threshold for European red mites in June is 2.5 motiles per leaf. Beneficials are beginning to be found in E European red mites RM populations and should be considered. Twospotted spider mites can be found in Grand Rapids orchards too.
Obliquebanded leafroller adults are being regularly caught in pheromone traps and peak flight is likely this week. An obliquebanded leafroller biofix for the Grand Rapids region was set for June 7. The degree day totals for base 42 since that biofix total 225. In blocks with higher populations, first treatments should be timed for 400 to 450 DD42 post-biofix or around June 22-23. In blocks with lighter numbers and no damage to fruits in 2020, one can scout for larvae and then spray as needed if over threshold (i.e., one larva per tree/block).
Rosy apple aphid are still present in apple terminals but seem to be moving on to alternate hosts. Green apple aphids (also known as spirea aphid) are now building quickly on growing terminals in apples. It's easier to also find several species of aphid predators in aphid colonies.
Woolly apple aphid is now starting to be reported in blocks with high numbers in 2020. They are extremely hard to find, but early management is important to keep woolly apple aphid at bay in late summer and early fall. If you had high populations in fall 2020, scout for their presence now.
San Jose scale males continue to fly and seem to be declining as expected. A regional biofix for the general Grand Rapids area was set for May 20, with 420 degree days base 51 accumulated since that date. Scale crawlers should become active at any time. Cover sprays to target San Jose crawlers need to be considered where populations were high in 2020. If you choose to use a systemic material, keep in mind it needs some time to be taken up by the tree to be most effective – this needs to begin now. Timing of contact insecticides targeting crawlers is guesstimated for June 26 or 27 using Sparta weather station data.
Oriental fruit moth adult numbers in traps is quickly declining as first generation comes to an end. A biofix was set for the general Grand Rapids area for May 1. The Sparta MSU Enviroweather station has accumulated 762 degree days base 45 since that biofix. First generation egg hatch should be winding down or even ended in low pressure blocks. Flagging of growing shoots can be found in very light levels in managed stone fruits. This is a good time to change lures to be ready for the start of second generation adult flight which is likely in the next seven to ten days. The expected early egg hatch for second generation will fall in the first week of July when cover sprays will again be critical in stone fruits.
White apple leafhopper nymphs and adults can be found in apples in rather low numbers. Keep an eye on non-bearing trees where insecticide covers are not used as much – a smaller than normal level of white apple leafhopper could shut down shoot growth in drought condition.
Dogwood borer adult flight is in its second week in the Grand Rapids area – numbers are low. Lesser peach tree borers, American plum borer and peach tree borer are all flying now in low to normal numbers. Borer sprays are usually timed for peak adult flight. For peach tree and lesser peach tree borers, this is usually late June. For dogwood borer, timing is usually around July 4.
Primary apple scab is not over yet for the general Grand Rapids area. Primary ascospores are 100 percent mature and nearly all discharged, however, spores continue to be trapped with every rain event. The wetting event on June 7 released 52 spores per rod with the first wave of rain and another 22 spores with the second wave. A separate rain event on June 9 released another 12 spores per rod. The Grand Rapids spore rod monitoring equipment is in a well-managed McIntosh block that had scab in 2020 – it is not in an abandoned block, so the numbers being caught are significant to all apple blocks in the area. The RIMPro model also indicates a few spores could be left before we can call an end to primary scab and areas to the south are still catching spores. It is likely we need one or two more rain events to discharge all primary spores for the 2021 season in the Grand Rapids area. Despite the very dry spring, scab lesions can be found in commercial blocks. Be cautious of stretching fungicides too much. With a good deal of fresh, green tissue and tiny apples present, the risk for primary scab is a concern until all primary spores are released.
Powdery mildew seems to be more of an issue in 2021 than usual and it is a bit surprising to see it when we have been on the lower side of humidity than a normal spring. Now that heat and humidity have moved in, any mildew present could advance quickly.
Fire blight symptoms from bloom time blossom blight infections should be easily visible by now. If symptoms are found, cutting out strikes is advised as well as spraying to keep further infections at bay. If you have active blight in blocks, any storms that rip or tear foliage could lead to further trauma blight outbreaks until we get to terminal budset.
Sooty blotch and flyspeck fungicides might be needed in some areas that received rain over the past few weeks. The rainfall and wetting hours for the various MSU Enviroweather stations has been highly variable – this has led to high variability in the summer disease model results across the region. Be sure you are watching the weather station nearest you for the proper timing to begin adding summer disease fungicides as needed.
We are beginning to notice tree stress from the high heat and windy conditions. Also, some tree decline is due to winter injury from 2019/2020 winter and trees just cannot keep going any longer – especially with the recent hot, dry conditions. Newly planted trees are doing great where irrigation is applied and not so great where it is not.