Innovative Farmers Market Programs Get Good Food to More Michiganders
Michigan is the second most agriculturally diverse state in America and leads the nation in the production of several crops, including: tart cherries, blueberries, dry black beans, and squash.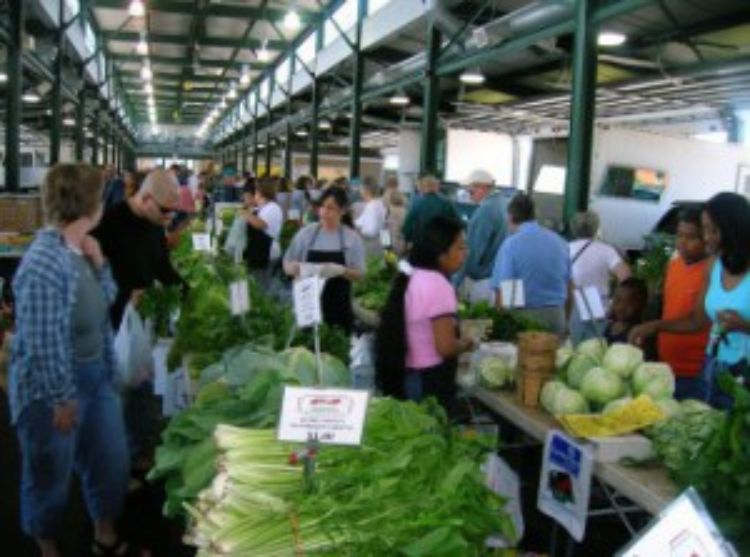 By: Rachel Kelly, Center for Regional Food Systems
Michigan is the second most agriculturally diverse state in America and leads the nation in the production of several crops, including: tart cherries, blueberries, dry black beans, and squash (see Michigan Department of Agriculture and Rural Development fact sheet for more details). If you are unsure when to find your favorite fruit or are wondering what's in store at the farmer's market this weekend, use this guide to know when Michigan farmers will bring which foods to market.
Michigan has plenty of farmers markets to choose from, and there are now more opportunities than ever for Michiganders to purchase fresh, locally grown produce at a farmers market. Listed below are some of the farmer's market innovations happening across the state to help Michigan residents—particularly low-income families or those living in areas where fresh food is less accessible —have easier and affordable access to good food.
Mobile markets are unique in that they deliver local, fresh fruits and vegetables to underserved neighborhoods where options to purchase such food are limited or do not exist. Many also accept SNAP/EBT, DUFB, WIC Project FRESH and Senior Project FRESH. Examples include:
For more information about mobile markets, click to watch "Introduction to Michigan Mobile Markets" webinar, sponsored by the MSU Center for Regional Food Systems.
Prescription for Health includes a variety of related programs throughout Michigan. According to the Michigan Farmers Market Association (MIFMA)[1], prescription for health programs are based on healthcare professionals "prescribing" healthy dietary changes—like increasing consumption of fruits and vegetables—to low-income patients who face a higher risk of diet-related diseases. Patients receive tokens or coupons to spend at participating farmers markets throughout the season. Washtenaw County's Prescription for Health program has successfully seen participants increase their fruit and vegetable consumption, according to their Program Implementation Guide. Examples of past and present programs throughout the state include:
Prescription for Health

– Washtenaw County Public Health
Fresh Prescription

– Ecology Center
Prescription for Health – District Health Department 10, Baldwin Family Health Care, and West Michigan Community Mental Health
Rx for Healthier Living – Kent County Health Department
Food Rx – Spectrum Health
Prescription for Health – Lenawee Health Network
Diabetes Coupons – Bay Mills Health Center
Fruit and Vegetable Prescription Program – Munson Medical Center
Healthy Active Living – Hurley Children's Center
Muskegon Prescribes Food for Health (MPFH)

– Community Encompass, Morse Marketing Connections, LLC (see

past Michigan Good Food Bite

featuring this program)
Food assistance programs are accepted at many farmers markets. See Michigan Farmers Market Association's page for food assistance clients to learn more. The food assistance programs that are accepted at some Michigan farmers markets include:
SNAP- EBT/Bridge Card

– Supplemental Nutrition Assistance Program (known as EBT or Bridge Card in Michigan) offers nutrition assistance to low-income families.
Double Up Food Bucks

(DUFB) – this healthy food incentive program, launched by the

Fair Food Network

in 2009, matches Supplemental Nutrition Assistance Program (SNAP) dollars spent on fruits and vegetables purchased at farmers markets (and some grocery stores). DUFB not only benefits low-income families by supporting healthy food purchases, but also supports Michigan growers and the local economy.
WIC Project FRESH

– managed by the Women, Infants and Children division of the Michigan Department of Health and Human Services (MDHHS), this program provides eligible WIC participants with coupons to purchase locally grown, unprocessed fruits and vegetables at authorized farmers markets.
Senior Project FRESH/Market FRESH

– this program gives coupons to qualified older adults to purchase certain types of Michigan-grown produce at authorized farmers markets and roadside stands.
Prescriptions for Health

– variety of programs operating in various Michigan counties. See previous section for more details.
MIFMA is a leader in the effort to increase access to local, fresh produce for Michigan residents through farmers markets. The organization has published comprehensive resource manuals and hosts annual webinars to provide training and assistance to farmers markets that are new to accepting Bridge Cards or interested in starting. According to the 2015 MIFMA Annual Report, 155 of the 300 farmers markets in Michigan accepted SNAP Bridge Cards in 2015, up from 130 in 2013. More on MIFMA's work around SNAP benefits and work to increase food access through farmers markets can be found at http://mifma.org/foodaccess/.
Hoophouses for Health is a MIFMA program intended to help families facing food insecurity as well as farmers. Farmers apply for zero-interest, five year loans to build a hoophouse, which allows them to extend their growing season. Families struggling with food access can apply for vouchers to purchase produce from participating Hoophouses for Health farmers at local farmers markets. Famers then use the vouchers they receive to pay off their loan, while more Michigan families have the opportunity to purchase fresh, local fruits and vegetables. According to MIFMA's website, 43 farmers participated in the program in 2015.
The many innovations listed above reflect only some of the efforts being made to increase food access at farmers markets for all Michigan residents. In a state with so much to offer agriculturally, these programs facilitate shopping at a farmers market, a great way to both access to our state's fresh produce and and support our local communities.
Now is the time to take advantage of the wide variety of Michigan fruits and vegetables. Check out what food is in season, find your local farmers market, and enjoy!
[1] Michigan Farmers Market Association (2016) Prescription for Health Programs in Michigan: An Overview and Summary of Best Practices. D. Montri, C. Easley, S. Debien, R. Peña, E. Syrja, E. Beutel. East Lansing, MI. Available from http://www.mifma.org/.