Kelly is studying for her PhD specializing in greenhouse plant production
Kellie Walters' dissertation title is "Physiological responses of hydroponically produced specialty vegetables to daily light integral, temperature, and nutrition."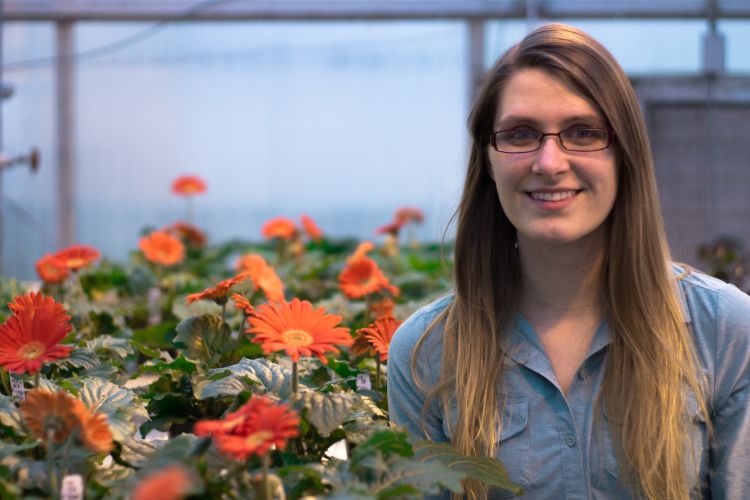 Featured Student
Our featured student for is in the Horticulture Graduate Program: Kellie Walters. Her hometown is Guttenberg, IA and she is working on a PhD in Horticulture under the direction of Dr. Roberto Lopez. We asked Kellie a few questions about herself:
What is your background?
I earned my Bachelor of Science in Horticulture from Iowa State University specializing in greenhouse plant production.
What is your research focus and dissertation topic?
My research focus is Controlled Environment Production and my dissertation title is Physiological responses of hydroponically produced specialty vegetables to daily light integral, temperature, and nutrition.
Why did you choose Horticulture as your advanced degree?
I love plants. When I was in elementary school, I would sell spider plants while my sisters sold lemonade. I didn't know that I could turn my love of science and my love of plants into a career, but it is possible!
What has been the best experience in grad school so far?
When you publish your first paper, seeing your name in print is a very gratifying experience – especially after reflecting on getting the first draft of that paper back from your advisor dripping with red ink [edits].
What is the best selling point about horticulture and your choice to study it at MSU that you would like others to know?
Do what makes you happy. Sure, you will not like every day. Who likes washing roots? But being surrounded by beautiful plants makes everything a bit better.
Secondly, the people you surround yourself with truly make the experience. My choice to come to MSU was two fold, everyone knows the horticulture program here is excellent, but I still don't think I would have came without my current advisor, Roberto Lopez. If you are entering a program as demanding as graduate school, working with people who complement your skills makes a huge difference.
What are your future plans (i.e. – what would be your ideal job after you graduate)?
I love research, teaching, and talking to growers, so a career that involves all three of those would be ideal! I am open to opportunities in both academia and industry.
Any other comments?
One of the best parts about graduate school is meeting the other graduate students and professors. Everyone is so smart and talented that you may think that your skills are inadequate, but they usually aren't. Working with and learning from others can help you form lifelong colleagues and friendships.