Michigan pesticide applicator review sessions, recertifications credits and testing options for fall 2022 and winter 2023
Frequently asked questions about when and where pesticide applicators can earn education credits or take the certification exam.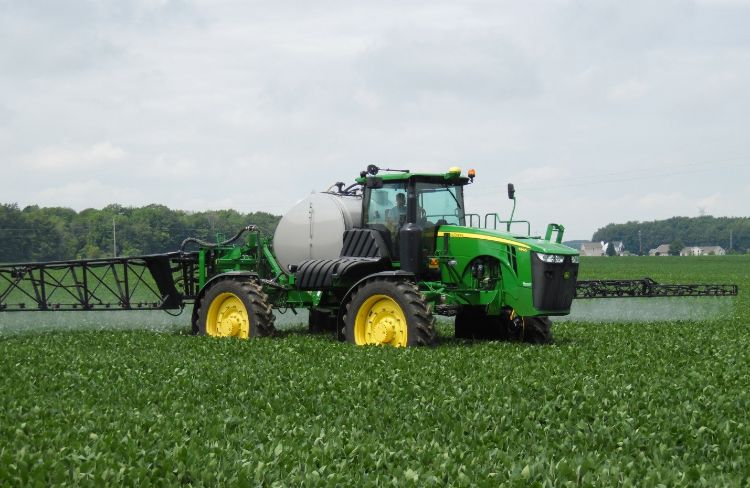 In Michigan, autumn is a time when the commercial agricultural community starts to think about pesticide applicator certifications. For some, it may be because the new production season is approaching and they would like to make sure everything is in place before it begins. For others, it's because applicator certification credentials expire on Dec. 31 every third year.
In service to Michigan agriculture, Michigan State University Extension has developed this short FAQ to help restricted use pesticide (RUP) applicators find the testing and recertification options that work best for them.
Important note to those who are recertifying: Be sure to have your applicator license number handy when you are attending an education session or taking the exam.
What testing options are available?
There are three testing options available:
Paper-based in-person exams (with core review sessions) are available through MSU Extension.
Computer-based in-person exams are available through the Metro Institute.
Computer-based remotely-proctored exams are available through the Metro Institute.
Where can we purchase updated training manuals?
Private Core, Commercial Core and Category manuals can be purchased online at the National Pesticide Safety Education Center (NPSEC) website. Manuals can also be purchased at your county Extension office, although availability may be limited due to the pandemic. Calling ahead is recommended.
What are core review sessions?
These are 4-hour sessions that cover every chapter of the National Pesticide Applicator Certification Core Manual. Review sessions take place in the morning and are followed by the MDARD Private Core, Fumigation Standard, Aerial Standard and Commercial Core applicator exams in the afternoon. Many applicators have found this program to be convenient and helpful.
Note: No Commercial Category exams will be offered at these sessions.
Where and when are core review and testing sessions available?
There are currently 25 sessions scheduled throughout the state between October 2022 and June 2023. It is important to note that participants must attend the core review if they plan to take the test in-person.
A complete list of available sessions, along with registration and additional information, can be found at the MDARD In-Person Core Testing and Core Review web page.
Are there other online review options available through MSU Extension?
Yes! For those that prefer a more structured learning environment, MSU Extension offers a more formal Pesticide Applicator Training Course. Those that complete the course will receive 12 education credits that can be applied to their private or commercial core license.
What is the Metro Institute?
A private company that has been authorized by MDARD to administer pesticide applicator certification tests. You can access their site through this link: Metro Institute – Michigan Testing Site.
Where can I go to take an in-person computer-based test?
The Metro Institute has 21 locations throughout Michigan, including the Upper Peninsula.
How does the computer-based remotely-proctored exam work?
This exam is designed to be taken from your home or office. It requires applicants to have:
Reliable internet service
A moveable camera
A microphone
MDARD recommends logging into the system and accessing the exam at least 30 minutes before the scheduled start time. View a training video that walks you through the exam process.
How do I sign up for a computer-based exam?
Registration for a computer-based exam with the Metro Institute is available on their website.
How much do these options cost?
MDARD certification fee schedule:
Private applicator fee is $50
Commercial applicator fee is $75
Testing costs:
MSU Extension paper-based in-person exam and core review session: $25
Metro Institute computer-based in-person exam: $55
Metro Institute remote-proctored exam: $65
Note that the testing costs are in addition to the certification fees. MDARD emphasizes that the certification process is not complete until applicators have submitted a completed license application and the application fee.
All of this information and more can be found at the MDARD Pesticide Applicator Certification webpage.
Does MSU Extension have any scheduled programs that offer pesticide education credits before the end of the year?
The Michigan Greenhouse Growers Expo and Great Lakes Expo are being held Dec. 6-8, 2022, at the DeVos Place in Grand Rapids, Michigan. Attendees will have the opportunity to earn pesticide credits at selected education sessions.
The IPM Academy is a self-paced online course that uses a combination of videos, resources and interactive content. Those who complete the course can request six RUP credits.
Are there any other opportunities to earn education credits?
All seminars that offer RUP credits are listed on the MDARD Pesticide Applicator Renewal Seminar Meeting Dates and Locations webpage.
Select the month and click "Find Training" to view the list of in-person and online options, along with a contact phone number.
Note: There is another link on that page to view a list of ONLY online seminars, many of which can be accessed at any time in a self-paced manner.