Michigan State University Horticulture Students Travel to National Collegiate Landscape Competition to Showcase Skills and Advance Toward Winning Careers
MSU Horticulture landscape professionals in-the-making head to the industry's largest recruiting event coined as the 'Olympics of the Landscape Industry'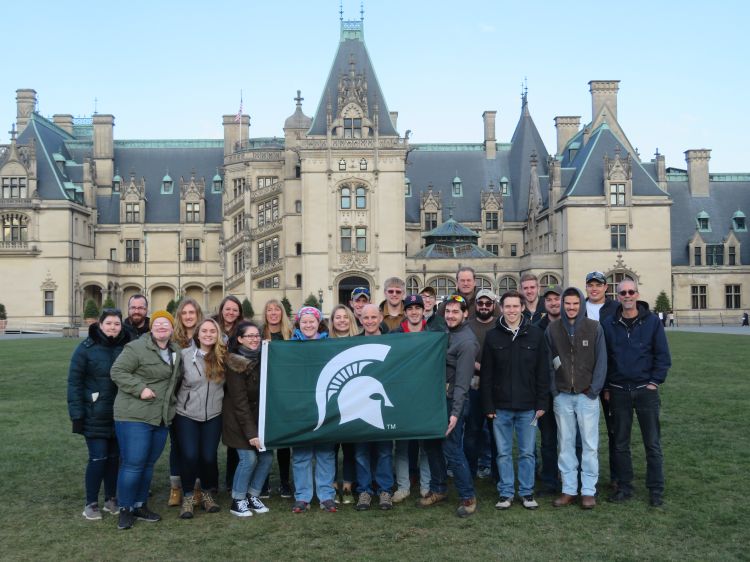 From March 14-17, 2018, MSU Horticulture students will join over 1,100 peers and eager-to-hire employers from across the U.S. to demonstrate their talents at the 42nd annual National Collegiate Landscape Competition, presented by the National Association of Landscape Professionals. Hosted at Alamance Community College in Graham, N.C., the three-day event will provide MSU students access to the country's largest landscape skills competition, educational workshops, presentations from the industry's top professionals and a career fair.
Designed to cultivate, inspire and showcase the talents of the next generation of lawn and landscape professionals, the National Collegiate Landscape Competition provides the nation's top students enrolled in interior and exterior horticulture programs at two- and four-year colleges and universities the opportunity to hone their skills, connect with professionals from the field and compete head-to-head with peers anxious to put their studies into practice.
This year's competition will bring together over 750 students from approximately 60 schools, including MSU, who will compete to take home top honors in 30 team and individual competitions. MSU will be represented by a group of 20 who will compete in nearly 30 competitions. Last year, MSU placed 2nd in the competition.
Dr. Brad Rowe, a professor in MSU's Horticulture Department, serves as the team's co-coach. He said this event "gives students a chance to test skills that are in high demand in the workforce against other students from across the country".
In addition to a host of networking and competitive events, MSU students will be given the opportunity to shape their professional paths. At the career fair, over 100 industry employers will be on site to tap into the best talent across landscape disciplines, including construction, greenhouse/production, design, business development and management.
"The National Collegiate Landscape Competition is an incredible opportunity for the next generation of lawn and landscape professionals to hone their talents and discover the many rewarding and lucrative careers within the profession," said Missy Henriksen, vice president of public affairs, National Association of Landscape Professionals. "Further, because of the thousands of open positions that must be filled on a yearly basis, it's not uncommon for students to leave this event with several job offers and to have made meaningful connections within the industry."
To learn more about the National Collegiate Landscape Competition, visit www.landscapecompetition.org.
For more information on MSU's Horticulture, visit www.hrt.msu.edu.