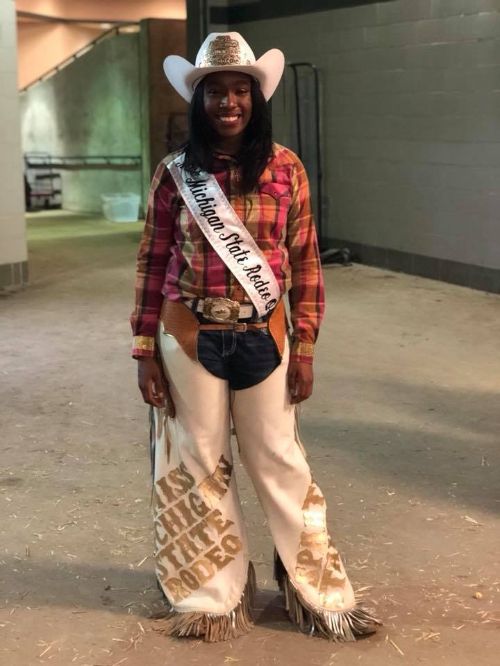 Khalilah Smith wants you to get to know her before making assumptions. While from Detroit, the College of Agriculture and Natural Resources sophomore spent her childhood summers working with steers and horses.
"Don't look at a person for where they come from, but get to know them first," Smith said.
Routine activities growing up involved horsemanship, hunting and snowmobiling, and she aims to encourage others to try new things outside their comfort zone, especially when it comes to horses.
Doctor Doolittle
Smith is an animal science/preveterinary major who has been active in the MSU Rodeo Club since her freshman year. Before that, Smith was part of her local Little Britches Junior Rodeo Program. Eventually, she said, she'd like to work with and advocate on behalf of zoo and circus animals.
Summers for Smith were spent at her mentor's farm, learning and acting as a vet-in-training for cows and steers. Her mom likens her daughter to Doctor Doolittle.
"I've always loved animals," said Smith of the comparison. "It's what makes me happy, just dealing with animals."
Rodeo Queen
At the Spartan Stampede Rodeo in February, Smith was named the Miss Michigan State Rodeo Queen. The title is exciting, she said, but the responsibility as the first African-American rodeo queen at MSU weighs on her.
"It means a lot to me," she said of the title. "I worked hard in a sport that's not normally minority-based."
Smith explained that many people may be reluctant to get involved in areas of agriculture and horsemanship when no one there looks like them. Through this role, and she believes she's helping to pave the way for others to discover these industries and hobbies.
"Don't let anyone knock you down," she said. "Take that first step."
May through January is the typical rodeo season, and Smith will have rodeo queen duties on weekends throughout the summer. She's already been invited to speak and organize rodeo demonstrations at several Detroit schools.
"I'm happy to be able to be a mentor in the way others were a mentor to me," Smith said. "I'm excited to see what I can do, and how many people I can get out of their comfort zones."