MSU and state leaders tour two animal agriculture facilities in southwest Michigan
Visit part of MSU AgBioResearch, CANR and Extension's continuing efforts to hear from ag communities statewide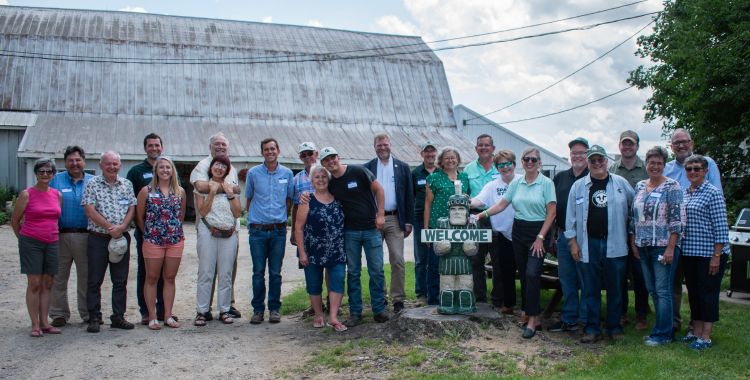 BRANCH COUNTY, Mich. — Leaders from Michigan State University and southern Michigan visited two Branch County animal farms on July 14 to speak with agriculture professionals about their operations and how MSU can continue to support others like them.
Owners of Great Lake Sire Service (GLSS) and Preston Farms conversed with the visitors representing Michigan agricultural, educational and legislative sectors before taking them on tours of each of their facilities.
MSU routinely collaborates with farmers to address areas of concern and to help maintain academic, research and outreach success as part of Michigan's food and agriculture industry, which annually generates $104.7 billion for the economy.
"Our college is at its best when we're carrying out the land-grant mission in partnership with Michigan's farmers and agricultural leaders," said Kelly Millenbah, dean of MSU College of Agriculture and Natural Resources (CANR). "We were all honored to receive such hospitality from GLSS and Preston Farms."
MSU AgBioResearch, CANR and Extension arranged the tour and included representation from:
"It's important to bring everyone to the table and have these conversations so that MSU can remain an effective partner in supporting Michigan agriculture through research that truly makes a difference on the farm," said Smith.
Also included on the visit were:
The day started in Bronson, Michigan at GLSS. Owned and operated by CANR graduates Earl and Melissa Souva, GLSS is a custom semen collection service for cattle, deer and sheep that was established in 1995. It provides physical exams to evaluate breeding soundness in animals, collects and processes semen, and stores and ships it worldwide to breeders.
Animal semen collection services such as those offered by GLSS are a critical component toward advancing agriculture production, said Shane, who oversees field operations for MSU Extension.
"The genetic potential — being more selective in the sires that are used in both the meat and dairy industry — adds to the opportunity of profitability and industry success," Shane said.
GLSS is the only production business of its kind in Michigan to be a member of both the National Association of Animal Breeders and the association's subsidiary, Certified Semen Services. This year it has collected almost 3 million samples.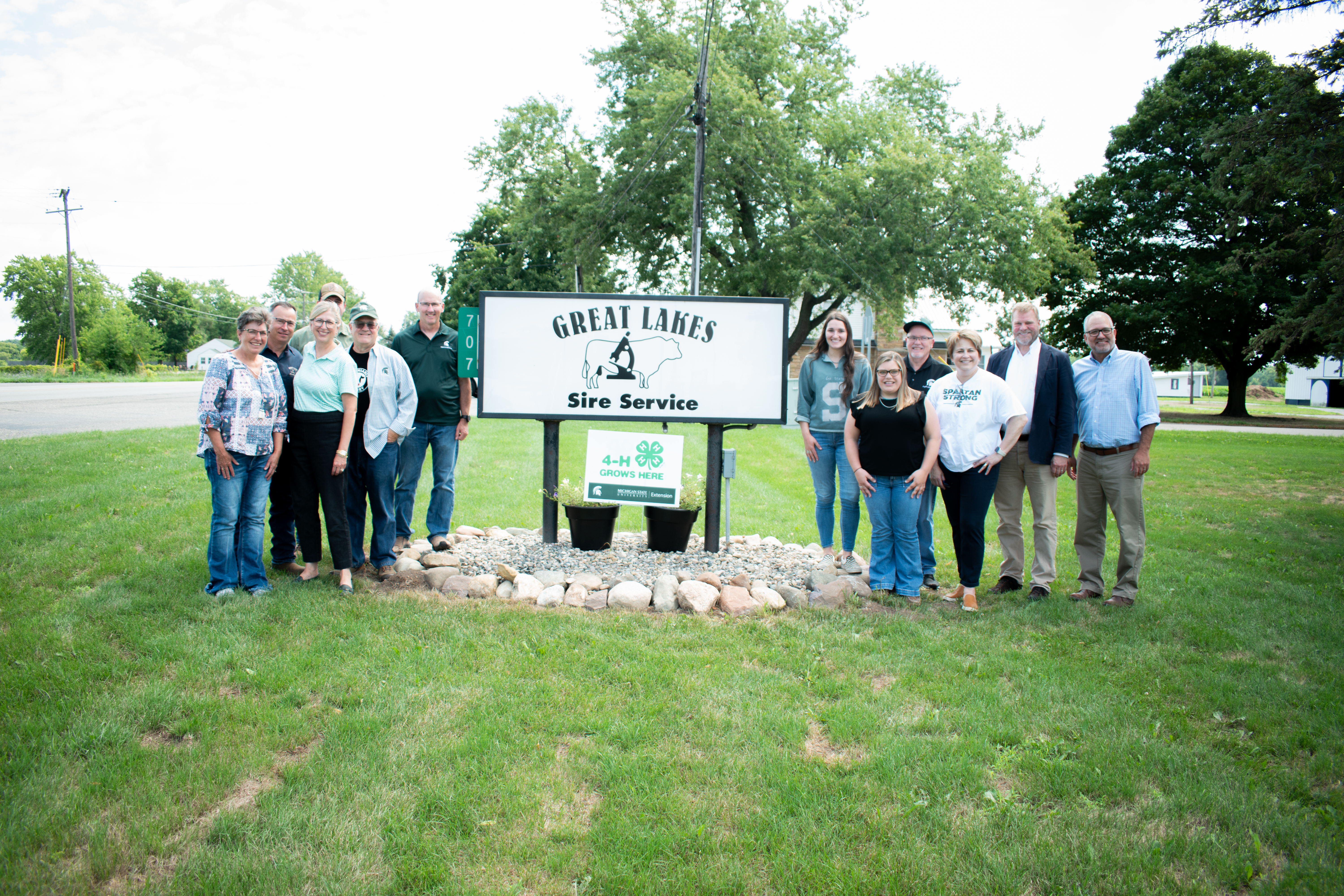 MSU Interim President Woodruff said she appreciates experiencing firsthand the interaction of CANR leaders with industry professionals.
"It's wonderful to see how many of our CANR students have places across the state of Michigan, especially here in southwest Michigan, to really live out their goals from their majors," Woodruff said. "And these farms and farm families really do impact MSU too. We have a land-grant ethos, which means we're bidirectional. We're constantly learning from those who are doing the work, and we're educating those who are the next generation."
GLSS not only employs MSU alumni and students, but it also helps raise future ag leaders through support of various programs.
"We are just big advocates for agriculture in dealing with 4-H and Future Farmers of America (FFA)," Melissa Souva said. "We're trying to keep agriculture out there and allow people to know that there's other things out there instead of just farming.
"This is one of those niche, niche markets."
On the second stop of the day Glenn Preston, third-generation owner of the fourth-generation farm Preston Farms in Quincy, Michigan, and his family welcomed visitors with lunch including pork chops in a tart cherry glaze, homemade baked beans, corn and potato salads, local produce and fresh from-the-farm dairy products.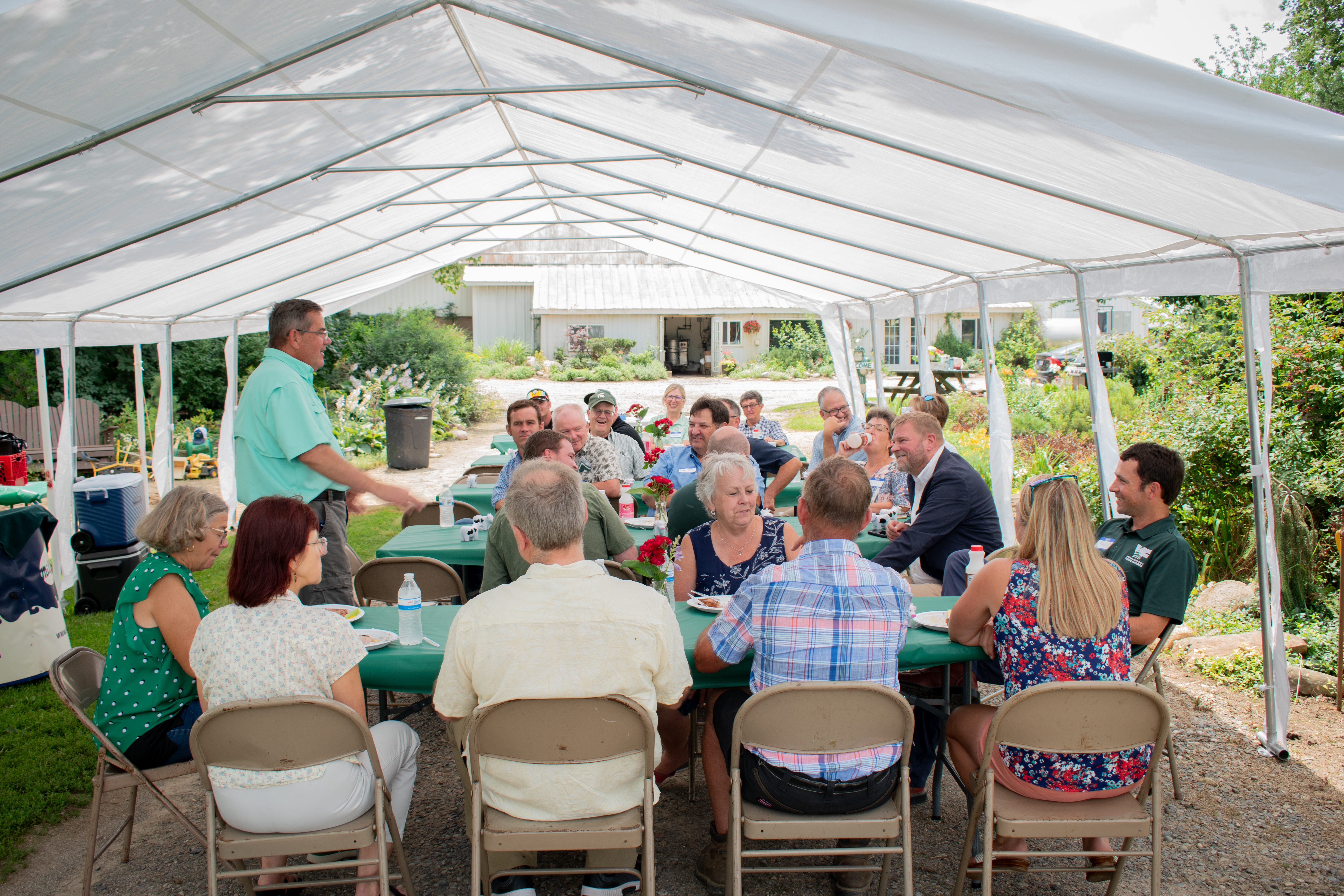 "The whole purpose of the day was to thank (Interim President Woodruff) for supporting MSU AgBioResearch and Extension," Preston said. "They're unbiased groups we can go to for answers to problems."
Preston, who's lived in the house on the farm his entire life, said his family cares for about 1,000 dairy cows and 10,000 hogs per year, along with farming 1,500 acres. It's an all-hands-on-deck approach, he said.
"One of our efficiencies is our labor efficiency," Preston said. "We've got newer equipment, but we work long hours and take it pretty seriously.
"Somebody asked me, 'How many people work here?' I said, 'Everybody works here. We don't have any slackers.'"
Preston graduated from the MSU Institute of Agricultural Technology and earned an American FFA degree. He still involves himself with the university as a CARET representative and collaborates with MSU Extension on his farm. He also travels to Washington, D.C., to talk with lawmakers about the impact that MSU AgBioResearch and Extension have on Michigan agriculture and the importance federal funding plays in supporting those efforts.
MSU Extension's Roger Betz, who helps farms with business management inquiries, said it's critical to build farm partnerships for everyone involved.
"These trusting relationships we have, they're from long years of work through MSU Extension and other (MSU) efforts to help families," Betz said. "It's full circle — we give to them, and then they give a lot back. We get a lot more back sometimes I think than what we give."
State Sen. Lindsey, who echoed Betz's sentiment, said the interactions throughout the day reinforced what he knew about the importance of MSU connecting with communities. He noted the active interest MSU leaders showed toward the local ag businesses.
"What impresses me is to see the (MSU) leadership taking an interest at the ground level — coming to see these facilities, coming to see what's happening in the communities," Lindsey said.