Second careers in sustainable agriculture
MSU Organic Farmer Training Program and other MSU programs welcome retirees and career-shifters starting farms.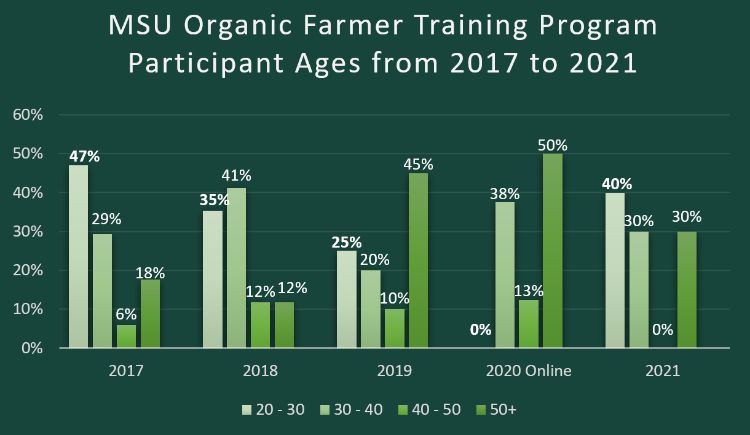 Even as the average age of farmers steadily increases to 57.5 years old, according to the 2017 USDA Agriculture Census, there is a common belief that beginning farmers will be young farmers. But many retirees and career-shifters are starting farms in their 40s, 50s and 60s. Some begin with agriculture backgrounds, but many gain skills working on a farm or participating in hands-on learning programs or entrepreneur courses through Michigan State University Extension or local non-profits to get started on the right track as shown in the list below.
Examples of learning opportunities for new farmers and second-career farmers:
MSU and MSU Extension programs:
Non-profits and other learning opportunities:
One example of a learning opportunity welcoming these new agriculturalists is the MSU Organic Farmer Training Program (OFTP). The OFTP is a mix of hands-on farming, interactive classroom learning and tours of 20-plus Michigan farms. The one-day-per-week format allows people in many life stages to participate. Aspiring and beginning farmers of all ages create a farm business plan to fit their goals, skills, land and markets.
Diversity is an asset to the OFTP learning community, which benefits from the contributions of new farmers with backgrounds in business, health professions and education as well as people returning to the workforce after caring for family members. As past participant Loretta Crum explains, "The give-and-take of comments and discussion I've received in this [program] have convinced me that I can make my farm match where I am in my life and what I want to accomplish over the next 10-20 years. It's been fun to watch the rest of the students go through a similar process."
Older beginning farmers often have real advantages as they start farming, such as entrepreneurial instincts from a lifetime of skill building and life experience. Some are able to fund land and startup costs from their savings or current income from a successful career, which is notably different from farmers under 40, who find land access to be the biggest barrier to farm startup, according to National Young Farmers' Coalition, "Building a Future with Farmers II."
The wealth of knowledge from OFTP participants' previous careers before pivoting to agriculture is truly impressive year after year. The 2021 OFTP learning community included military veterans, an attorney, a veterinarian, a marketing consultant, health/wellness professionals, non-profit farmers and parents shifting some time toward agriculture. Previous cohorts included an MSU librarian, a counselor, a banker, a CEO, physical therapist, ER doctor, chef, yoga instructor and an engineer. OFTP data shows that younger participants are more likely to have a season or more of paid work experience as a farmworker, farm manager or educational gardener, while older participants are more likely to own land for their farms, making opportunities for on-farm learning especially valuable for this group.
Learn more and sign up for the 2022 Organic Farmer Training Program! We are accepting applications until the start of the program on March 7.