Southwest Michigan Fruit update – May 28, 2019
Tree fruit bloom has ended. Blueberries are in full bloom.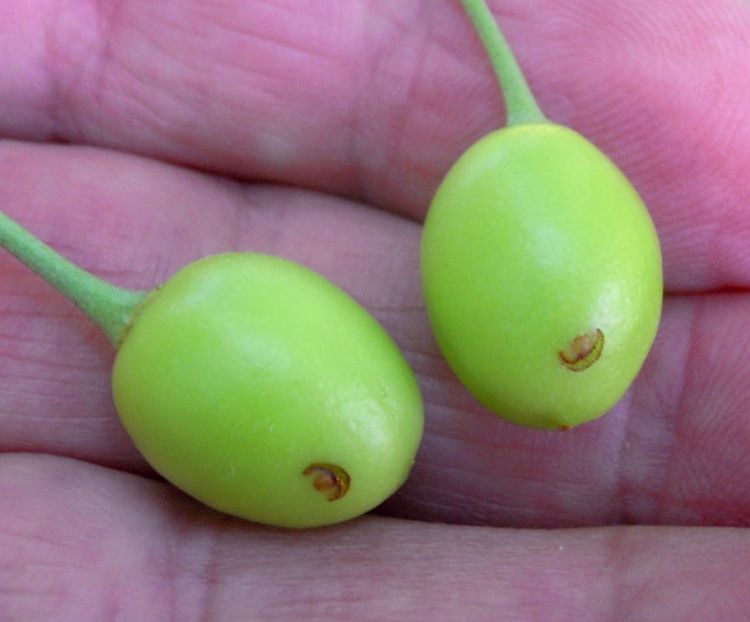 Weather
Last week began cool, with high temperatures in the 50s. Highs rose into the 70s by Wednesday. Most nights stayed in the upper 40s or 50s. Tuesday morning lows were in the mid-30s. This near frost caused no damage. The second half of the week brought periodic rain. Precipitation totals for the week were about half an inch. The rain was light and scattered causing few infection events. Strong storms moved through the region Monday evening with rain totals about 0.3 to 0.5 inches but some stations received almost an inch.
The forecast for this week is for cooler conditions, with highs near 70 and lows in the 50's. We can expect pulses of rainy conditions Wednesday through Friday. Soils are generally wet but our landscape is fully leafed out and plants are using lots of water on warm days. Soils are warming up with soil temperatures in the 60s. Corn is emerging quickly where it has been planted on sandy soils. There is still standing water in poorly drained fields.
We picked up about 143 growing degree days (GDD) base 42 and 87 GDD base 50, the largest single week accumulation of the year so far. We are about week behind normal.
Southwest Michigan GDD summary from March 1 – May 27, 2019

Station

GDD 42 F

GDD 45 F

GDD 50 F

Benton Harbor (SWMRC)

603

463

285

Lawton (Lawton)

627

483

301

Fennville (TNRC)

520

392

235

Average for the SW region

614

473

294

Accumulation last week

143

121

87
Check out the new animated weather forecasts from Michigan State University agricultural meteorologist Jeff Andresen at the weather tab in the Michigan State University Extension Fruit & Nuts Page. Articles and other regional reports can be found at the Fruit News page.
Tree fruit
Stone fruit has emerged from shuck and growing rapidly. Pome fruit bloom has ended. Plum curculio is out and egglaying has begun. Signs of winter injury are easier to see as healthy plants are fully leafed out and rapid shoot growth is underway.
Apricot are 14 millimeters or larger with a very light crop.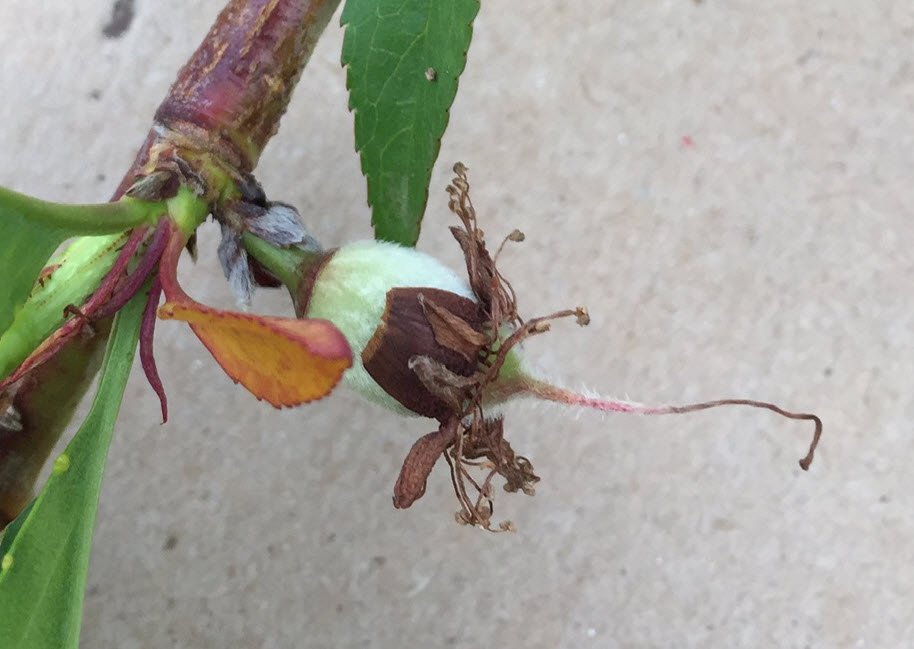 Peach and nectarine fruit have emerged from the shuck and are big enough to attract tarnished plant bug and plum curculio. First catch of oriental fruit moth at the Trevor Nichols Research Center was May 6, and the flight has been ongoing since then. Growing degree day accumulations are indicating it is time to put on any necessary larval control sprays to protect developing tree shoots. More trunk cracking is being reported, presumably due to the January low temperatures.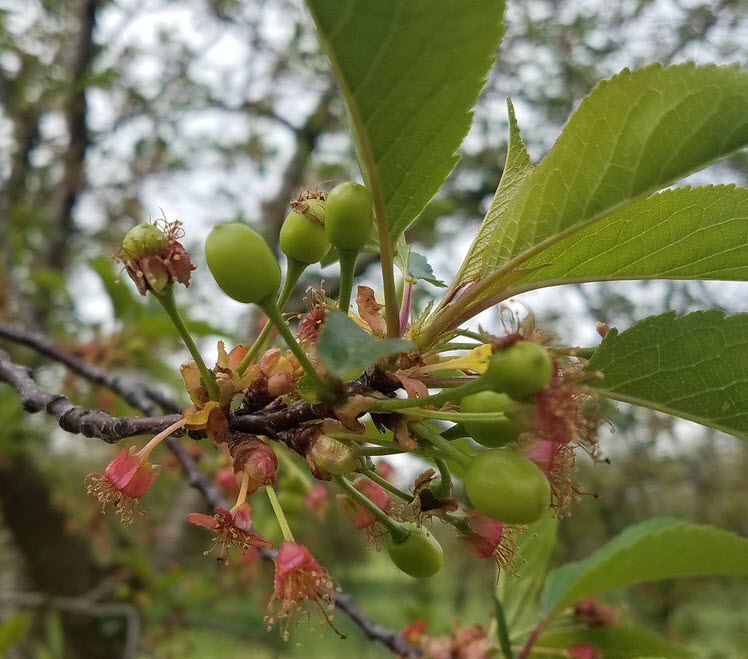 Sweet and tart cherries have emerged from shuck. Sweet cherries are at 11 millimeters and tart cherries are at 10 millimeters. Fruit are large enough to be attractive to plum curculio egglaying and feeding, with some damage noted this weekend. Ongoing cherry leaf spot management is needed.
Japanese plums are at 12 millimeters and the crop is light for most sites. European plums are at 10 millimeters in diameter in central Berrien County. Young plum fruit and foliage are tender and are prone to russeting from captan, especially under cool, slow drying conditions.
Apple bloom has ended. Some varieties such as Rome still having lingering bloom. Gala, Golden Delicious, Red Delicious range from 9 to 11 millimeters, Honeycrisp are at 12 millimeters and Zestar are at 14 millimeters in diameter. Initial fruit drop in Gala is starting. We are entering the primary apple thinning window when fruit are 8 to 12 millimeters in diameter.
With high temperatures forecast to be in the upper 60s for the next few days, trees will not be stressed and the new leaves are very succulent with all our cloudy moist weather. Thinners should be absorbed very well. Use Cornell carbohydrate thinning model to estimate the susceptibility of apple fruit to chemical thinning sprays and adjust rates according. Do not wait too long for optimal conditions and base your decisions on fruit size and the predicted weather. Once apples are larger than a half-inch in diameter they become harder to thin effectively. Apply your thinners soon and expect to do a follow-up spray rather than relying on just one late thinning spray.
The Enviroweather Maryblyt model indicated that Saturday, Sunday and Monday were favorable for fire blight infections for those blocks where bloom is still new (opened within the last five days). UsingApogee is an option now for reducing the susceptibility of apple growth. The rate depends on the variety and age of tree. This week's cool weather will delay blossom blight symptoms from appearing until the first week of June.
Codling moth biofix has been set for some orchards in the region. Mating disruption dispensers need to be up where this management option is being used. There are many different options for controlling the first generation of codling moth. Plum curculio monitoring should also be in place.
Pear fruit are sizing. Bartlett pears are at 12 millimeters and Harrow Sweet at 12.5 millimeters. The first generation codling moth is not a problem in hard pears but plum curculio will lay eggs in pears. The time of rapid shoot growth with succulent leaves is the primary treatment window for pear psylla.
Small fruit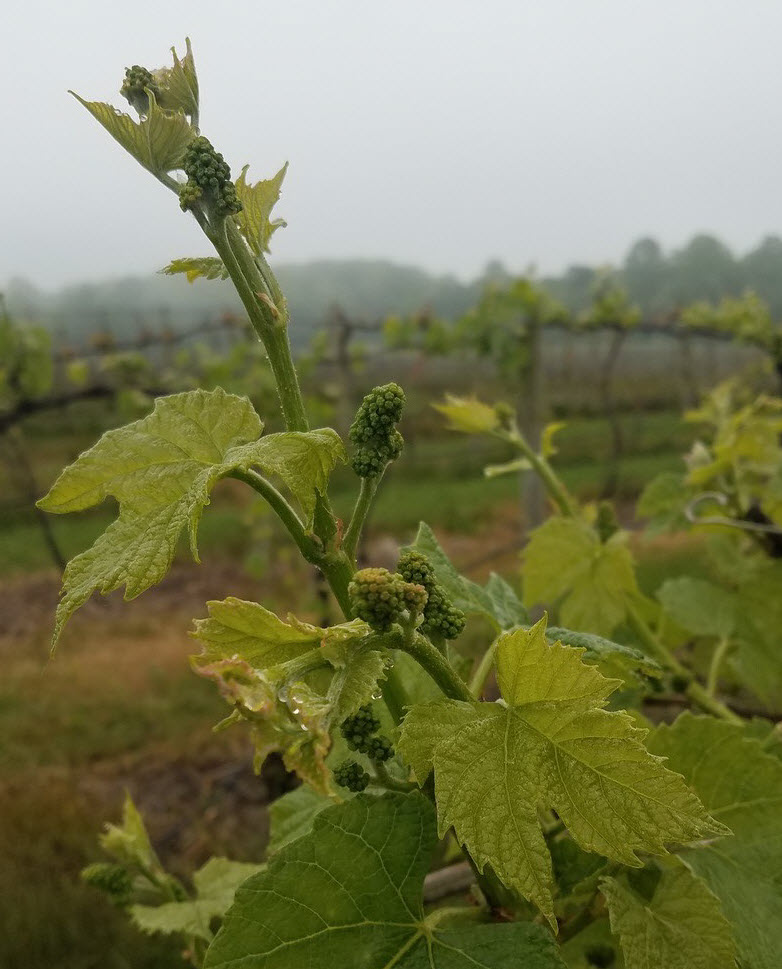 Grapes are moving quickly. Shoots are 4 to 10 inches long with five to eight leaves. Flower clusters are exposed but not yet elongating. Most growers managed to get on early disease control sprays. There are dramatic differences in vineyard growth depending on the impact of the January cold. In many vineyards, low spots show poor growth. We are catching grape berry moth. Watch wild grapes in your area. Bloom in wild grapes is used to set the Grape Berry Moth model on Enviroweather and determine the spray timing for treating the second and third generations of this pest. Rose chafer should appear soon.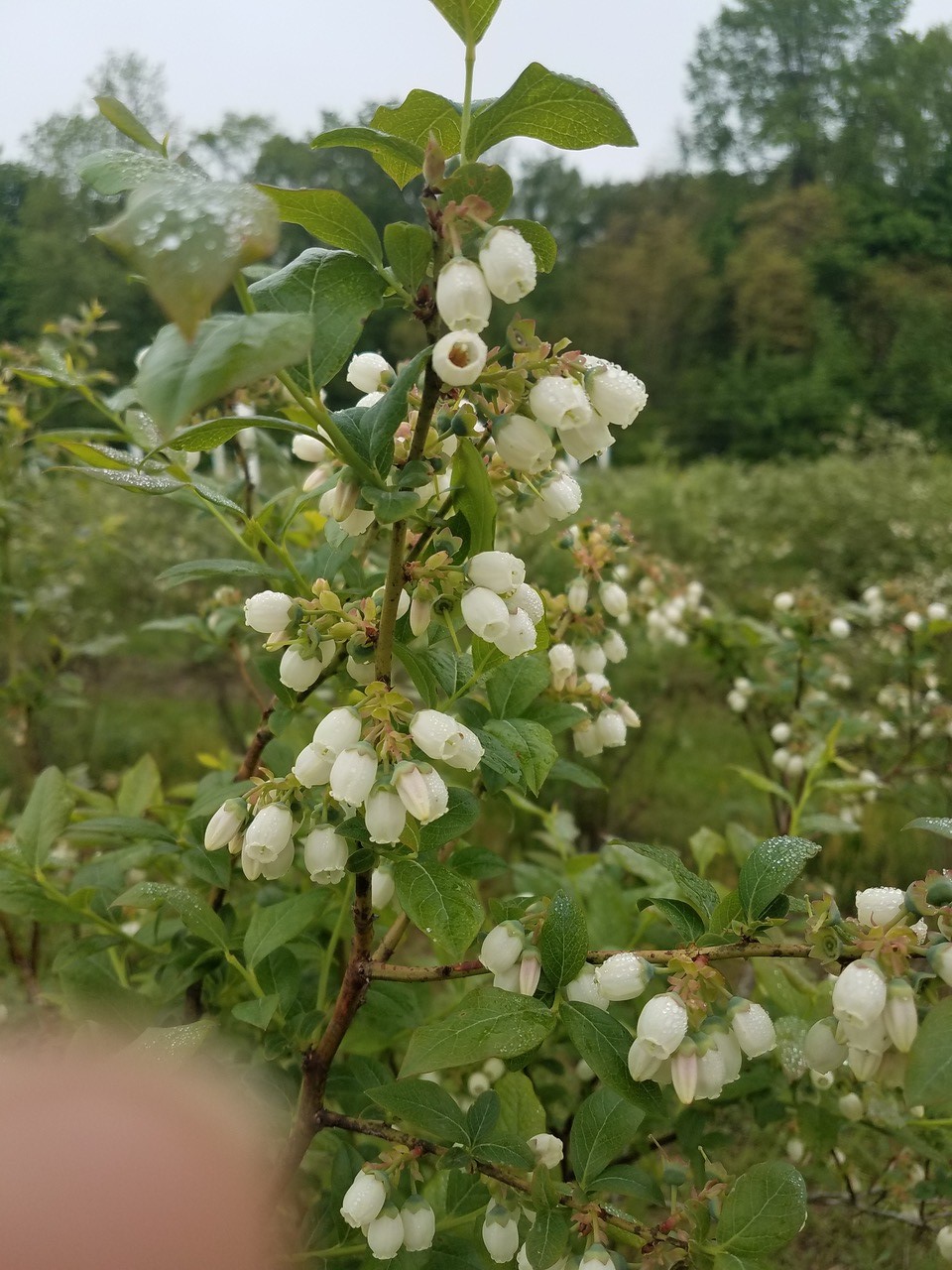 Blueberry fields are in full bloom in Berrien County. Early varieties are starting to drop their petal tubes. Fields located to the north or closer to the Lake are not as far advanced. Bloom looks good across the region. Cherry fruitworm and cranberry fruitworm have both been caught, but trap catches have been low and sporadic and few sites have set a biofix. GDD prediction for cherry fruitworm biofix was this past week and cranberry fruitworm GDD biofix is predicted for this coming week.
Strawberry bloom is ending and we are seeing small green fruit and the largest are thimble sized. Growers need to be alert of insect pests such as tarnished plant bug and spittle bug.
Bramble shoot growth is progressing rapidly. Flower clusters are separating and bloom should begin soon.
Upcoming meetings
Our next Monday fruit IPM meetings will be June 3 at 5 p.m. at Fruit Acres Farms, 3452 Friday Rd, Coloma, MI. These meetings are free and open to all. We review the current conditions in fruit crops and discuss pest control options with growers. Two Michigan RUP applicator recertification credits are available at these meetings.
A Blueberry Spotted Wing Drosophila Management Meeting is planned for Wednesday, June 5, at the Southwest Michigan Research and Extension Center near Benton Harbor, Michigan, from 9 a.m. to 4 p.m. Registration information is coming soon.
Viticulture Field Day will be June 13 at the Southwest Michigan Research and Extension Center.
Related articles