Southwest Michigan fruit update – May 5, 2020
A warm weekend moved tree fruit quickly along. Cherries, peaches, pears and plums are blooming.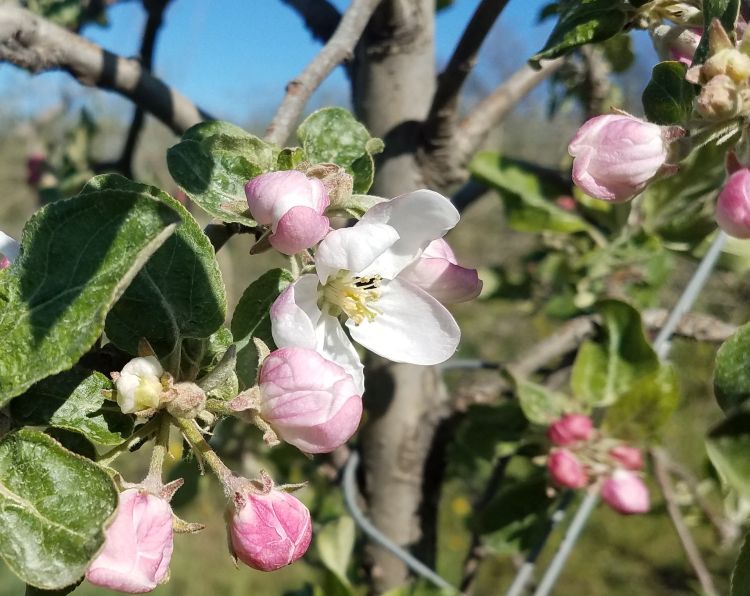 Weather
Last week was warmer but the weather swung wildly from warm and dry to cool and wet back to warm and dry. A warm Sunday with a high near 70 gave way to a mild freeze Monday, followed by a wet Tuesday and Wednesday. Rain tapered off Thursday and warm conditions returned over the weekend with highs above 70 Saturday and Sunday. The warm rain Wednesday was an infection event for apple scab and other diseases. These rains dropped 1 to 2.3 inches of rain across the region, with an average of 1.5 inches. Saturday and Sunday were sunny with highs in the 70s.
We picked up a lot of growing degree days (GDD) last week, 83 GDD base 42 and 42 GDD base 50. Plants moved quickly with the warmer weather. A cold front will drop temperatures this week. The forecast for this week is for cool dry weather with highs in the 50s and lows in the 30s. There is little danger of a freeze until the weekend where Saturday morning lows will likely be below freezing. Cooler than normal conditions are forecast to continue into May.
Southwest Michigan GDD summary from March 1 – May 3, 2020

Station

GDD 42 F

GDD 45 F

GDD 50 F

Benton Harbor (SWMRC)

274

198

106

Lawton (Lawton)

284

205

109

Fennville (TNRC)

225

155

72

Average for the SW region

276

199

105

Average last week

193

132

63
Frost/freeze information
Bloom is underway for many tree fruits. Freeze damage depends on the susceptibility of the bud or flower, which increases as the bud develops. Temperatures below 29 degrees Fahrenheit can cause damage to open flowers and most flowers die before the temperatures drop to 25. Reference tables of the critical temperatures which damage different fruit are posted online and as a PDF file. We suffered some damage to freezes in April mainly to early blooming stone fruit. Predicted low temperatures this coming Saturday morning could cause additional damage.
Tree fruit
Apple, pear and cherry development has been very slow over the past two weeks. Oriental fruit moth and redbanded leafroller flights have begun. There is still time to set up mating disruption for oriental fruit moth in peaches and apples.
Apricot bloom has ended. Apricots were hurt by April freezes but good sites should have a crop.
Peaches and nectarines are blooming. Flower density is high this year due to the low crop in 2019. Freeze injury has been light in the good sites. Peach scab lesions are common on twigs of susceptible peach varieties. Control of this disease focuses on protecting fruit starting at shuck split. Low levels of copper from early spring to early shuck split are useful in suppressing bacterial spot populations. The amount of copper is to be reduced as the season progresses and growers need to monitor for phytotoxicity. Peach leaf curl symptoms have appeared in central Berrien County and can be traced back to an infection period on March 27. Oriental fruit moth flight began last week. This correlates with the estimated biofix (first trap catch) at 175 GDD base 45.
In cherries, sweet cherries were in full bloom by last Friday. Freeze damage is significant with less damage in good sites. We will have a better handle on the crop after pollination as the fruit emerges from the shuck. Montmorency tart cherry are beginning to bloom. Freeze injury is widespread, but very variable from moderate to severe. Brown rot management is important when warm temperatures and rain occur together during bloom. It has not been warm enough for this disease. Infection seems unlikely with the cool condition this week. Cherry leaf spot management should begin in the latter half of bloom for tart cherries. This will protect the tiny bract leaves, the first to unfold and become susceptible to infection.
In plums, Japanese plum bloom is ending. With the cool conditions, there are big differences in bloom timing between varieties. Japanese plums have a dense bloom with lots of flowers on the tree. There was freeze damage, but the dense bloom and widely spaced bloom between varieties means that damage varies widely. We need to wait for early fruit development to see the crop. European plums are blooming and would be damaged by 28 F. Brown rot protection may be needed during bloom. Growers need to prune out black knot and dispose of the knots by burning or removing from the orchard. Sanitation is very important in managing this disease.
Apple buds are at tight cluster to first pink. Bloom has begun in some early varieties. Freeze damage has been light with a lot of variation between sites and varieties at the same site. Growers need to maintain their sprays to control apple scab. The wet forecast for the week could mean multiple infection periods. Scab infection periods have varied greatly across the area since late March. Symptoms from the March 27 infection period in central Berrien County should start showing up now. The Friday-Saturday rain was a scab infection for most of the region. Scab ascospores are being caught during rains in Berrien County. We are still early in the scab season, only 40% of the spores have matured and about 15% discharged. Apple scab spore discharge peaks during apple bloom. Apples normally bloom the first week in May in Southwest Michigan.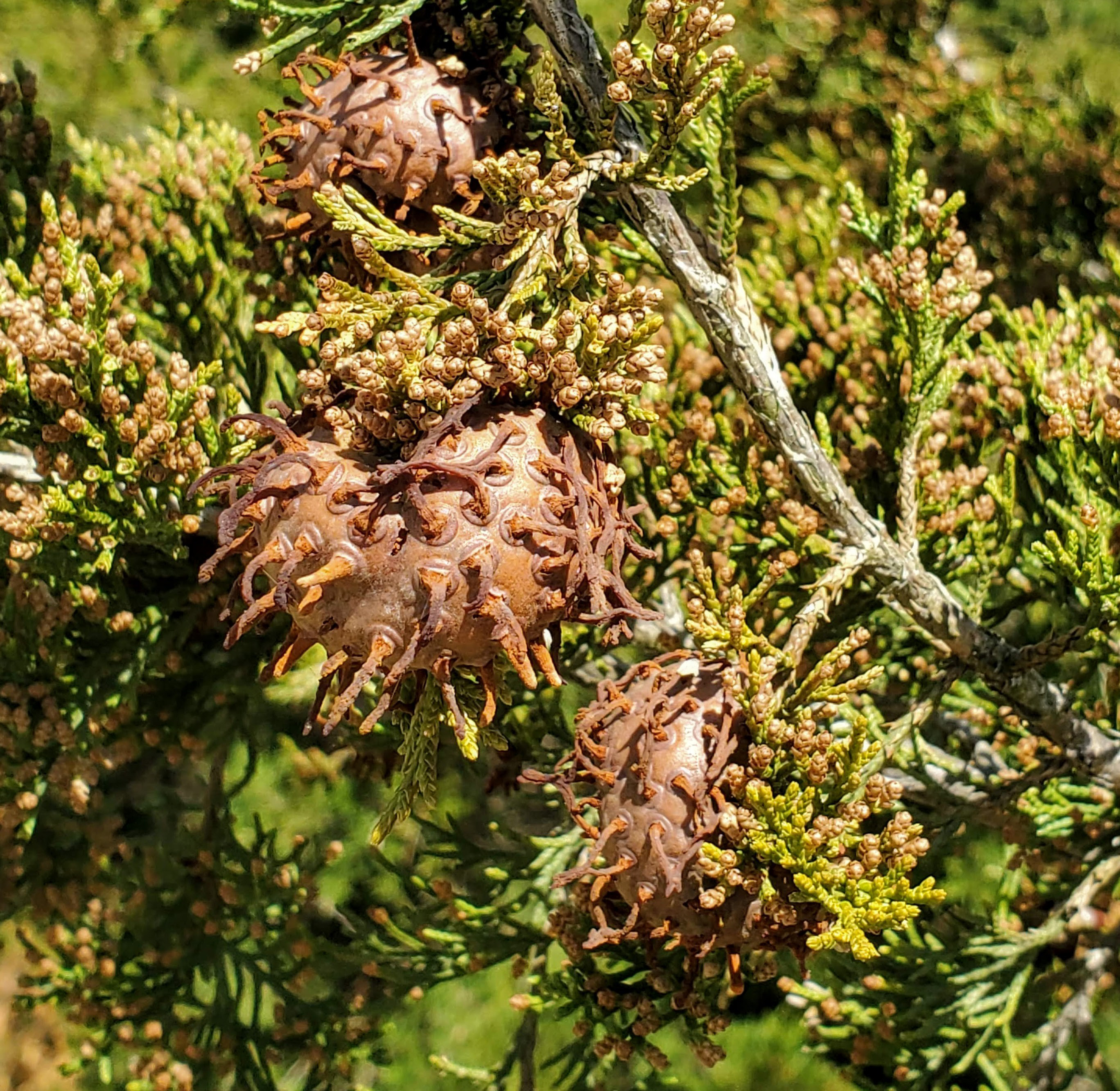 Pears are blooming. Temperatures below 28 F would cause injury. Pears normally bloom at the end of April. Pear scab is the primary disease concern now. Pear psylla are out.
Small fruit
Grapes are starting to break bud in warm spots, depending on variety. Juice grapes are at budbreak and wine grape varieties are further behind. Once grapes break bud, no more dormant sprays should be applied. We do not expect any damage to grapes from recent freezes or winter cold. The warm weather over the weekend was good for grape flea beetles which feed during the day. The cool weather this week will be good for cutworm, which are active in the evening. See "Bud swell is the time for monitoring vineyards for cutworms and flea beetles" for more information.
Blueberries are still at tight cluster to early pink bud. Some early varieties are close to bloom. There was some freeze damage on April 16 at cold sites where temperatures dropped below 20 F in some areas. This damage is easier to see as empty or stunted flower buds in the flower clusters at the shoot tips. Cold temperatures this weekend could drop into the upper 20s. See "Blueberry Growth Stages" with descriptions and estimates of the critical temperatures for each bud stage. Blueberries can withstand temperatures down to 2 5F with little if any damage. We do not recommend trying to use an irrigation sprinkle system to protect against this freeze unless the field is close to bloom. See "Protect blueberries from spring freezes by using sprinklers," which has a link to an more in depth fact sheet. Windy conditions are forecast for the weekend but the winds may die before dawn allowing a radiation freeze and wind machines will be effective.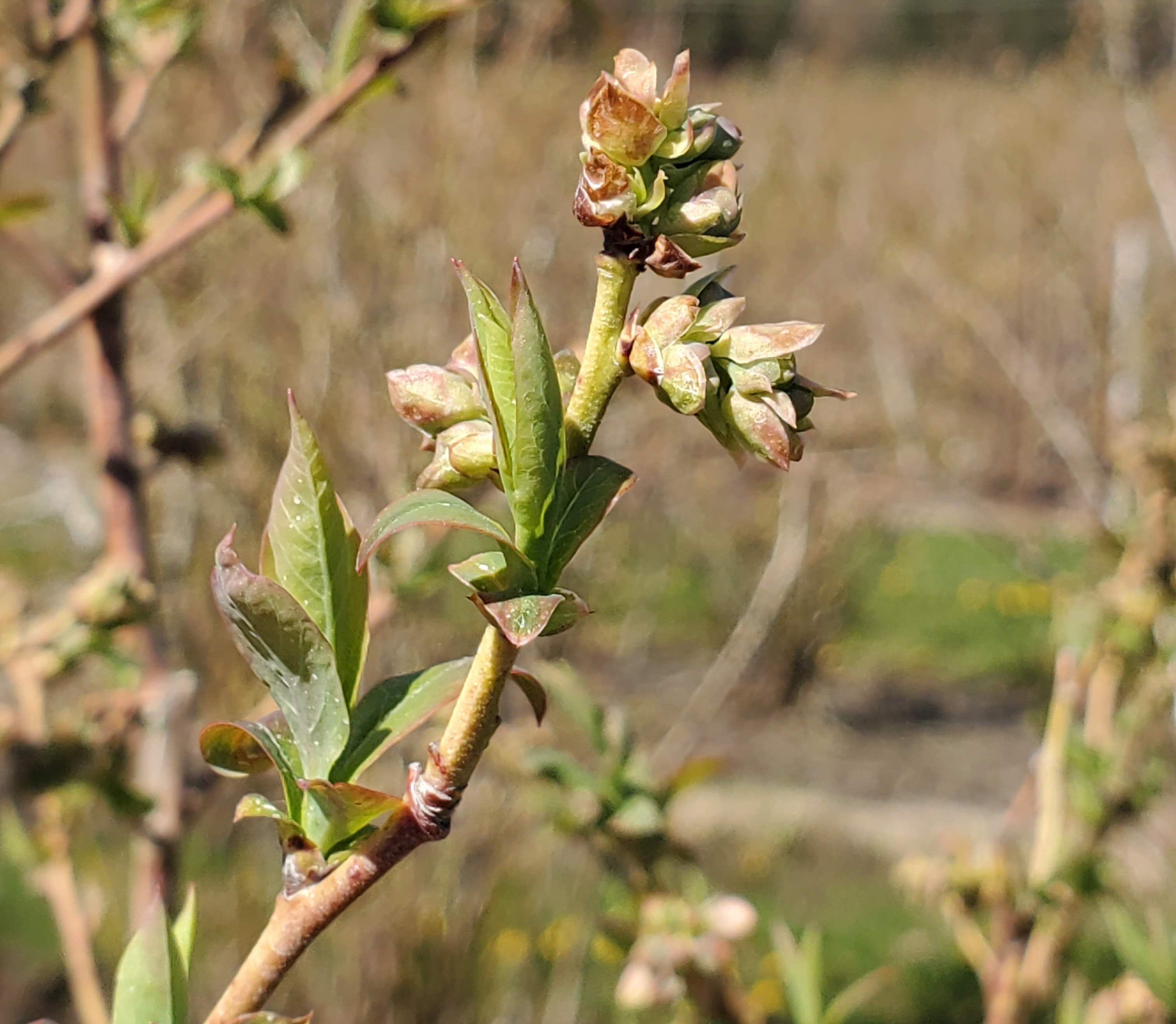 Vegetative shoot buds have green tissue showing and mummy berry mushrooms (apothecia) are out. Last week's rains were long (up to 48 hours) and averaged about 50 F. These were perfect conditions for mummy berry shoot strike infections and growers should be applying controls. Many growers are reapplying fungicides this week. See "Mummy berry has returned and new products are available for control" for more information. Blueberries normally bloom the second week in May. With the low prices over the last several years, growers are removing less productive fields and some growers are considering not spraying their fields to reduce their costs. See "Time for replanting old, disease and blueberry stem gall wasp infested blueberry fields" for more information.
Growers who do not plan on spraying some fields should consider mowing their fields down to reduce the likelihood for creating reservoirs of diseases and insects (especially spotted wing Drosophila) for themselves and their neighbors. This will alleviate the need to spray and result in extensive growth from the crown and crops of large berries in the next several years. See "Revitalize blueberries with renovation" for more information.
Strawberry flower trusses are emerging from the crown. When the flowers are in the ground or emerging from the crown they are protected by the warmth of the soil and survive temperatures well below 20 F. Once the flowers emerge from the ground, they can be killed by temperatures in the mid-20s. Open flowers are killed at 28 F. Growers with floating row covers may want to cover the plants this weekend. Growers are applying straw and overwintering mulches should be raked between the rows.
Brambles shoots are growing and putting out new leaves.
Currants are close to bloom.
Cranberry beds look dormant but some spots have begun to green up and terminal buds are swelling.
Saskatoons are blooming
Upcoming meetings
Our grower meetings are moving online via Zoom. You will need to register for these meetings. Do not expect to be able to join these meetings just before they start. These meetings will be closed and many will be password protected to prevent their disruption by others.
For information on Zoom and how to join and participate in meetings, the following articles are very helpful: Instructions for fruit growers on downloading Zoom for online webinars and How to join and participate in the spring tree fruit Zoom webinars.
Our regular southwest Monday Fruit IPM Updates are available online. Our next meeting is Monday, May 11, at 5:30 pm. You do need to register to receive the login and password for these meetings. The webinars are free of charge and one pesticide applicator credit is available for each meeting. We had 72 attending our meeting on May 4.
A pre-bloom blueberry meeting is planned for May 12. The agenda and registration information will be released soon.
Related articles