Controlled-Environment Lighting Laboratory
Recent articles, videos, and highlights
What is CELL?
The Controlled-Environment Lighting Laboratory (CELL) is a vertical farming research facility at Michigan State University focused on the indoor production of high-value specialty crops. Dr. Erik Runkle in Horticulture developed CELL for:
Research on controlled-environment production of specialty food crops (such as leafy greens and herbs) and ornamentals (such as seedlings and cuttings);
Demonstration of indoor growing systems to inform growers and capture the interest of students and the public; and
Teaching applications for undergraduate students enrolled in relevant production courses in Horticulture at MSU.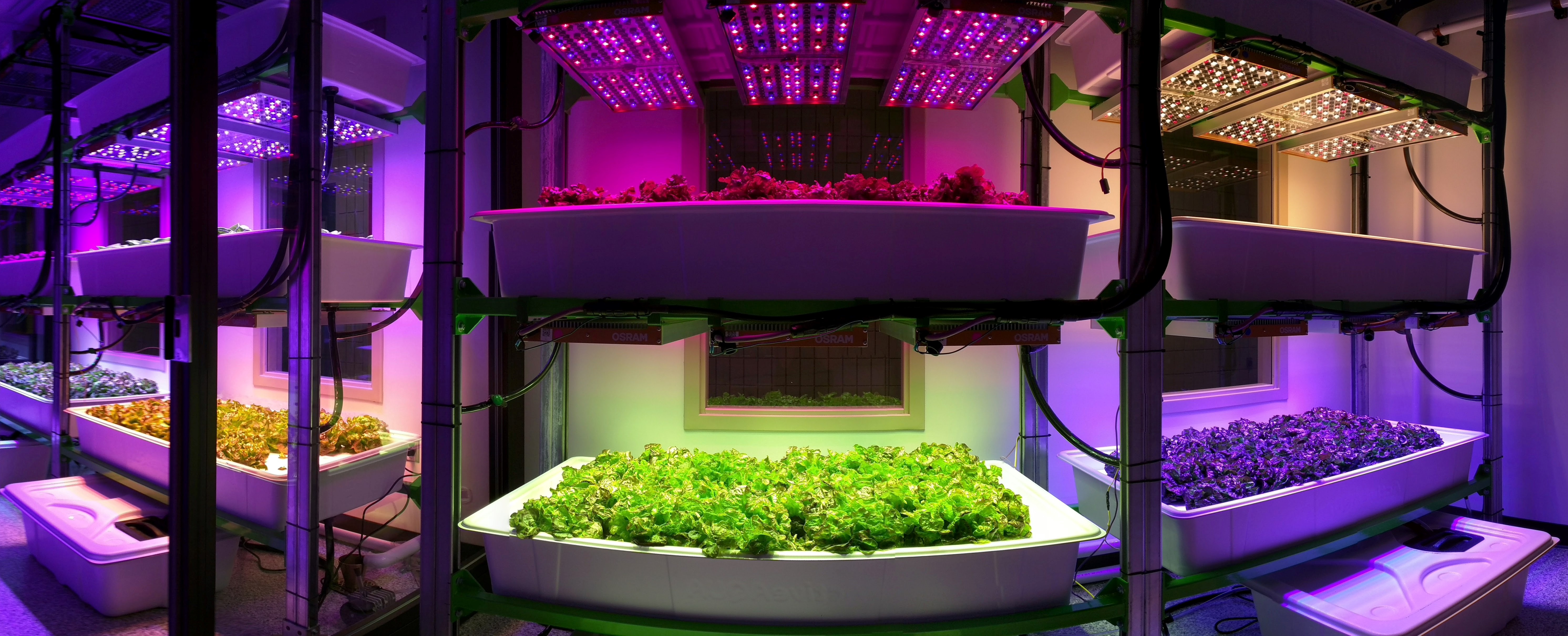 CELL consists of two independently controlled and refrigerated growth rooms, each with 12 deep-flow hydroponic shelves. Sole-source lighting in CELL utilizes customized, state-of-the-art light-emitting diodes (LEDs) developed in collaboration with OSRAM and OSRAM Opto Semiconductors. Customized software enables digital light control of individual shelves, allowing for temporal alternations of light quality and intensity. We are performing research on lighting to produce leafy greens with desired attributes through light-mediated regulation of extension growth and leaf size, leaf thickness (texture) and color, as well as taste and nutritional value. Below are two videos taken in CELL showcasing some of our recent research on indoor production of leafy greens. Videos by recent Ph.D. graduate, Qingwu Meng.
Below is a video that highlights our partnership with OSRAM to develop the lighting system in CELL, and how the facility can be used in research applications in the production of high-value specialty crops.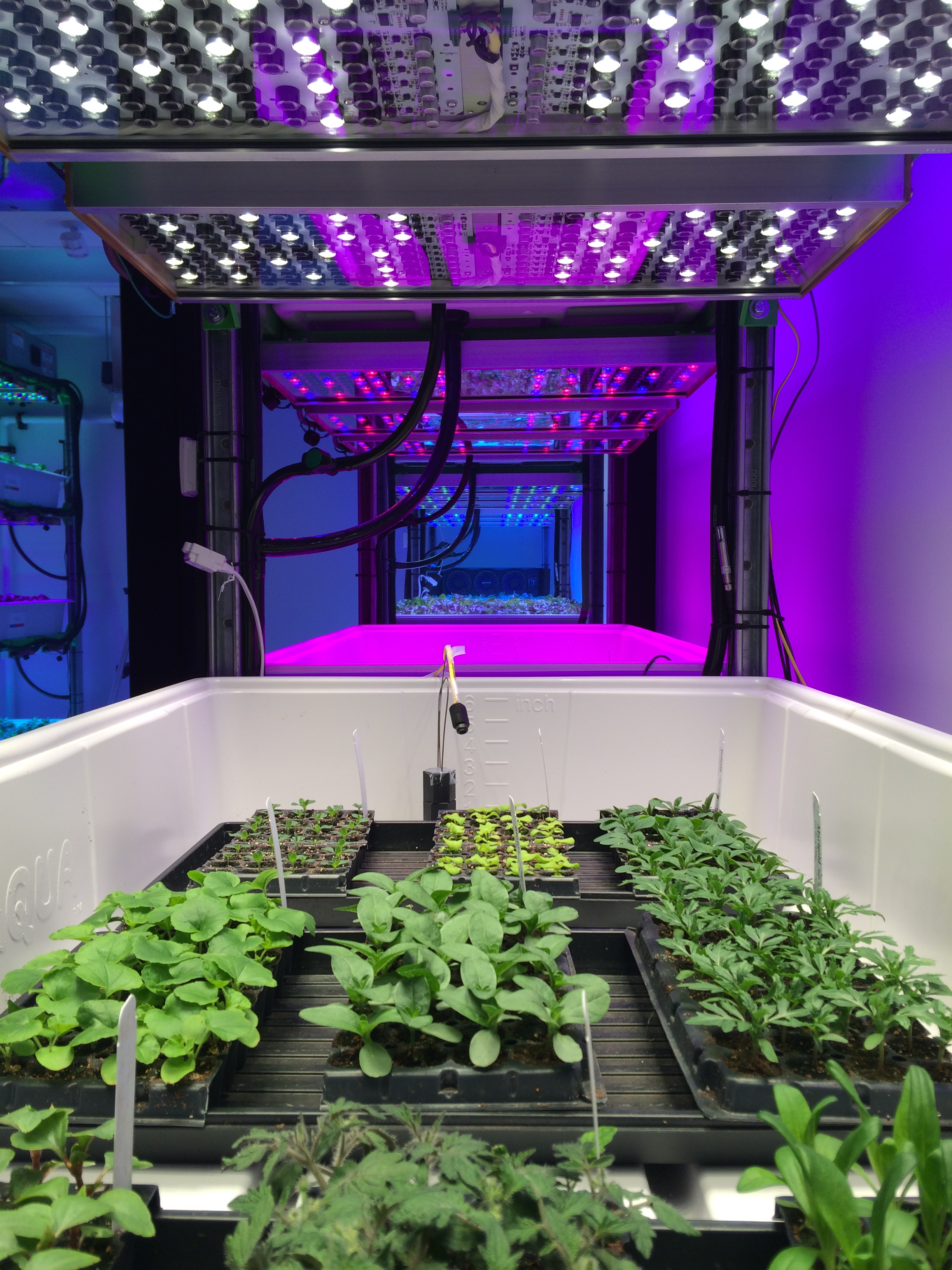 Another research project entitled "Development of Sole-Source Lighting Guidelines for the Production of Floriculture Transplants" is supported by the American Floral Endowment. This project will provide a better understanding of how sole-source lighting (primarily from blue, red, and far-red LEDs) affects growth and development on a range of floriculture crops, especially annual bedding plants.
CELL is located on the first floor of the Plant and Soil Sciences Building (room A154). Students and visitors can look inside CELL through its large windows from the corridor, which can potentially spark their curiosity about the emerging vertical farming industry. We participated in the MSU Science Festival in April, 2018, in which over 120 people of all ages participated in our "Growing Food Without Sunlight or Soil" tours.
Acknowledgments
We gratefully thank the following for funding and support of CELL and related plant science research projects:
We also thank the following people for supporting the development of CELL:
Doug Buhler (MSU AgBioResearch)
Vance Baird, Steve Brooks, Nate DuRussel, and Qingwu Meng (MSU Horticulture)
Jim Kells and Steve Pueppke (MSU Plant, Soil and Microbial Sciences)
Charles Brunault, David Hamby, Rodrigo Pereyra, Alan Sarkisian, and Dorian Spero (OSRAM Innovation)
Chris Eichelberger and Drake Stallions (OSRAM Opto Semiconductors)
Caleb Harper (MIT Media Lab)
For research-based information on horticultural lighting, consider these resources:
Disclaimer: Reference to companies, commercial products, or trade names does not imply endorsement by MSU or bias against those not mentioned.