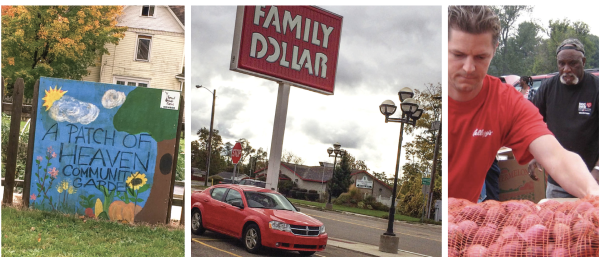 Finding Healthy Food in a Land of Plenty: Food Access Survey of a Battle Creek Neighborhood
DOWNLOAD
May 7, 2018 - Author: J.R. Reynolds, Good Food Battle Creek; Courtney Pinard, Gretchen Swanson Center for Nutrition
This report shares the results of a food access pilot survey conducted in the Washington Heights neighborhood of Battle Creek, Michigan. The findings will help drive the ongoing food systems and racial equity work conducted by Good Food Battle Creek and its partners by bringing residents' perceptions and needs into greater focus. Community leaders can use this report to better understand the needs of Washington Heights residents and more effectively leverage resources to meet those needs.
Topline findings include:
Most people reported shopping for food at supermarkets outside the neighborhood
Price and quality were the most important factors in deciding where to shop
15% of respondents travel more than 20 minutes to buy their food
People with higher incomes were more likely to report poor access to fresh fruit and vegetables in their neighborhood
Five key recommendations from the report:
Increase healthy food options at dollar stores. Since many residents in the Washington Heights neighborhood shop for food at dollar stores, extending fruit and vegetable offerings in these settings is a strategy that could impact many people.
Improve and promote the bus system. Many low-income households lack access to their own personal vehicle and utilize their social network to access vehicles. However, potential autonomy with a robust transit system may improve healthy food access and quality of life by reducing travel times needed to reach food outlets and increasing access to multiple locations.
Develop a greater understanding of non-access barriers to fruit and vegetable consumption. Different ideas of what access to healthy food options means to different people likely influenced these survey findings. If most respondents feel they have adequate access to food choices, yet fruit and vegetable intake is low, identifying other barriers to consumption such as affordability, time constraints, and food preparation capacity may be helpful in designing strategies to comprehensively improve food access.
Investigate opportunities to develop new food retail outlets in the Washington Heights neighborhood.
Explore residents' interest in gardening in community, church, school, and backyard settings. Identify the reach of urban farms in the Washington Heights area and explore opportunities to expand farm-direct sales.
This report is authored by: