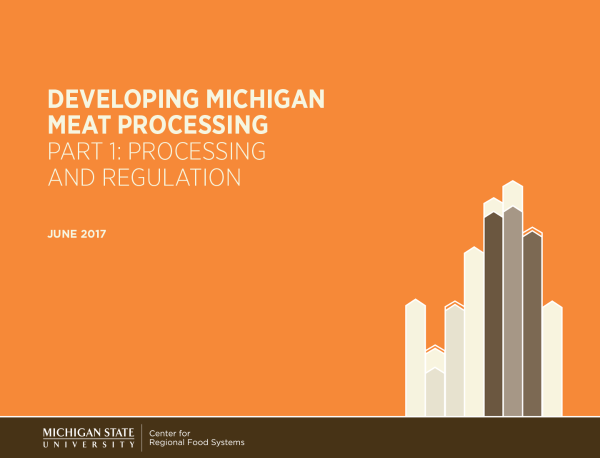 Developing Michigan Meat Processing, Part 1: Processing and Regulation
DOWNLOAD
June 29, 2017 - Author: Jude Barry, Steve Miller, Jeannine Schweihofer
This report presents challenges and opportunities for small meat processors in Michigan, as well as suggestions to increase the volumes of meat that are moved within the Michigan value chain.
A figure illustrating the complex regulatory routes to purchasing Michigan meat is provided, along with discussion around the potential benefits of network development among value chain, regulatory and governmental players; specific market and regulatory research; and enhanced communication channels among all that participate in processing and regulation.
This report is authored by:
Jude Barry, Assistant Director, Center for Regional Food Systems (CRFS), Michigan State University
Steve Miller, Assistant Professor, Department of Agricultural Food and Resource Economics, Michigan State University
Jeannine Schweihofer, Ph.D., Meat Quality Extension Educator, Michigan State University Extension
---
This publication was produced with the support of the United States Department of Agriculture's, Agriculture and Food Research Initiative (USDA AFRI), AFRI award number 2014-68006-21870.