Glassen Scholars
CALL FOR APPLICATIONS
GLASSEN SCHOLARS PAID INTERNSHIP SUMMER PROGRAM
May 23 - August 12, 2016
COURSE OVERVIEW
The Hal and Jean Glassen Scholars Program offers students exposure to policymaking in Michigan and real-world experience while working full-time as paid interns at state and federal agencies, non-governmental organizations or businesses that focus on complex natural resource issues in Michigan. The internship will be a paid 12-week, 40 hour per week position.
In addition, a senior-level class in natural resources policy meets one night a week. The internships and course curriculum complement and advance the students' learning through practical experience that influences citizens and communities across the state on such issues as the role of hunting, fishing and trapping in the future of conservation; parks and recreation; agriculture; the environment; natural resource management; and the economic impacts of these issues in Michigan. The course is taught through lecture and discussion sessions, augmented by weekend field trips designed to give class participants on-the-ground visits and experience with natural resources and conservation-related programs.
INTERNSHIP LOCATION
Greater Lansing area, potentially including Grand Rapids and Ann Arbor
POTENTIAL INTERNSHIP SPONSORS
Michigan-based offices of:
National Rifle Association
Ducks Unlimited
National Wildlife Federation
National Wild Turkey Federation
Pheasants Forever
The Ruffed Grouse Society
The Nature Conservancy
U.S. Fish and Wildlife Service
Congressional Sportsmen's Foundation
U.S. Department of Agriculture
U.S. Forest Service
U.S. Geological Survey
Boone & Crockett MSU Extension
Michigan Association of Conservation Districts
Michigan Council of Foundations
Michigan Farm Bureau
Michigan League of Conservation Voters
Michigan Sea Grant
Michigan United Conservation Clubs
Legislative Sportsmen's Caucus
Michigan Department of Natural Resources
Michigan Department of Agriculture and Rural Development
Michigan Department of Environmental Quality
Michigan Commodity Groups
PAY
Glassen Scholars will earn between $1,000 - $1,500 per month depending on organization and placement location. Students will be responsible for their own transportation to and from their internships and class.
CLASS LOCATION
Michigan United Conservation Clubs, 2101 Wood Street, Lansing
CREDITS
ALL students MUST enroll for 3 credits of ANR 491 (Professional Internship in Ag and Natural Resources)--no exceptions.
WHO WILL TEACH THE COURSE
Patricia Stewart, Program Director
WHO SHOULD APPLY
Upper level undergraduates and graduate students
INTERESTED?
Send a resume to Patricia Stewart (stewartp@msu.edu) no later than November 15, 2015. Ms. Stewart will hold a 30- to 45-minute, face-to-face interview with selected candidates in early to mid-December (an additional interview date may be added depending on applicant pool size). Please note that this is a competitive process.
QUESTIONS?

Contact Patricia Stewart at 517-282-5357 or e-mail stewartp@msu.edu
Introducing the 2015 Glassen Scholars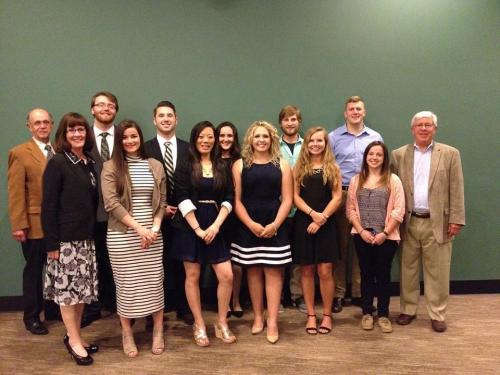 PROGRAM OVERVIEW
2015 INTERNSHIP SPONSORS
Boone & Crockett Club at MSU Extension
Department of Natural Resources Legislative and Legal Affairs
Department of Natural Resources Wildlife Division
Ducks Unlimited
Michigan Association of Conservation Districts
Michigan Sea Grant
Michigan League of Conservation Voters
Michigan United Conservation Clubs
U.S. Department of Agriculture Wildlife Services
U.S. Fish and Wildlife Service, Ecological Services
View video of the Glassen Scholars' field trips and workplaces
Introducing the 2014 Inaugural Class of Glassen Scholars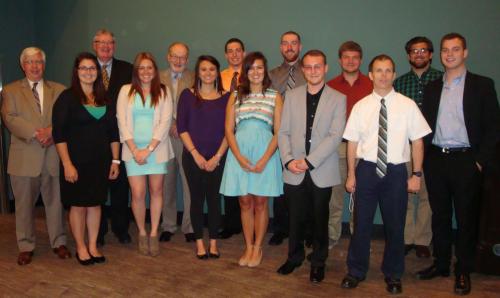 Front Row: Emily Caretti, Hollie Whitmire, Krista Hubbard, Brooke Ritter,
Gage Bowman, Dave Barkley, Kyle Johnson
Back Row: Glassen Board Members Tom Baird, Al Stewart, and Tom Huggler; Mike Vande Guchte, Joe Presgrove,
Jake Nave, Jordan Altobelli
The Glassen Scholars worked full-time on their internships. They also took five field trips during the program that combined observation of agricultural, natural resources and recreational management strategies.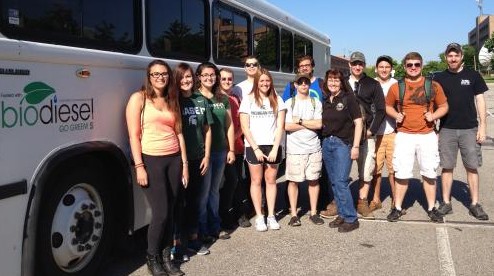 On June 7, they visited a site near Manchester where feral swine have a damaging effect on agricultural production. They continued to Detroit Metro Airport to observe areas where birds can create a dangerous environment for air traffic. This trip was hosted by Pete Butchko and staff of USDA-APHIS.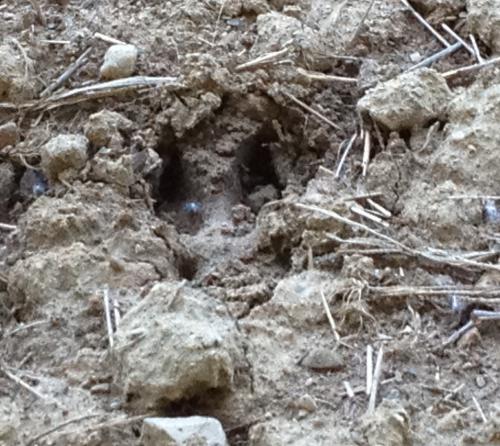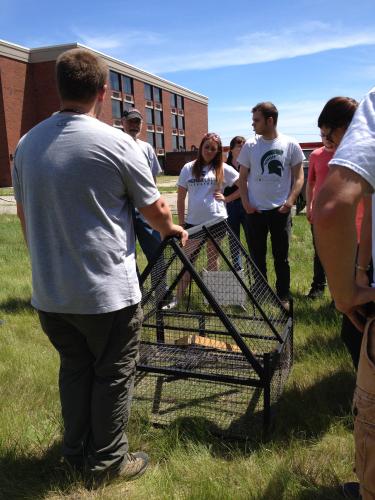 On June 21, the group traveled to Belle Isle State Park and the Detroit Riverfrontt. Karen Slaughter-DuPerry gave the group an orientation to the Riverfront Conservancy and Vicki Anthes described plans for the Milliken State Park and Outdoor Adventure Center. DNR host Dan Lord conducted a tour of Belle Isle's Conservatory and Aquarium and Scott Fountain.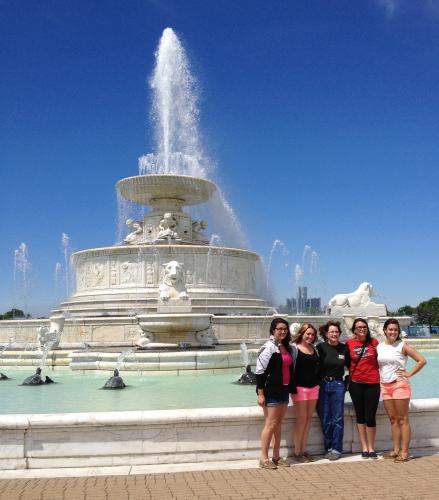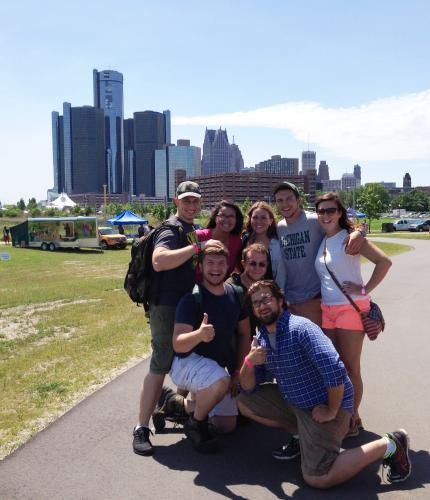 Glassen Scholars at Belle Isle State Park