ANR Institute for Multicultural Students (AIMS)
The ANR Institute for Multicultural Students (AIMS) is a one-week program sponsored by the College of Agriculture and Natural Resources (CANR) at Michigan State University (MSU).
We anticipate hosting AIMS in 2023. If AIMS is cancelled for any reason, all applicants will be notified as soon as possible via the email address provided in their application.
What is AIMS?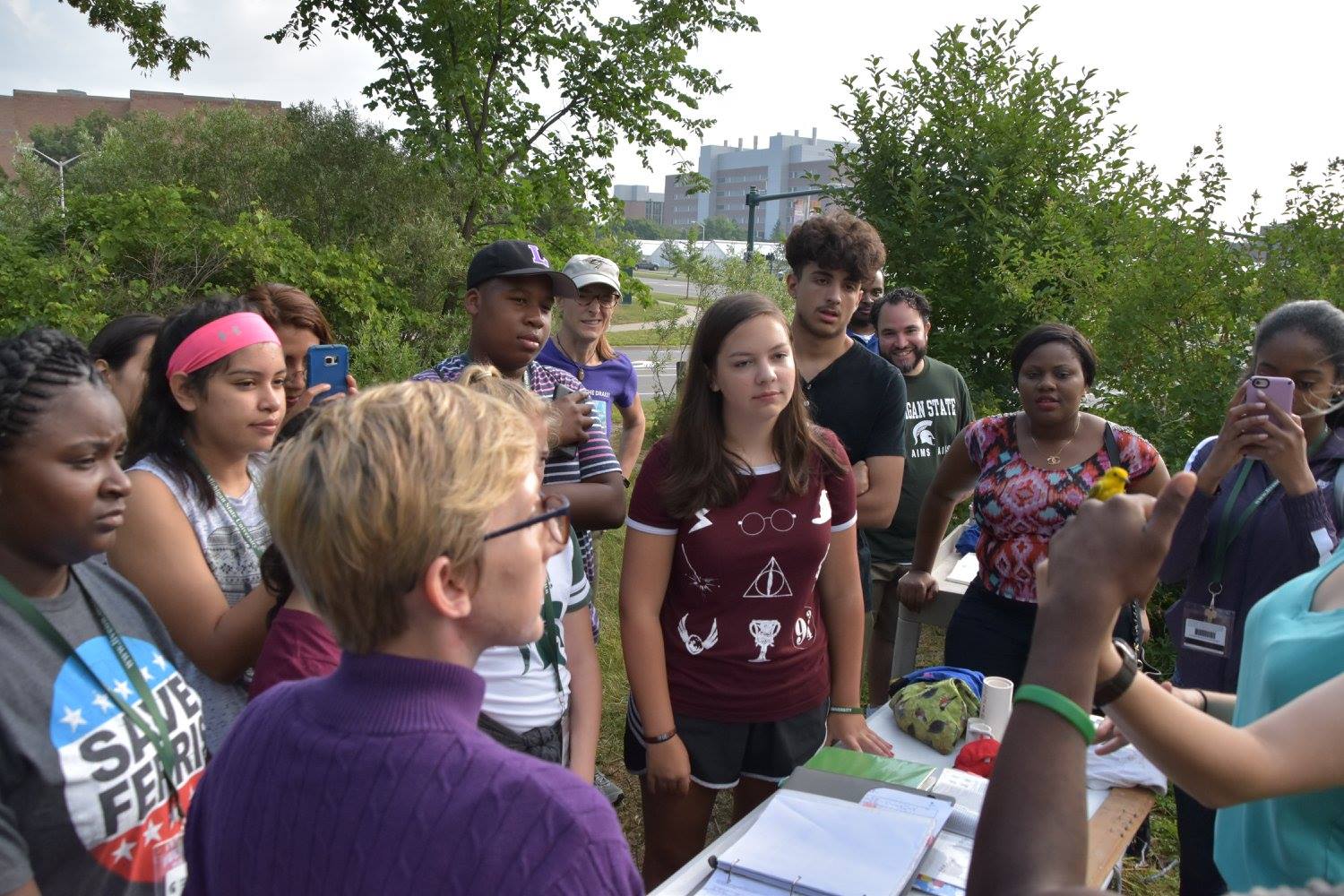 AIMS is designed to give high school students broad exposure to the food and agricultural sciences, natural resources and related fields.
A career in agriculture or natural resources involves a lot more than farming. There are a wide variety of educational and career opportunities in the food and agricultural sciences, agricultural engineering, environmental and natural resources management, as well as other areas including environmental science, agribusiness, and agriculture education. Many high school students are not aware of these opportunities.
Who can participate in AIMS?
High school students, in 9th through 11th grades, can participate in AIMS. Most of our student participants are previously unfamiliar with the broad and diverse fields involved in agriculture and natural resources industries. They are open-minded and interested in learning about these new and different areas.
Students are selected for AIMS based on interest and academic performance in high school. They are known by their teachers and counselors as students who are interested in science, math, business or related areas.
What will I do as an AIMS participant?
You will participate in demonstrations, tours and other hands-on activities designed to give a sampling of what the agriculture and natural resources has to offer. You will also have the opportunity to participate in a number of other educational, cultural and social activities.
During your week on campus, you will live in the university residence halls and have meals in the dining halls.
How much does AIMS cost?
Students participate in AIMS free of charge. The program is supported by the MSU College of Agriculture and Natural Resources and a number of other public and private agencies and corporations. Students are responsible for their own transportation to and from the MSU campus.
When does the program begin?
Program Dates: July 16- 21, 2023
Applications Deadline: April 7, 2023
How do I apply for AIMS?
To apply for AIMS, you should submit the following completed items by email or mail:
AIMS student application
Essays
An official transcript (including classes in progress)
One letter of recommendation form
Applications are due on Friday, April 7, 2023.
All applications must be postmarked or emailed by this deadline date. Late applications will be considered on a space available basis, or put on a waiting list.
Applications are available for downloading here, or by request via email or by phone request. If you plan to download the application, please make sure your computer has Adobe Reader.
If requesting an application by email, please place in the subject heading of your email "Requesting AIMS Application" and include your name, email address and mailing address in the body of the email to chaus@msu.edu.
If requesting an application by phone, please call 517-355-0234 and inform the CANR representative that you would like to request an AIMS application.
If mailing materials, please send to:
Stephanie Chau
446 West Circle Drive, Room 121
Michigan State University
East Lansing, MI 48824
If emailing the materials, please place in the subject heading of your email "AIMS Application" and send to: chaus@msu.edu
You will receive a confirmation email that you application has been received. If you do not receive a confirmation within a week of submission, there was an issue with you application submission and you should contact Stephanie Chau.
Statement for Disability Inclusion
Michigan State University is committed to providing equal opportunity for participation in all programs, service wand activities. Accommodations for persons with disabilities may be requested by submitting requests with your application by April 7, 2023. More information is available through the MSU Resource Center for Persons with Disabilities.
---
AIMS and AIMS-B Coordinator