FSHN 2023 Seminar - Michael Pellizzon
May 9, 2023 10:30AM - 11:30AM
In Person and Zoom
---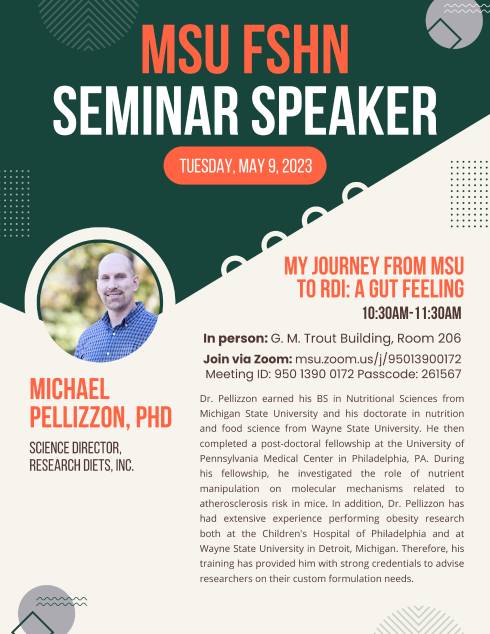 Speaker: Michael Pellizzon, PhD.
Tuesday, May 9, 2023
10:30AM-11:30AM
In person: G. M. Trout Building, Room 206
Join via Zoom: msu.zoom.us/j/95013900172
Meeting ID: 950 1390 0172 Passcode: 261567
Dr. Pellizzon earned his BS in Nutritional Sciences from Michigan State University and his doctorate in nutrition and food science from Wayne State University. He then completed a post-doctoral fellowship at the University of Pennsylvania Medical Center in Philadelphia, PA. During his fellowship, he investigated the role of nutrient manipulation on molecular mechanisms related to atherosclerosis risk in mice. In addition, Dr. Pellizzon has had extensive experience performing obesity research both at the Children's Hospital of Philadelphia and at Wayne State University in Detroit, Michigan. Therefore, his training has provided him with strong credentials to advise researchers on their custom formulation needs.
Get Directions
---