A Rural Haven in Southeast Michigan
Isiah Tabb flicks through the seed catalogue seeking the best corn variety to plant next year and declares "I am very proud of my 'garden'."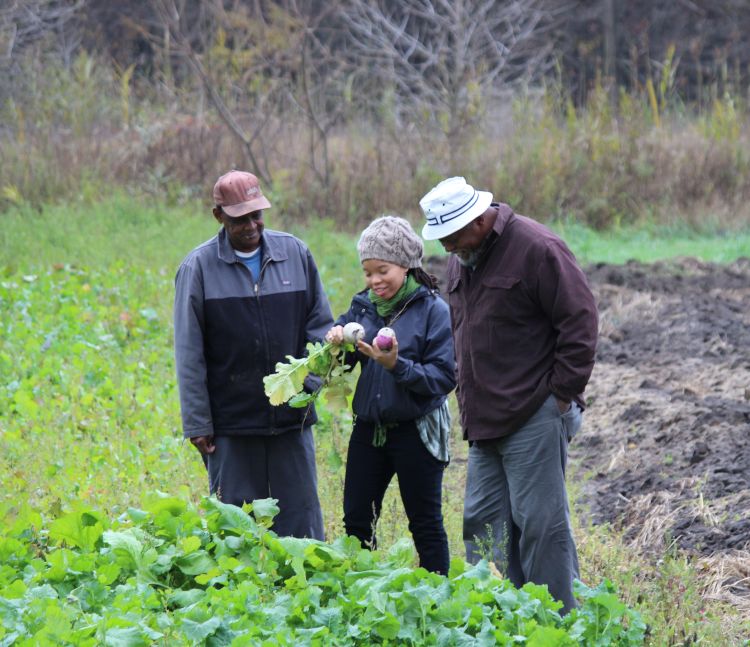 By Jude Barry, MSU Center for Regional Food Systems
Isiah Tabb flicks through the seed catalogue seeking the best corn variety to plant next year and declares "I am very proud of my 'garden'". Isiah worked for Chrysler for 43 years, but has always had a passion for growing food. "I have farmed all my life and since I retired, I have leased 73 acres where I grow tomatoes, peppers, sweetcorn, beans, root vegetables and peas". His daughters and teenage grandchildren help him plant, weed and harvest the beautifully maintained plot in Sumpter Township, Michigan. The food Isiah grows feeds him, his wife and his daughter's families and he also sells produce from a roadside stand at the end of his driveway, which feeds many in the neighborhood. He grows to meet the needs of his neighbors and friends – when they ask for something he is not growing he is likely to be planting it the following year! "I could grow more" he says, "but I don't want to turn it back into the ground."
Isiah is one of many African-American farmers in a rural tri-county area of Wayne County, Monroe and Washtenaw, who are farming fresh fruits and vegetables to feed the local population.
Isiah Tabb on his farm in Sumpter Township, MI.
Cary Junior, a MSU CRFS food hub consultant who resides in Oakland and co-founding member of the South Eastern Michigan Producer's Association (SEMPA) says institutional and restaurant buyers are seeking locally grown products. In contrast many of the fruit and vegetable growers in Wayne and surrounding counties have the ability to grow much more produce, but are unable to access larger markets to sell their product. Cary Junior and his colleagues, including John Presley and Hakim Rashid, producers and distributors for over 25 years, hope to help connect the need for good locally grown food in the Detroit area with the need of farmers for new markets through the SEMPA cooperative model.
The SEMPA cooperative, based in Sumpter Township, was created to support underserved farmers in serving underserved communities. Cary says "SEMPA is a group of producers and distributors that are cooperatively working together to aggregate and distribute to urban markets, especially where there is limited food access, or food deserts in the region".
Shakara Tyler, underserved farmer development specialist at the MSU Center for Regional Food Systems, says "As an underserved farmer cooperative, SEMPA aims to counteract land loss of black farmers by promoting farm preservation through cooperative production, certification, aggregation, and marketing. If black producers can strengthen their capacity and maximize their profit through a cooperative farming model, farm production can increase thus addressing one of the most threatening obstacles of regional food systems: supply."
John Presley's property, also in Sumpter Township, will be the site for SEMPA members to aggregate fruits and vegetables to supply markets in the city of Detroit and other close regions. He is currently assembling trailers onsite to create process and storage facilities. SEMPA members are looking forward to the growth of the cooperative in the tri-county area. Rashid says "Right now we have a core group of 7 farmers who have already recruited the interest of about 20 farmers, but there are potentially 50 farmers, covering possibly about 500 acres in this area that could supply our cooperative with fresh fruits and vegetables"
Michelle Napier Dunnings of Michigan Food and Farming Systems says "Working collectively is one of the most powerful strategies for farmers trying to create viable livelihoods. By sharing tools, equipment, space, and time while engaging in the work together, these farmers can make the leap to the emerging regional food systems."
SEMPA is currently in negotiations with a Detroit area food service company providing food to several charter schools in the Detroit area under the Farm to School Program. "Not only will we provide local produce to these schools, but we plan to provide educational tools to the children, utilizing our members expertise, so they can have a better understanding of fresh produce, and it's nutritional and economic importance" Cary said.
SEMPA is seeking funding sources to assist with assessing farm capacity, and aid in the infrastructure development of this new local food system venture. Planning is underway and farmers are already preparing for next seasons planting. There is real optimism in this small rural haven of Southeast Michigan, so close to Detroit, as a group of entrepreneurs cooperate to supply good food to urban neighbors.