"My two biggest takeaways from my recent visit to Myanmar — 1) there is a great need for technical assistance to build the nation's human capacity towards the development and transformation of its agricultural economy and; 2) the impressive scope and impact of the activities of MSU's AFRE faculty in promoting food security via engagements in fundamental market research and capacity building activities with various stakeholders in the public and private sectors in Myanmar. Although much has been accomplished, there is much more that still needs to be done."
Department of Agricultural, Food, and Resource Economics (AFRE) professor and chairperson Titus Awokuse visited Myanmar last month to familiarize himself with MSU activities in the country, meet with key stakeholders, and give a seminar on the importance of agricultural and food policy research.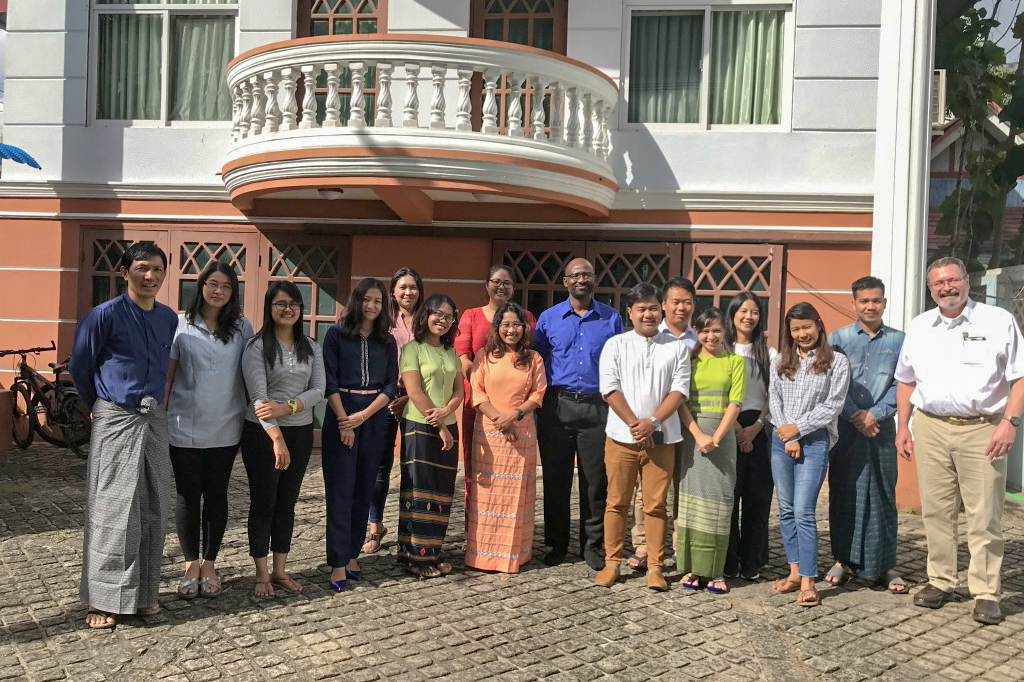 "Although AFRE's Food Security Group activities in Africa is quite extensive, we're doing similarly important work in various parts of Asia, particularly Myanmar," said Awokuse. "AFRE researchers are working to provide evidence-based policy support and assistance to local and national governments and other institutions to enhance food security and development of the agricultural economy — and though it was my first time visiting the country, I was able to clearly see the significant contribution and impact of the work of AFRE faculty and collaborators."
Starting on January 8, 2019, Awokuse met with strategic partners and local project leaders to learn about the major project achievements and assess current activities and plans for the future. Awokuse engaged in several meetings with international donors, and national leaders in the public and private sectors in Myanmar, and also visited key MSU project partners in Yangon and the capital city of Nay Pyi Taw. In between these meetings, Awokuse participated in an ongoing field research on poultry and aquaculture value chains led by AFRE faculty member Ben Belton.
"One of our main objectives in Myanmar is to generate up-to-date accurate information about the nature of the rural economy and the rapid transformation it is experiencing," said Belton. "This information is particularly valuable for government as it seeks to design policies to promote growth and reduce poverty, and international development partners planning investments and interventions to accelerate rural development."
The current phase of the MSU project in Myanmar is coming to a close by the end of this summer, but will continue into its second phase focused on a new agricultural development strategy. This phase of the project will be led by AFRE's partners at International Food Policy Research Institute (IFPRI), and MSU contributions will be led by Duncan Boughton.
"For more than 50 years, AFRE faculty have worked all over the world to support agricultural development in countries emerging from very difficult economic and political circumstances," said Boughton. "It was this vision that attracted me to the department as a graduate student just over 30 years ago. It is an enormous privilege to continue to do this work in Myanmar, a country that experienced economic repression and international isolation for more than half a century, and where more than half the population still depend on agriculture for a living."
During his visit, Awokuse gave a "policy seminar talk", where he emphasized the importance of a research-based agricultural development policy process and provided examples of best practices from the US and Nigeria in developing agricultural policy. With more than 70 participants in attendance, the seminar provided the opportunity to examine the relationship between agricultural policy process and effective policy outcomes, specifically the need for engagement with a wide range of stakeholders and the use of data-based evidence to formulate policy options. In addition to noting the benefits of investment in higher education and human capital development, Awokuse also highlighted the importance of direct dialog between policy decision-makers and analysts.
"Overall, the feedback I received from our partners and USAID leadership was very positive," said Awokuse. "They really value what we're doing and continue to believe we're a good partner for furthering US strategic development goals in Myanmar."