Brittney continues to learn and grow her passion for horticulture
Brittney Kee graduated from Michigan State in 2010 with a B.S. degree in Horticulture. She is now a full-time agriculture educator and owns her own florist business.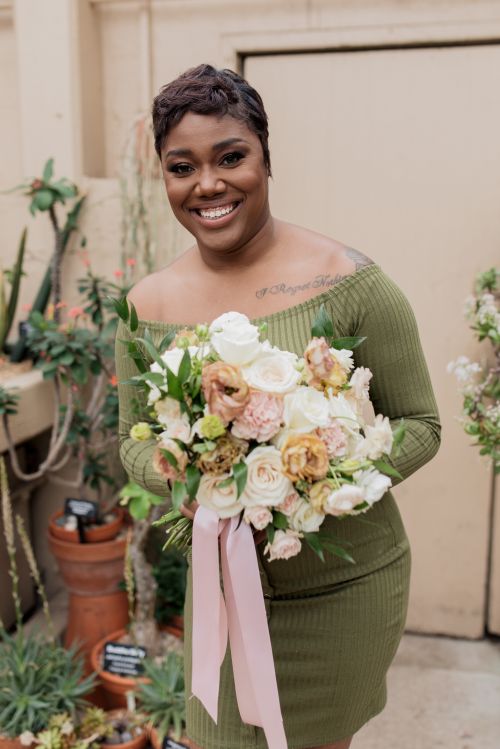 Featured Alumni
Why did you choose Horticulture and why MSU?
I chose horticulture because I attended an agricultural high school (the Chicago High School for Agricultural Sciences). I met a teacher there who encouraged me to join the horticulture club and I completely fell in love with the subject. That teacher has since passed away, so I promised I would continue on learning and growing my passion for plant life and all things floral. I chose MSU because they have one of the best programs! The campus was beautiful and the people we're friendly. MSU was my fresh start, there was no other option for me.
Where did you go after MSU?
I came back home to Chicago and worked as a wedding and event florist for years in the Lincoln Park neighborhood. I left that company to teach at the high school in which I was taught at and started my own company Brittney Kee Floral Design. I now teach 10th- 12th graders horticulture. They learn about plant biology, physiology, taxonomy, greenhouse management, landscape design, urban agriculture, and my favorite topic, floral design. Despite the setback due to COVID-19 my business is thriving and growing each year.
Any thoughts for current students?
When I pursued horticulture people laughed at me and told me that I wouldn't make any money in that field. I was different and it was hard for people to understand why I loved horticulture so much. Honestly if you look at me you would never guess that horticulture is my one true love. My advice it to pursue what you're passionate about, the money will come. Remain focused and never allow outside influences to deter you from the goal.
Describe your current work. What keeps you engaged?
I am a full-time agriculture educator and a part-time florist and farmer. I work at the Chicago High School for Agricultural Sciences. Throughout the school year, I teach 10th graders Introduction to Agriculture. The 11th graders learn about floral design and greenhouse management. The 12th graders learn about 21st century horticulture practices and landscape design and construction. In the summer, I teach students about urban farming and food and equipment safety. 40 students at a time receive they're OSHA certification and work on the land lab that sits on 75 acres of land.
On the weekends, I work with all things floral - teaching bouquet workshops, designing for weddings, creating funeral pieces, and delivering everyday floral as a surprise to lucky clients. My passion for people, plants, and education keeps me engaged. I truly believe that I am being impactful on so many fronts. I'm excited to see what the future holds.