Alum Stephanie Makela is a research technician at Pure Line Seeds in Washington State
Her work combines her favorite areas of horticulture: production, plant breeding and seed production.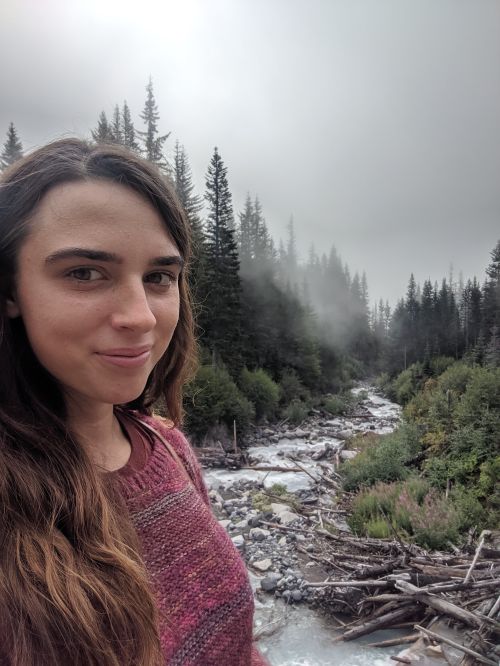 Stephanie Makela graduated in 2017 with a B.S. in Horticulture and a concentration of Horticultural Science.
Why did you choose Horticulture and why MSU?
I grew up on a small hobby farm in mid-Michigan, where I developed a love for agriculture at a very young age. I think I was always interested in vegetable and fruit production and the science behind how plants function but it wasn't until I was in high school that I realized that horticulture was what I wanted to pursue as a career. I had heard Michigan State offered a variety of agricultural degree programs, so I was excited to learn they had a horticulture program with several degree concentrations tailored to differing career pathways. Between this and the convenient location of campus it became an easy choice for me to attend.
Where did you go after MSU?
After graduation, I accepted a research technician position at the research farm of Pure Line Seeds in central Washington State. Pure Line Seeds is a family-owned vegetable seed company that specializes in peas and beans for the processing and fresh markets; they also offer seed in a variety of other vegetable crops. While the company works extensively in seed production, they also invest a lot of time in breeding and developing superior varieties of peas and beans that perform well for growers and are competitive in the market.
Describe your current work. What keeps you engaged in your work?
As a research technician, I work extensively with the research director, plant breeders and farm manager in the day-to-day activities at the research farm, where we grow hundreds of varieties of peas and beans. My work actually combines my favorite areas of horticulture (production, plant breeding, and seed production), where my responsibilities include assisting in seed preparation for customer's orders/trials/on-farm planting, variety maintenance, plant breeding and selection work, and seed harvest and milling, as well as a lot of data collection during the growing season and beyond.
As you can probably imagine, I spend the majority of my time outdoors in the spring through fall, with work responsibilities changing with the seasons. I think if you can invest yourself in the projects and really take the time to understand and appreciate the amount of work that goes into developing a variety and producing quality seed then you can stay engaged in this field pretty easily.
What advice can you give current or potential students?
Horticulture is an incredibly diverse field with a lot of job opportunities, stable work and room for growth, so it is a great field to go into if you are interested in working with plants in some capacity. If you haven't already spent some time working in this field, I would say it's good to come into the program with a flexible after-graduation plan because it can be difficult to initially know what all is involved or if you can see yourself pursuing a particular job long term. Over time as you take classes and gain insight in the field, you'll get a better feel of where your interests and passions lie and what career pathway is right for you.
For students who are currently enrolled in the program, I'd say challenge yourself and take classes outside of those required for your concentration/degree and some non-horticulture classes that relate to the field. This will assist you in better understanding how different areas of horticulture interconnect and you'd be surprised how much you will apply this knowledge in your day-to-day work.
I also recommend trying to gain some work experience, particularly in a field you anticipate to be involved in after graduating, during your schooling because this will prove invaluable and help you tremendously when applying for job positions after graduating.