MSU alum Dr. Jennifer Brown is now the Vice Provost and Dean for Undergraduate Education at U.C.-Riverside
After earning her Ph.D. in Horticulture at MSU, Jennifer Brown has had a full and thriving career in higher education.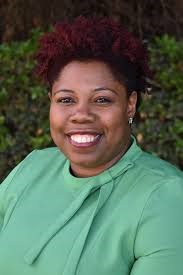 Jennifer Brown, Ph.D., is now the Vice Provost and Dean for Undergraduate Education at the University of California, Riverside. She is an Michigan State University (MSU) alum earning her her Ph.D. in Horticulture.
Brown earned her B.S. in Ornamental Horticulture and M.S. in Natural Resources and Environmental Sciences with a Minor in Agribusiness, both at the University of Illinois at Urbana-Champaign (UIUC). We caught up with her to ask about her experiences in horticulture and at MSU.
Why did you choose Horticulture and why MSU?
I stumbled into horticulture from engineering. I wasn't inspired by the engineering program and was struggling a little. I happened to visit with a family friend who was a landscape architect (LA) and I thought it would be an interesting career. When I went to see about being a LA major and described what I thought I'd be doing to the advisor, they said you probably want to be in horticulture -- they were right.
I liked the open and welcoming Horticulture department at UIUC and felt comfortable with the program and what I was learning. The department had a good feel, and I gained the confidence that I could excel. I was embraced by faculty who encouraged my success and let me explore and discover my passion. I participated on a study abroad that also opened my eyes to the many opportunities in horticulture. You could become anything you wanted to be if you had the passion and love for it.
Coming from an urban environment, it was difficult to describe to my family that there were many career opportunities that could be very rewarding personally, professionally and financially. I was lucky to have parents that allowed me to explore my career options and settle on horticulture. I feel lucky to be in an industry that allowed my creativity to grow and expand to take me to places I couldn't imagine.
My master's degree was on retail and garden center consumer perceptions of businesses. I was interested in understanding if the business owners knew and understood their customers -- why do they come, when do the come, how often do they come. I was eager to continue this work into a Ph.D. and I wanted to do it at MSU and specifically with Dr. Bridget Behe. I had read about her and was fascinated by what she and her colleagues were doing. I ran into her at a conference and said: "You don't know me, but I know you and your work." We hit it off and had a great conversation. At the end, she asked if I would like to come to MSU and do a Ph.D. and that is exactly what I did.
Bridget showed exceptional mentorship. She gave me opportunities to teach a couple of classes without micromanaging. I made some mistakes, but that helped me in my future positions. She gave me the opportunity to write grant proposals and took me to conferences that introduced me to my future colleagues from around the country. All of these things I would need to do as a junior faculty member, but this head start allowed me to get tenure early in only three and a half years.
I loved my experiences at MSU Horticulture. The people in the department accepted me and I always felt I belonged there and that the sky was the limit. It was a great atmosphere and community from the faculty, graduate students and staff.
I also worked with people in the School of Business since my dissertation was on consumer satisfaction and regret and whether plant guarantees mattered. They were just as accepting, and I made friends and colleagues for life.
The Horticulture program was my unicorn, a catalyst that let me see that anything was possible and I could achieve it. The rigor was there and students were empowered to succeed. There are very few places like the MSU Horticulture department that have the philosophy to empower students in this way. I have nothing but good vibes and thoughts when I think back to my time at MSU.
Where did you go after MSU?
I was an Assistant and then Associate Professor and the Inaugural Director of Distance Education at Purdue University, and then moved on to Oregon State University as a Full Professor and Associate Dean of the Graduate School eventually becoming the Vice Provost and Dean of the Graduate School. I am now the Vice Provost and Dean of Undergraduate Education at the University of California - Riverside.
Any thoughts for current students?
Take advantage of everything MSU and Horticulture has to offer. Graduate students -- spend time with your advisors, mentors and committee members. The folks in Horticulture are there to help you succeed. If you match the effort -- put in time and dedication and build relationships with classmates and office mates and others in the program -- they will be lifelong friends and colleagues.
Describe your current work. What keeps you engaged in your work?
What keeps me engages is the ability to help and build pathways for others. I can be the voice for people that don't have one. I get to help students make it through what they don't know. I have the opportunity to make changes and provide different perspectives than the majority view.
Fighting for the underdogs, leading with integrity, and sometimes going against the grain of majority opinion all keep me engaged because my voice will make a difference and help others.