East Michigan vegetable update – June 12, 2019
Ditches are full in east Michigan.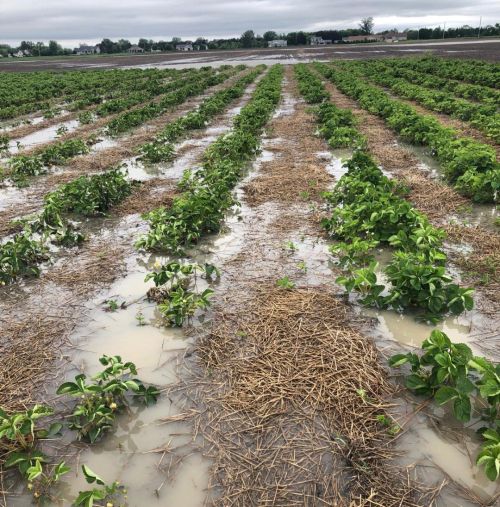 Weather
Growers were going full speed ahead last Friday, June 7, in Macomb County and in other parts of the region. Three days of drying conditions allowed for some field work to progress. Now it is a waiting game again with rain on Sunday, June 9, and more forecasted for Thursday, June 14.
You can find more detailed weather information for your area by visiting the Michigan State University Enviroweather station closest to you:
Here is a table that summarizes seed and root maggots and European corn borer activity, based on growing degree day models. I used Lapeer as an example. The seed corn maggot and cabbage maggot models are from Michigan State University's Enviroweather, and the onion maggot model is from NEWA.
| | | | | |
| --- | --- | --- | --- | --- |
| Current degree days (Lapeer) | 1,052 | 981 | 796 | 455 |
| Overwintering generation start to emerge and lay eggs | 201 (occurred April 18) | 390 (occurred May 15) | 298 (occurred May 11) | 450 (occurred June 11) |
| Peak flight and egg laying of overwintering generation | 342 (occurred May 4) | 735 (occurred June 1) | 565 (occurred May 30) | 700 |
| Peak flight and egg laying of first generation | 1,235 (predicted to occur June 18) | 1,752 | 1,476 | 1,700 |
| Peak flight and egg laying of second generation | -- | 2,975 | 2,652 | 2,450 |
Wet spots
What is going on in fields with wet spots? The main takeaway is that wet spots indicate bottom lands, which catch runoff and have a high water table. If the field has not been planted, you could work around the wet spot and try to plant it later. Some vegetable growers are switching to hand work to avoid machinery troubles in soft soils.
If the field has already been planted and there are seeds or seedlings covered with water, then the main concern is sunny days and warm temperatures. Some people say this "cooks the plants," but what is actually harming them is the growth that the warm temperature and sunlight creates in an environment where they cannot facilitate the gas exchange of CO2 and O2 that is necessary for photosynthesis. It's more of a traditional drowning rather than a cooking. Most crops can handle some waterlogging for a short time, and longer in cooler weather. Seeds can handle longer periods of waterlogging than seedlings.
You may notice that plants look different when planted in these wet spots after they dry. Over the years of being a perennial wet spot, anaerobic processes that occur when it is flooded can slowly lower the pH. Sometimes this can dip below 6.0 or lower. Some plants can experience toxicities of iron (Fe), aluminum (Al) and manganese (Mn) and deficiencies in pretty much everything else when pH gets that low. Temporary wet spots in years like this one may result in leached nutrients if preplant fertilizers have already been added. Consider a heavier shot of sidedressed nitrogen this season in fields that experienced lots of rain after preplant fertility programs.
Another week goes by and more information is coming out about prevented planting insurance. Check out these articles and visit the Delayed Planting Resources page for more information:
Crops
Sweet corn, bean and pickling cucumber planting delays continue. Some growers were setting aside their last sweet corn plantings to get pumpkins in last week. These narrow windows of opportunity are forcing these types of decisions.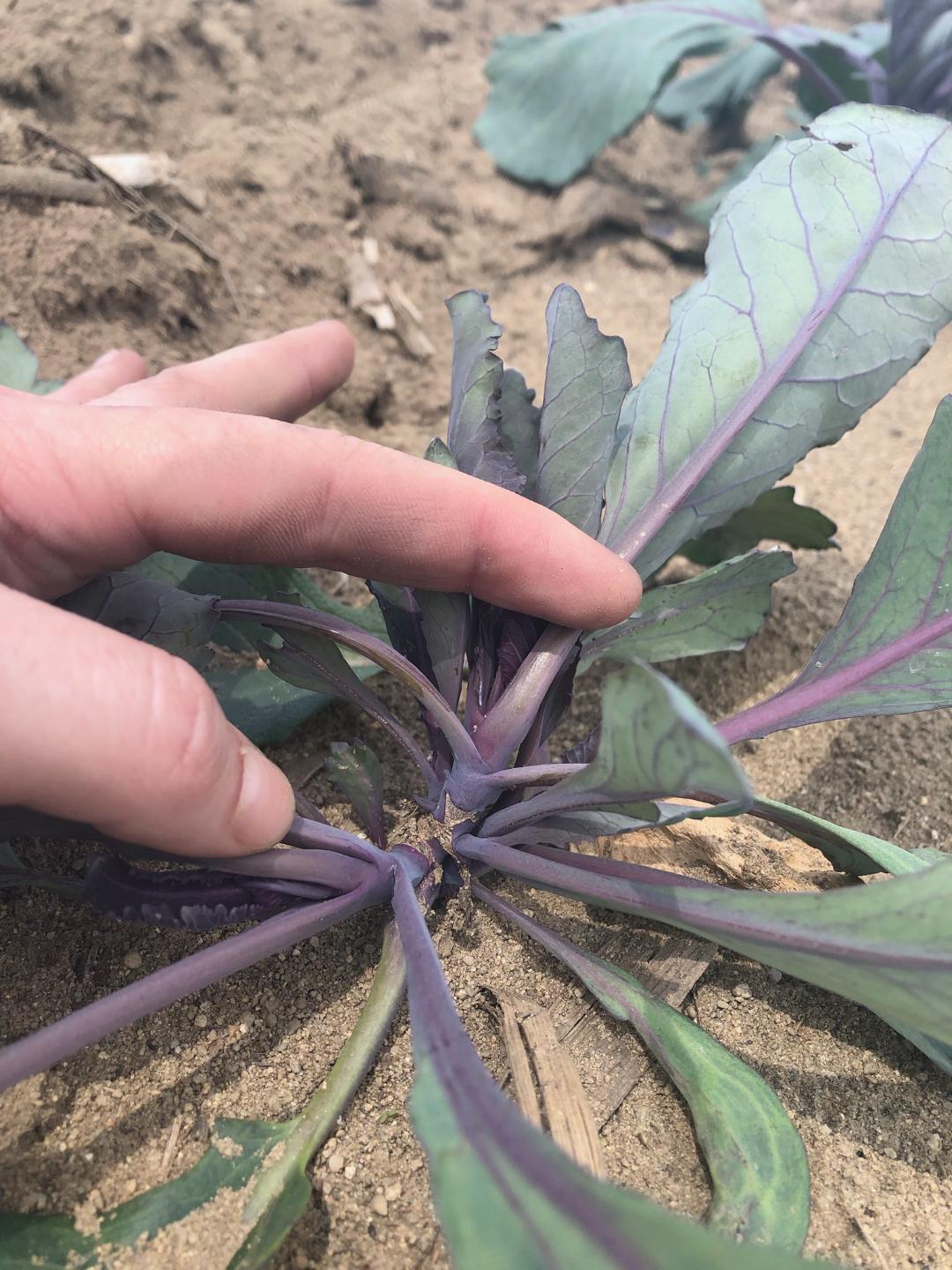 Brassicas were putting on some growth last week. Some damage that looks like swede midge has been found in southeast Michigan, but no larvae were seen. This means that the first generation of flies have emerged from their overwintered pupae, mated, laid eggs, and the larvae have done their damage before leaving the plants to pupate in the soil. They are so small that they are not easily seen. When the damage is noticed, the treatment period has passed. In this way, they act like a disease.
Adult flies have been caught in pheromone traps in the Thumb, but damage has not been seen yet. This seems to make some sense being further north. This is as good as we can get to timing an insecticide treatment. When adults are flying, an insecticide treatment can prevent infestations.
The second generation could take as short as 18 days or as long as 42 days to emerge, depending on temperature. Cultivation passes could also flush emergence of overwintered pupae if they are brought closer to the soil surface. However, with the constant rain, not much soil has been worked. I expect we may see an emergence gap until fields dry out. These types of flushes do not fit neatly into predictable generation timing like with other insect pests and creates overlapping generations. In this way it acts like an annual weed.
Some management options are covered in the MSU Extension article, "Swede midge biology and management." Conventional insecticides used for moth pests and flea beetles can usually keep swede midge in check, but diamondback moth, imported cabbageworm and cabbage looper populations have been relatively low compare to flea beetles so far.
Get togethers
The upcoming Young Growers Exchange Bus Tour is designed to allow the next generation of vegetable growers to network with each other while visiting west Michigan farms and is open to all growers in the Midwest. The tour will take place over two half-days on July 17-18. Day one will focus on soil health, showcasing Morgan's Compost and a major potato grower who is part of a soil health initiative. Day 2 will include another major potato grower plus muck vegetable production. There has been a lot of grower interest, so early registrations in the grower category are filling up fast. We are also offering a single-day option to allow for additional participants to caravan and leave on their own. Please consider registering.
Last year, I grew peppers at the research farm for a trial to determine how well we can ripen and dry some large-fruited Mexican peppers here. There are some capacities to sell them as a winter or early spring farmer's market product or added value sauce-making. Now, a collaborating sauce maker has taken all nine of the poblano varieties we grew and dried and made enchilada sauces with them to compare against a sauce made from imported Mexican poblanos. Do Michigan poblanos take on a regional flavor that differentiates them like wine grapes? To find out, she is hosting a public Michigan Enchilada Sauce Taste Trial at the Saginaw Farmer's Market Demonstration Kitchen on June 15 from 11 a.m. to 1 p.m. Come by!
It is never too early to make accommodations to attend the Great Lakes Fruit, Vegetable and Greenhouse Growers EXPO, Dec. 10-12 in Grand Rapids, Michigan. Hotel blocks are open and tend to go fast. The combination of grower-focused, research-backed presentations and an exhibit hall featuring a diverse set of vendors make it a can't-miss event.
Please contact me at phill406@msu.edu or 616-901-7513 with questions, concerns, or to schedule a farm visit. You can also send plant materials to MSU Diagnostic Services.