Focusing on food health worldwide
Felicia Wu, John A. Hannah Distinguished Professor in Food Safety, Toxicology, and Risk Assessment, is focused on developing a healthier worldwide population through the foods that we eat.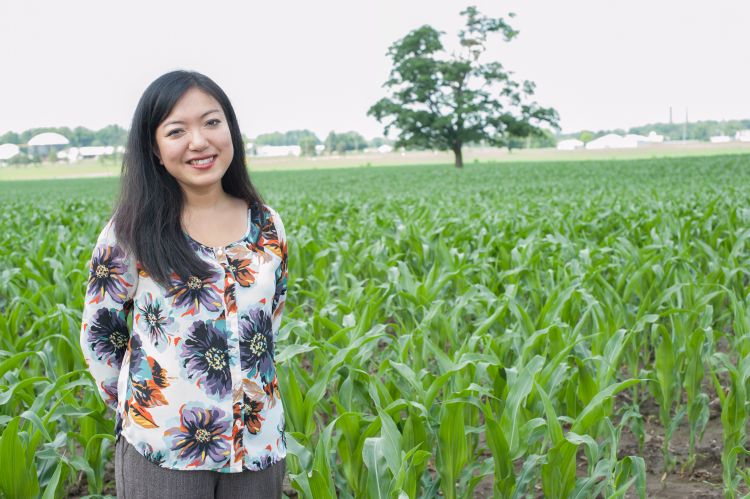 Felicia Wu, John A. Hannah Distinguished Professor in Food Safety, Toxicology, and Risk Assessment, is focused on developing a healthier worldwide population through the foods that we eat.
"It's exciting to do work on a positive topic," she said. "The work I do specifically focuses on improving our food safety for better public health. Not only is it important so Americans don't have to worry about the safety of their food every time they go to the grocery store, it's very nice to be researching positive messages about food safety. We're also looking at ways our agricultural technologies can actually improve the safety and the quality of our food."
A professor in the Departments of Food Science and Human Nutrition (FSHN) and Agricultural, Food and Resource Economics, Wu's research and outreach interests include diseases caused by food contaminants; world food trade and food safety regulations; risk assessment and social network models applied to population health and trade; and antimicrobial resistance, including antibiotic use in livestock production.
Currently, her research focuses on foodborne mycotoxins and the economic and health impacts they cause worldwide. One of her new research projects, recently funded through a grant from USDA, examines the unexpected benefits of Bt corn – a genetically modified corn produced to contain traits with resistance to pests and herbicides – as it relates to minimizing mycotoxin contamination.
"I work specifically on the toxins, or the poisons, that are produced by the fungi that infect our foods," Wu said. "When we see that any sort of mold is growing on food, most of us realize that it's not a good thing. If the mold is visible we might just cut it off and still eat the rest, or we might throw it out.
"But there are many times when the fungus has infected our food and we might not be able to see it. We might eat it, and depending on the fungus and whether it produces mycotoxins, that could have negative consequences to our health."
Her work with mycotoxins, specifically aflatoxin, began 20 years ago as a Ph.D. student when she served as a Biopesticides intern for the Environmental Protection Agency. At the time, she was conducting a risk assessment on Bt corn, to determine whether to allow its continued planting in the United States. She examined whether Bt corn would have lower levels of mycotoxins due to having less insect damage.
"Insect damage is of course something that has an effect on plant health, but it also has secondary effects on human health. Any time an insect damages a plant crop, it leaves the starches open to the environment for fungi to colonize the crop and sometimes produce toxins," Wu said.
Mycotoxins have the potential to cause a variety of health conditions.
"We've known for 60 years aflatoxin causes liver cancer," Wu said. "That's well established, but it's been speculated, and there's increasing evidence, that aflatoxin also compromises our immunity, which is something that is of course on everybody's mind right now in the current (COVID-19) pandemic."
Globally, aflatoxin can become more of a threat. Aflatoxin content is regulated by government agencies worldwide, but if those regulations are not enforced, aflatoxin levels in food can become dangerous.
"In many parts of the world where aflatoxin really is a problem in the human diet, they are eating homegrown corn that has never entered any sort of regulatory inspection," Wu said.
For her research on the impact of aflatoxin regulations on global liver cancer, Wu was awarded a U.S. National Institutes of Health EUREKA Award. She was also commissioned by the World Health Organization (WHO) to estimate the global burden of disease caused by aflatoxin and arsenic in food, and co-authored the WHO 2015 report on the Global Burden of Foodborne Disease.
This article was published in Futures, a magazine produced twice per year by Michigan State University AgBioResearch. To view past issues of Futures, visit www.futuresmagazine.msu.edu. For more information, email Holly Whetstone, editor, at whetst11@msu.edu or call 517-355-0123.