Michigan State University (MSU) AgBioResearch's Food@MSU initiative recently traveled to Port Huron for an Our Table discussion on how improving access to food and better connecting to food can help build stronger communities.
Our Table is a forum uniting people who work in agriculture and food — industry professionals, scientists and researchers — to discuss how to improve communication with the public and solve food-related issues.
"Communication — sharing perspectives, discussing issues and listening and learning from others —is vital to advancing the understanding of food and agriculture," said George Smith, MSU AgBioResearch associate director.
This particular conversation was the afternoon portion of an MSU Extension workshop titled, "A time to discuss our food system." During the morning, participants from organizations and agencies working to improve access to food in St. Clair County brainstormed how they can work together to reduce hunger in their communities.
"If you don't know where your next meal is coming from, you're food insecure," said Joe Bixler, MSU Extension Educator in St. Clair County. "The next step might be somebody who knows where their next meal is coming from, but all it takes is a big medical bill or something huge to happen to them financially. They can become food insecure because they have to make a choice about whether they're going to pay the car payment or buy food."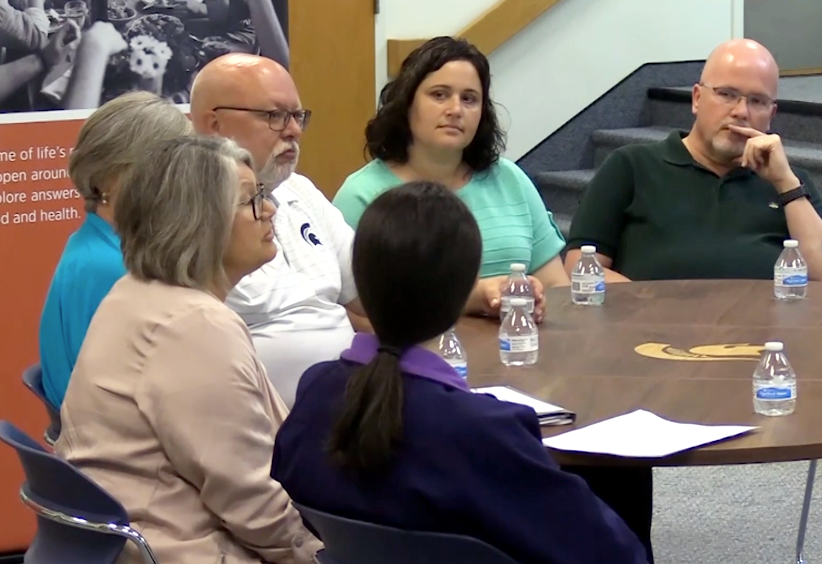 Bixler estimates that 10-12% of residents in St. Clair and Lapeer counties are food insecure. He works with MSU Extension's community food systems work group, and the Thumb Food Policy Council, to advocate for greater access to food and collaboration among groups working to make that happen.
"All of us need to eat," he said. "Food is common bond among all of us, whether you're food insecure or secure. I think that that commonality allows those who are secure to help those who are insecure."
The process of helping those struggling to obtain healthy, nutritious and affordable food often begins with conversation and collaboration.
"When you have a discussion, in either a broad way or a more definitive way, you need to have people from different walks of life — from the research side, from folks who are out in the field," said Bixler. "It's necessary to have voices from different perspectives talk about our food system."
Annette Mercatante, medical health officer for the St. Clair County Health Department and an Our Table panelist, stressed the value of having conversations with community members, stakeholders and other organizations.
"I cannot impact the health of this community without the support and collaborative efforts of other agencies," she said. "We just can't do this alone. We need to pull in more of the people who are directly impacted or who we want to rely on more heavily for solutions."
"Communication — sharing perspectives, discussing issues and listening and learning from others —is vital to advancing the understanding of food and agriculture." George Smith, associate director, MSU AgBioResearch
Fellow panelist Jeannine Schweihofer, senior meat quality educator for MSU Extension and adjunct assistant professor in the MSU Department of Animal Science, said listening to community members is key to improving food access.
"Our community really cares about food and the way it's raised," she said. "Providing everyone in the community access to a safe, healthy, wholesome, affordable food supply is critical. Food is needed by everyone. It's really important that we listen to the community in terms of how to best do that and collaborate."
Schweihofer, who also farms in St. Clair and Macomb counties, recognizes the importance of listening, adapting and being proactive in addressing a variety of food and agriculture issues in St. Clair County and beyond.
"We need to listen to what the community and citizens of Michigan want," she said. "We also need to answer the tough questions and deal with the changes, whether that be climate change or other influencing factors that are facing the ag industry, and really work to try and solve problems for farmers and communities."