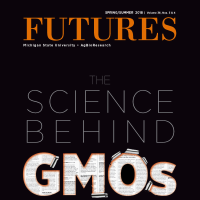 This edition of Futures delves into genetically modified organisms and the science from experts who study them.
The MSU College of Agriculture and Natural Resources is inviting the public to join Our Table for a free conversation to help sort through the information and misinformation about GMOs.
Have a question about food?
We have experts in many different fields to answer your questions about how food, health and technology come together in our local and global communities. Our researched responses are based on scientific information and are free from speculation.

If you want to learn more about the Food@MSU initiative, send us a message.