News
Published on February 4, 2020

People with weakened immune systems are typically instructed to avoid eating fresh produce. Michigan State University research, spearheaded by the Department of Biosystems and Agricultural Engineering, is working to change that.
Published on November 25, 2019

The limited-edition purple potato chips from Great Lakes Potato Chip Co. are made from the Blackberry potato, the newest variety developed by Michigan State University's Potato Breeding and Genetics program.
Published on September 17, 2019

WKAR's 'Serving Up Science,' produced in cooperation with Food@MSU, explores the reasons behind the recipe and offers tasty tips on your favorite foods.
Social Media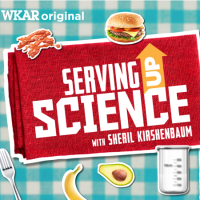 Serving Up Science is a podcast and digital short series that explores food science, nutrition, history and more. Co-hosted by Sheril Kirshenbaum, It's produced by WKAR Public Media in cooperation with Food@MSU.