Good Food Life: Angela Dagle
Angela Dagle, Membership Director, FoodLab Detroit - Detroit
February 9, 2016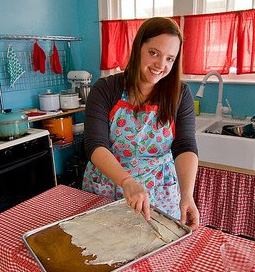 What is your role at FoodLab Detroit?
AD: I'm the Membership Director at FoodLab Detroit. We have over 150 good food businesses in our organization and I assist in connecting them to the resources and connections they need to grow their businesses in a healthy and sustainable way. I work with our partners, allies, and the broader community to provide our members with discounts, services, and opportunities they find valuable. I'm also lucky enough to spend time with our members, hearing their stories, struggles, & successes, and offering a hug, high five, or words of encouragement when needed!
How does FoodLab Detroit work towards the goals of the Good Food Charter?
AD: One of our main goals is to help our members build capacity, so they can scale their businesses and meet the demand of a larger institution. There is a huge focus within FoodLab and our membership around local sourcing. Through our Detroit Grown and Made program we're working to not only connect our members with the farmers that can grow the ingredients they need to make their products, but also connect them to the institutions that want to purchase their products.
What do you find most exciting or inspiring about what you're doing?
AD: I am inspired everyday by the work our members are doing in their businesses and in their communities Our membership is very diverse, with a host of different backgrounds, ethnicities, income levels, and life experiences but they all believe they're working together toward a common goal and they help each other get there. Our Guiding Principles state that we should measure our success by the things that really matter to us, not always financial goals and I love hearing about these successes and celebrating with our members. It's amazing to see the impact of being a part of a supportive community!
What opportunities do you see for moving towards the goals of the Michigan Good Food Charter and where do you see those leading in the next five to ten years?
AD: The focus on buying local and owning a triple-bottom line business is continuing to grow. I think the opportunity to reach more business owners will help us to continue working towards the goals of the charter. I look forward to the growers, buyers, and producers continuing to work together to create a healthier and more sustainable good food eco-system.
What is one thing you've learned through your experience with working towards the goals of the Good Food Charter that you'd like to share with others?
AD: Through our work at FoodLab, we've been able to see that even though we come from different places and have different life experiences, we're all working towards a common goal. Our members work together daily to create something bigger and better than themselves. We know the work isn't easy or quick, but we're committed to doing our part to making Michigan a thriving, healthy, and sustainable place to own and grow a good food business!