Good Food Life: Benjamin Sommers
Program Manager, Lansing Roots, Greater Lansing Food Bank
April 13, 2015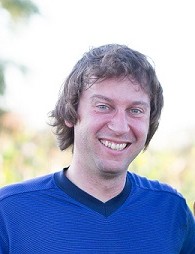 What is your role at Lansing Roots and the Greater Lansing Food Bank?
BS: I am responsible for the coordination of the Lansing Roots program and all farm activities. I can be found driving our tractor Albert, packing beets in our weekly CSA box, assisting a refugee farmer develop a recordkeeping system, meeting with area partner organizations to foster collaboration, or giving a farm tour to members of a local business or school group.
How does Lansing Roots work towards the goals of the Good Food Charter?
BS: Lansing Roots is a 10+ acre farm incubator whose mission is to assist beginning farmers develop their farm business enterprises. We work with limited-resource and historically under-served communities; primarily refugee, immigrant, minority, low-income, and women farmers. The program supports the development of locally-owned and operated agribusiness by reducing the barriers to entry and success; offering participants land and infrastructure, a Demonstration Farm, technical assistance and trainings, business planning and development, and a marketing collective. Over 20 participating farmers earn income and practice sustainability while developing their own farm business. We provide thousands of pounds of naturally-grown produce direct to consumers in Mid-Michigan through a Multi-Grower CSA Subscription Program, wholesale, and retail sales. With subsidies available for low-income individuals, we support fair and just access to fresh local food for all people.
What do you find most exciting or inspiring about what you're doing?
BS: Working with people from all over the world towards a common goal of feeding our families, friends, neighbors, and strangers right here in Lansing; while providing an opportunity for socio-economic empowerment. And playing in the dirt.
What opportunities do you see for moving towards the goals of the Michigan Good Food Charter and where do you see those leading in the next five to ten years?
BS: We will continue the development and implementation of sustainable practices and social justice in the food system. Through partnering with local corporations to offer produce programs to employees, offering prescriptions and nutritional guidance through area health providers, or encouraging our farmers to market their products directly to their unique communities, we will grow the viability of our farmers. Innovation and creativity in connecting people to opportunities will be necessary to assure continued success in the Good Food movement.
What is one thing you've learned through your experience with working towards the goals of the Good Food Charter that you'd like to share with others?
BS: People do want to work together to create a better world. Opportunity is often the only thing lacking. Obstacles of language, socio-economic status, or religion can all be overcome once basic human needs are respected and nurtured. Healthy food is among the most basic. By working in collaboration with all people, we can create a new and better world order than exists now.