Making it in Michigan 2015 Conference and Trade Show
The Making it in Michigan 2015 Conference and Trade Show will be held Tuesday, November 10th at the Lansing Center, Lansing, Mich. This year's theme is 'Ingredients for Success - Components and Processes for Safe, Sound, and Smart Product Development.'
November 3, 2015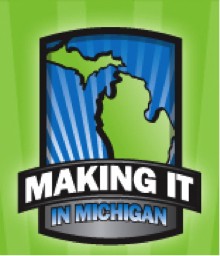 The Making it in Michigan 2015 Conference and Trade Show will be held Tuesday, November 10th at the Lansing Center, Lansing, Mich. This year's theme is Ingredients for Success – Components and Processes for Safe, Sound, and Smart Product Development.
The conference will run from 7:30am to 2:15pm. Conference attendees will gain practical knowledge and industry resources needed to move an idea from the concept to a finished and marketable product. In addition, attendees will have space and resources to help refine their business ideas by connecting with industry experts.
The Conference will include workshop sessions on topics such as:
- Keeping your food business sales growing
- Breaking into the retail market
- Discovering your competitive advantage in the specialty food market
- Understanding legal basics for starting a food business
- Processing know-how for shelf-stable products
- Understanding the nuts and bolts of risk reduction
A full list of each of the educational sessions and the speakers at each can be found here.
Registration for the conference is $99 per person and includes educational sessions, breakfast, lunch, digital copies of all presentations and reference materials, and admission to the Marketplace trade show.
The Trade Show is open to the public and conference attendees from 12:30pm to 4pm. This is an opportunity for vendors to be seen, sample, and sell their products. The Marketplace trade show provides them an opportunity to meet food service providers, chefs, restaurant owners and event planners looking to find new and interesting products.
For general question and further information on the Marketplace, please contact:
Mackenzie Martin at (517) 432-4608, product@msu.edu or
Matt Birbeck at (517) 353-1619, birbeckm@msu.edu
With registration concerns, payments, and sponsorship questions, please contact:
Greta McKinney at (517) 353-7185, mckin134@msu.edu

About the MSU Product Center
Founded in 2003, the MSU Product Center helps Michigan entrepreneurs develop and commercialize high-value, consumer-responsive products and businesses in the agriculture, natural resources and bioeconomy sectors. The Center's statewide network of innovation counselors provides business counseling support to Michigan residents interested in starting or expanding a business or product line.